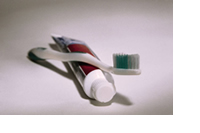 The New Jersey Department of Health established the Children's Oral Health Program in 1981 and has a 30 year successful history of serving the oral health education needs of children across the State. Working together in schools and communities, the State and regional oral health staff have collaborated with school nurses and other health professionals to raise awareness and educate children about the need for good oral hygiene, healthy food choices and regular dental visits in order to prevent dental disease.
The Program provides a variety of oral health education activities for children in grades pre-K through 12 and is regionally implemented in all twenty-one counties of the State. Each region has an Oral Health Coordinator and other program personnel that implement program activities.
Educational activities are age-appropriate and cover a variety of oral health issues including, but not limited to, oral hygiene, fluoride as a preventive measure for tooth decay, dental sealants, nutrition, periodontal disease, tobacco cessation, and the prevention of oral trauma. Classroom presentations include discussion and audio-visual materials such as Mr. Gross Mouth and the teaching puppet Franny Flossisauris. All oral health program activities can be adapted for an audience of children with special needs.
Education programs are also provided for parents and pregnant women while in-service or workshop programs for non-dental professionals, including school nurses, public health nurses, teachers, WIC Coordinators, and social workers also take place.
Numerous program initiatives and collaborative partnerships with state and local agencies, departments and organizations have been established and include the following:
"Save Our Smiles" voluntary 32 week fluoride mouth rinse (FMR) program. The 32-week program represents an active intervention in the Children's Oral Health Program to reduce tooth decay in elementary school children. The FMR program targets schools in communities with non-fluoridated community water and having fluoride levels below optimal levels to prevent tooth decay.


New Jersey Oral Health Survey which is conducted every other year to determine the percentage of third grade students with a dental sealant on a molar tooth. In addition, other data elements are captured such as caries prevalence, dental perceptions, access to care pertaining to dental visits and insurance.


"New Jersey Homeless Shelter Oral Health Initiative" in collaboration with the New Jersey Dental Hygienists' Association.
"Oral Health Education Service Learning Project" in collaboration with the Dental Hygiene Program of Burlington County College and the Southern Jersey Family Medical Centers - New Lisbon site.


Dental Emergency Guide, a poster provided to all school nurses, high school athletic directors and other agencies that serves as a comprehensive resource for treating a variety of minor dental emergencies.


New Jersey Dental Clinic Directory, "Dial A Smile" which is a reference tool that provides a central source of information on public dental clinic services in New Jersey.


The "Protecting Oral Health from Pregnancy to Puberty" OB Collaborative has the goal of improving the oral health of pregnant women and promoting good oral hygiene practices for their children at Federally Qualified Health Centers (FQHC's) throughout the State.


"Special Smiles" is a school-based program targeting Children with Special Health Care Needs. Registered dental hygienists provide oral health education and resources to participating children and school nurses.


The "Tooth Tales" program provides oral health education to pre-school aged children and their parents at public libraries. Sessions are conducted during participating libraries' regularly scheduled Story Times.


"Sugar-Less Day to Prevent Tooth Decay" is a statewide education initiative for fourth grade students. The program includes oral health education, a poster contest and oral health information and resources for students, teachers and parents.