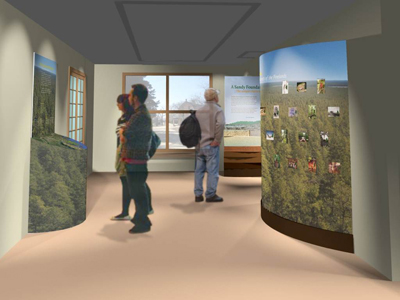 09/30/2015 - Addendum #4
09/25/2015 - Addendum #1, #2, & #3
The New Jersey Pinelands Commission (Commission) seeks proposals from qualified contractors to fabricate and install interpretive exhibits and to complete all associated building improvements needed to convert existing space in the Richard J. Sullivan Center for Environmental Policy and Education in Pemberton, NJ, into a Pinelands Visitor Center, according to the Exhibit Design Plan and documents (listed below) prepared by Content Design Collaborative LLC. (Content Design) Scituate, Massachusetts.
This Request for Proposal (RFP) describes the basic services required and the process for selecting the qualified firm for this project.
The intent of this RFP is to award a contract to a qualified contractor whose bid proposal, conforming to the Exhibit Design Plan prepared by Content Design, is most advantageous to the Commission, price and other factors considered.
All submissions must be received by the RFP closing date. Incomplete submissions and submissions received after the closing date will not be accepted.
Request For Proposal #16-101 - Interpretive Exhibit Fabrication and Installation For the Pinelands Visitor Center
Exhibit Design Production Documents:
Exhibit Design Drawings (Book 1) pdf.
Graphic Design Package (Book 2) pdf.
Content Package (Book 3) pdf.
Questions may be submitted requesting clarification or additional information about this RFP. All questions must be submitted in writing and received by the Commission no later than 5:00 p.m. on September 29, 2015. Questions may be sent by emailing to purchasing@njpines.state.nj.us attention Dawn M. Rago. Written responses to all questions will be in the form of addenda. The addenda will be posted on the Pinelands Commission website http://www.nj.gov/pinelands/ on or before 4:00 p.m. on September 30, 2015.
Proposals are due to the Commission no later than 3:00 p.m. on October 14, 2015. The contract is anticipated to be executed in February 2016.