The 28th annual Pinelands Short Course is Saturday, March 11, 2017 at Stockton University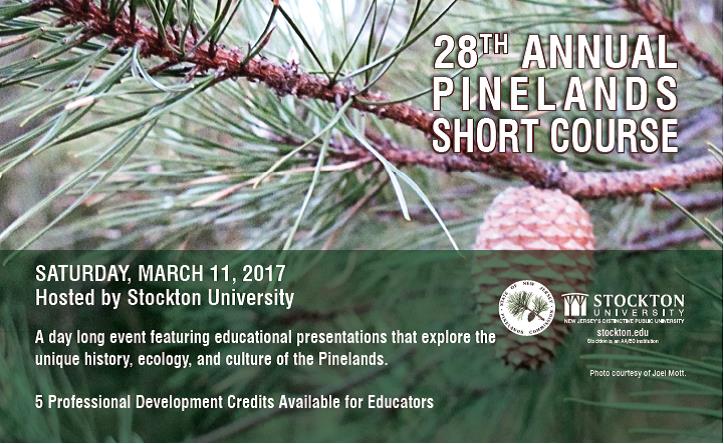 The registration/brochure is now available and on-line registration is open.
2017 Pinelands Short Course registration/brochure (PDF)
To register on-line through Stockton University's Continuing Studies Office please (click here)
January 12, 2017: Press release
For questions about registration please call the Continuing Studies Office at: (609) 652-4227.
For questions regarding the course/class content please call the Pinelands Commission's Public Programs office at: (609) 894-7300 ext. 125.
This year's Pinelands Short Course features 52 presentations, performances, and tours that explore the unique history, ecology and culture of the Pinelands.
See you there!
Pinelands News and Events E-mail Alert
For more information please check back later or sign up below for the Pinelands News and Events E-mail Alert. E-mail alerts will be sent apprising you of important messages regarding important Pinelands news and upcoming events. Thank you.

Pinelands Events Calendar
(This calendar lists a variety of events throughout the Pinelands.)