2011 Distinguished Service Award Recipient
W. Peter Staats
View the Commemorative Video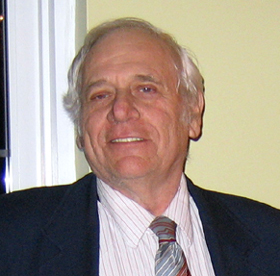 For more than 200 years, the Staats family has been hard at work on the family farm in Bridgewater, Somerset County and since 1969, W. Peter Staats has set the example for innovation and leadership in the New Jersey agricultural community. 

After graduating from Bridgewater-Raritan High school, Peter worked for his parents on their dairy/general livestock/ and crop farm. 

In 1973, Peter led Dutch Hollow Farm to become one of the first operations in New Jersey to direct market an agricultural commodity by building an on-farm milk processing plant and attached store.  He ran the processing plant and dairy store until 1987, allowing non-farm people to visit and truly see where their milk and dairy products came from.  This producer/consumer connection remains extremely important to agricultural viability to this day with former milk customers visiting the farm to purchase beef, eggs and seasonal vegetables.

In 1974, New Jersey Network featured the Staats Family in a documentary, "New Jersey's Vanishing Farmland," which is still used in classrooms throughout the state today to highlight the challenges facing farmers in the Garden State.

Peter's innovation continued as he developed the "Borrow-a-calf" program in the Somerset County 4-H club, allowing many non-farm youth the opportunity to learn about animal science and agriculture at no cost.  Since its inception, thousands of young people have participated and the program has expanded beyond dairy calves to beef cattle, sheep, goats and horses. 

Peter also worked to re-establish the New Jersey Junior Polled Hereford Association, which allows New Jersey youth to compete at Junior National competitions to exhibit their cattle, compete in judging contests, quiz bowls and speech competitions.  The organization sponsors two open beef shows of its own each summer.

In addition to working with the next generation of farmers and helping the public understand the importance of agriculture in the Garden State, Peter has been a leader in many agricultural organizations.  He currently serves on the Somerset County Agriculture Development Board and Belle Mead Farmers Cooperative Board of Directors, he chairs the semi-annual New Jersey Polled Hereford Association feeder calf sale, enabling New Jersey beef producers to market an additional 500 head of beef cattle annually at prices that remain largely stable.  He's a past president of the New Jersey Polled Hereford Association, and was a member of the Somerset County Board of Agriculture, Somerset Union Soil Conservation Committee, and Somerset County 4-H Association.  Peter has also been active in the North Branch Reformed Church fo many years.

Today, Dutch Hollow Farm is in the Farmland Preservation Program with about 60 acres owned and 150 acres rented.  Over the years, the farm has changed to remain profitable…it has gone from raising sheep and horses, to a direct-market dairy operation to the current version -- a beef cattle farm that offers natural beef products to today's consumers.  Peter believes that ability to change with the times, especially in an increasingly urbanized area, is the key to running a successful farming operation for more than two centuries.