2014 Distinguished Service Award Recipient
Steve Jany
View the Commemorative Video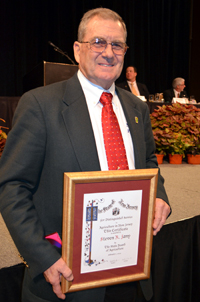 Steven R. Jany, a Mercer County grain farmer, has been an active part of the New Jersey agricultural community for almost 50 years. His love of agriculture began in 1965 when he worked at a local farm.

Four years later, he graduated from the Princeton High School Business Program; Steve pursued jobs in farming right away, taking his first post-high school job at Rustin Farms in Princeton Junction.

 In 1971 he left there for Simonson Farms only to return to Rustin as a partner in 1973. The farm is now a thriving 2000-acre spread that includes grain and Christmas trees.

Steve has served his community for many years taking leadership roles in various agricultural committees and boards across the state. He is currently Second Vice President of New Jersey Farm Bureau and also served as treasurer and county director.  He was a member of the State Board of Agriculture from 1997-2002 serving as its president for one year. Steve also served as the President of the Mercer County Board of Agriculture from 2001 to 2003. He sat on the Cook College Board of Managers.  In addition, Steve has served as an Officer of the Grain and Forage Producers Association of New Jersey, the New Jersey Soybean Board of Directors and a member of the New Jersey DEP's Water Supply Advisory Board and New Jersey Christmas Tree Growers Association.

Steve is regarded as a consensus builder, mentor, great organizer and an all-around terrific person, and has made a significant impact on the state agricultural industry as well as the people he has met and worked with along the way.

For Steve's leadership and dedication to Agriculture, he is recipient of the 2014 State Board of Agriculture Distinguished Service to Agriculture Award.