2014 Distinguished Service Award Recipient
Dr. Wesley Kline
View the Commemorative Video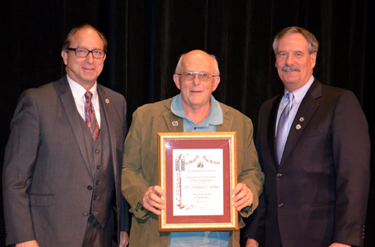 Dr. Wesley Kline is the Rutgers Cooperative Extension of Cumberland County agricultural agent as well as an associate professor at Rutgers University. His name, more than any other, is synonymous with food safety in New Jersey.
After graduating from Salem College in 1970 Dr. Kline pursued both his Master's Degree and his Doctorate at Cornell University. But, before Dr. Kline received his PhD, he was involved in the international agricultural sector. Starting as a horticulturalist in the Peace Corps, Dr. Kline's work took him from Somalia to Ecuador and El Salvador where he gained valuable experience in a variety of positions.  He eventually came to Rutgers University in 1996.  As an agricultural agent, Dr. Kline collaborates with 300 growers and agribusiness personnel to carry out applied research and demonstrations that directly affect the growers' livelihoods.
For many years Dr. Kline has worked with the New Jersey Department of Agriculture, setting up a Food Safety Task Force and has trained more than 5,000 farmers on the Food Safety Modernization Act and third-party audits.
Dr. Kline has been an invited speaker at innumerable conventions, conferences and meetings; his expertise makes him the perfect choice to educate producers about food safety concerns.  Dr. Kline was instrumental in the implementation of an educational program in Cumberland County concerning commercial fresh-market and processing vegetable production and herbs.  Kline also coordinates the food safety extension training program in New Jersey.
Along with all of his other activities and accomplishments Dr. Kline has produced several well-respected publications, fact sheets, manuals, newsletters, webinars, websites and CD's all tackling different aspects of the implementation and importance of food safety measures and other agriculture-related topics.
It is for his tireless efforts to educate and assist farmers in his county and around the Garden State that Dr. Wesley Kline has been recognized with the 2014 Distinguished Service to New Jersey Agriculture Award.