2015 Distinguished Service to Agriculture Citation Recipient
John J. Kupcho
View the Commemorative Video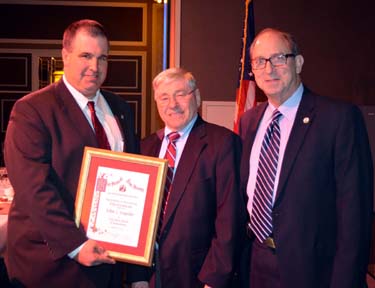 New Jersey agriculture owes a lot to Jack Kupcho.  Born in Peckville, PA, he served in the U.S. Air Force, then earned a Bachelor of Science Degree in Ornamental Horticulture from the University of Tennessee.  He received his Master of Science in Environmental Science and Urban Planning from Rutgers University.  He currently holds the title of Professor Emeritus at Rutgers.

Jack began his career as the Essex County Agricultural Agent at Rutgers Cooperative Extension in 1963, a time of great change in the North Jersey agriculture industry.  Development abounded and agriculture had to adapt.  For that, farmers had Jack Kupcho, who assisted commercial vegetable growers in Bergen, Essex, Morris and Passaic counties in changes to their production methods to maximize resources.  He introduced use of clear plastic as a soil heating mulch resulting in higher, earlier and more quality yields of early sweet corn, cucumbers, squash and eggplant.  He encouraged production of high value crops on small land areas, including greenhouse tomato growing.  He urged growers to trial test new soil-less mixes, which resulted in growers adopting the use of the lighter peatlite mix, resulting in lower cost of production, more uniformity, higher quality, and less bulk handling.  At the time, commercial vegetable growers were using little or no herbacides, so Kupcho brought them the results of current research which led to widespread and proper use of these chemicals , helping to cut labor costs.  He also guided growers to shift from selling solely wholesale to opening roadside markets, increasing their produce sales by 50 to 100 percent.

As Chairman of the Department of Agricultural and Resource Management Agents at Rutgers' Cook College, Kupcho developed the Master Gardener Program for Northeastern New Jersey.  He organized leaf composting and ground water education programs for community leaders.  He made changes in the Newark Urban Gardening Program to increase the efficiency and provide a more effective educational delivery system for the federally and state-funded urban project. Under his direction, in 1988 this program was chosen for the Take Pride in America Award.  Kupcho accepted the award from then-president Ronald Reagan at a ceremony on the White House lawn.

As chairman he was responsible for providing program leadership and staff development for 57 agents and program associates in 20 New Jersey counties.  During his tenure, he hired 21 new agents located in both critical agricultural and urban areas of the state.

Kupcho has been active in many agricultural organizations – he is a member of the Essex County Board of Agriculture, National Association of County Agricultural Agents, Agricultural Agents Association of New Jersey, Northeast Agricultural and Natural Resource program Leaders Committee, Northeast Community Resource Development Program Leaders Committee, and Northeast Center for Rural Development.  He is a former chairman and member of the National Extension Committee on Policy, Subcomittee on Community Resource Development and Public Policy and was involved with the New Jersey Flower and Garden Show.

Jack was married to his first wife, Mary Anne, who gave him four daughters.  Sadly, Mary Anne passed away at the young age of 48.  Jack and his current wife, Helen, greatly enjoy his 10 grandchildren.

For his 51 years of service to teaching, advising and improving New Jersey agriculture, Kupcho is a 2015 recipient of the New Jersey State Board of Agriculture's Distinguished Service to Agriculture Award.