2015 Distinguished Service to Agriculture Citation
Richard W. VanVranken
View the Commemorative Video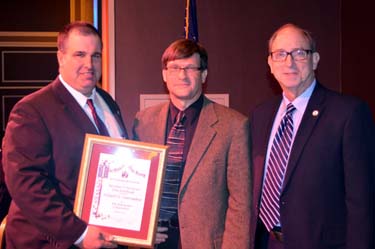 Rick VanVranken grew up in the small upstate New York town of Stillwater. Working occasionally on his Uncle's and neighbor's dairy farms, and 4H activities, convinced him that his interest in farming would be better suited to horticulture. That led him to pursue a Bachelor of Science and Master of Science degrees in vegetable crops from Cornell University.  Rick came to New Jersey in 1983 and has served for the last 32 years as Agricultural Agent at Rutgers Cooperative Extension of Atlantic County. Now at the rank of professor, he heads the county extension office, as well as writes a marketing column for the American Vegetable Grower magazine.
VanVranken is well known for his work in ethnic and specialty crop development.  He is co-founder of the Ethnic Produce Production and Marketing Working Group, a multi-state, multi-disciplinary team of extension agents, specialists and researchers from Rutgers, UMass, Cornell,  Penn State and University of Florida that researches and conducts outreach programming on the marketing and production potential of new ethnic crops for East Coast farmers.  He established the WorldCrops.org website that helps farmers determine the produce needs of ethnic communities and how to grow those crops. His leadership in developing these new markets was recently recognized with the Northeast Region Excellence in Extension award from the USDA National Institute of Food and Agriculture.
VanVranken co-organizes and delivers an Integrated Crop Management Twilight Meeting series to update growers and agribusiness representatives on timely disease, insect and weed identification and control, integrated pest management practices, pesticide regulations and worker protection standards.  He develops and chairs educational sessions for the Annual New Jersey Vegetable Meetings, and helped create and is a regular contributor to the Rutgers Plant and Pest Advisory-Vegetable Crops newsletter.
Rick has actively worked to help specialty crop farmers increase their share of the retail food dollar and increase farm sustainability through direct sales to consumers. He was appointed to  the first committee that  developed New Jersey's initial agricultural management practices for farmer to consumer direct marketing and received a $350,000 grant from the Mid-Atlantic Consortium to develop new methods of outreach via the internet to reach advanced agricultural audiences with marketing and local production information.  He also collaborated in developing educational programs and hosting the annual Mid-Atlantic Direct Marketing conference from 1989 to 2009.
Combining his role as an educator with his passion for marketing, Rick has incorporated public education about all things 'Jersey Fresh' in his extension outreach programming.  He calls in weekly to deliver a 'Facts from the Farm' radio spot that has been heard live on stations across South Jersey every Saturday morning for the past 17 years. For his latest project to 'tell the story' of Atlantic County's specialty crop production, he worked with the Atlantic County Board of Agriculture to obtain a Specialty Crop Block Grant to fund a mobile market/cooler wrapped with graphic scenery of Atlantic County farms.
VanVranken has received many grants to support his work and has published a variety of articles relating to his activities.  He also has received multiple awards and recognitions.  He chairs the RCE Vegetable Working Group, and  is a member of the Agritourism Working Group,  both of which have been recognized with the SEBS/NJAES Team Excellence Award.
In addition to his full workload, Rick has been an active leader in the American [Equestrian] Vaulting Association and the U.S. Equestrian Federation, serving as a regional and national officer of the AVA and on the USEF High Performance Vaulting Committee.  He also coordinates and participates as a coach and lunger for New Jersey's Shooting Stars Vaulting Club.
Rick and his wife, Sheila, have three grown children.
For his many years of support and dedication to the New Jersey agriculture industry, Rick VanVranken is a 2015 recipient of the New Jersey State Board of Agriculture's Distinguished Service to Agriculture Award.