2016 New Jersey Outstanding Young Farmer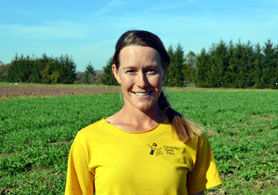 Click here to view the commemorative video.
Jessica Niederer
Jessica Niederer's parents never pointed her in the direction of farming. In fact, she said it was more common to hear them suggest becoming a lawyer or doctor. Needless to say, at 32 years of age, this farmer from Mercer County, is the 2016 New Jersey Outstanding Young Farmer.
Jess graduated from Cornell University with a degree in Natural Resources. She soon realized her heart was in farming and she spent two years on a 60-acre organic vegetable farm, first, as a greenhouse manager and later as assistant field manager. In 2010, she came back to the family farm and started her own operation -- Chickadee Creek Farm in Hopewell Township -- on five acres of land leased from her parents, growing two acres of produce.
Since then, Jess has increased production to 17 certified organic acres, and she and her crew sell through a Community Supported Agriculture program, and attend six farmers markets each week.
Jess is proud to have improved soil resources by working with the town, making 150 tons of leaf mulch compost yearly and applying twenty tons of the compost per acre on her fields. She has created movable seasonal high tunnels that have helped extend her production season for spinach and kale. She has invested in a 40-foot insulated container unit outfitted with a low-cost, low-energy cooling system for storage of carrots, potatoes, turnips, radishes and cabbage. These techniques have enabled her to attend winter farmers markets, generating 25 percent of her gross sales.
Jess works with USDA Natural Resources Conservation Service to reduce the chance of soil erosion and to ensure clean run-off and uses cover crops and crop rotation. She also utilizes drip tape and a micro sprinkler system for overhead irrigation to conserve water.
As well as being a dedicated farmer, Niederer enjoys giving back to the community. In 2014, she was voted the "Local Hero" by Edible Jersey readers in the Farm/Farmer category. She educates children about farming, conducting presentations and workshops at least four times a year in four to 6 local elementary schools and volunteers as an EMT.
She is Vice President of the Mercer County Board of Agriculture, a director of the New Jersey Vegetable Growers Association , a member of Rutgers New Jersey Agricultural Experiment Station Board of Managers, the NorthEast Organic Farming Association of New Jersey, New Jersey Council of Farmers and Communities and on the Pennington Farmers Market Board. She teaches classes on farm business start-up through NOFA-New Jersey.
Jess says she plans to continue to acquire the management and production skills required to successfully run a business in New Jersey and says farming on family land is the most rewarding career she could imagine.
In December 2015, she was honored on the floor of the New Jersey General Assembly with a Joint Legislative Resolution for being named New Jersey Outstanding Young Farmer.