HALEDON PUBLIC SCHOOL HONORED BY NY JETS, NJDA FOR OUTSTANDING NUTRITION PROGRAM
School Wins NJDA, Jets, Dairy Council Eat Right, Move More Contest

For Immediate Release: October 11, 2011 
Contact: Lynne Richmond 
(609) 633-2954

(HALEDON) – New York Jets Kicker Nick Folk and representatives of the Department of Agriculture today paid a visit to Haledon Public School in Haledon, NJ to celebrate the school's achievements in nutrition and physical fitness education.

The school was one of five winners of the 2010-2011 Eat Right, Move More program, a partnership between the Jets, the Department of Agriculture and the American Dairy Association & Dairy Council's Fuel Up to Play 60 campaign. 

"The Eat Right, Move More program calls attention to the importance of eating nutritious foods and increasing activity whether you are a professional football player or a student," said New Jersey Secretary of Agriculture Douglas H. Fisher.  "We commend Haledon Public School for making a commitment to serving creative and healthy food in their school cafeteria and encouraging students to exercise more."

Eat Right, Move More encourages New Jersey school children to take advantage of healthy foods in their school cafeterias and become more active.  In the 2010-2011 school year, the winning schools were chosen that best met the criteria established for the Healthier U.S. School Challenge Program.  Additionally, school lunch and breakfast menus were reviewed and the schools had to show strong support and demonstrate efforts to improve nutrition and physical activity among their students.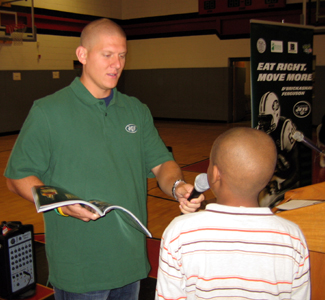 Jets Kicker Nick Folk hands out a prize to a Haledon Public School Student during the Eat Right, Move More program.


The program is now in its sixth year and features Jets Offensive Tackle D'Brickashaw Ferguson as spokesman.  Each school in the state receives posters of Ferguson telling students, "Eating healthy meals helps me play my best.  Your school cafeteria has a variety of nutritious foods to keep you going all day long.  So let's get up and Eat Right and Move More!"

"Being a good student takes a lot of hard work," said Jets Kicker Nick Folk. "I commend Haledon for providing the health and fitness tools to support the success of its students."

Students at Haledon Public School won't find French fries on their lunch menu.  Instead, they have a variety of side salads, fresh vegetables with dip or baked chips.  Grilled chicken also is a regular on the lunch menu.  Vice Principal Stephen Wisniewski said they offer more nutritional choices for the students on a daily basis and have incorporate fresh, local produce into meals.

"Teaching kids about good nutrition and good health is a priority for our school," said Stephen Wisniewski, school Vice Principal.  "We want to equip our students with the knowledge and the resources necessary to live a long, healthy, productive life.  Good nutrition and exercise are essential for this."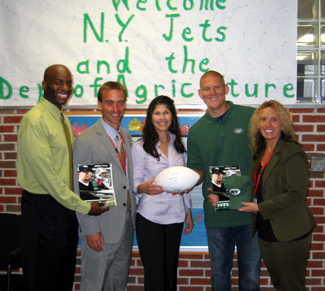 Charles Wande of the Jets, Vice Principal Stephen Wisniewski, Arleen Ramos-Szatmary of the NJ Dept. of Agriculture, Jets Kicker Nick Folk and Principal Michele Pillari.

Netcong Elementary School was the grand prize winner of last school year's Eat Right, Move More Program.  The school received a check for a $5,000 kitchen makeover, made possible by the Jets and the American Dairy Association & Dairy Council's Fuel Up to Play 60 campaign and representatives from the school were honored at a Jets game last December.

The other winning schools, Hightstown High school in Hightstown and Nicolaus Copernicus School #25 in Jersey City, have already had their player visits.  Oak Street School in Lakewood, is scheduled for a program on December 6.

Programs funded by the New York Jets Foundation touch the lives of countless young men and women in the tri-state area. Over the past eleven years, the Jets and their charitable foundation have raised or contributed more than $11 million to promote youth health, fitness and education, particularly in disadvantaged communities.

From fighting childhood obesity through the Generation Jets: Be Lean & Green initiative to launching a football team in an urban high school, urging students to eat right and move more, and supporting the efforts of the Alliance for Lupus Research, the New York Jets invest in programs that make a difference in the lives of others. In addition to the Jets Foundation, which supports our own extensive youth initiatives, the Jets partner with numerous established charitable organizations and participate in causes sponsored by the NFL.

The Department of Agriculture's comprehensive school nutrition policy covers pre-kindergarten through 12th grade students.  The policy limits fat and sugar content in foods offered in a la carte lines, snack bars and vending machines, school stores and as part of on-campus fund-raisers.

More than 685,000 students in both public and private schools participate in the National School Lunch Program, administered by the Department of Agriculture.

For more information about the Department's school nutrition programs, visit www.nj.gov/agriculture/divisions/fn/childadult/school.html.

For information about this school year's Eat Right, Move More contest, visit www.nj.gov/agriculture/divisions/fn/pdf/eatrightmovemoreappl.pdf.