Home
>
Farmland Preservation
>
Overview
Overview
Introduction
How is farmland preserved?
How does the process work?
What does farmland preservation mean?
Farmland Preservation Planning
Introduction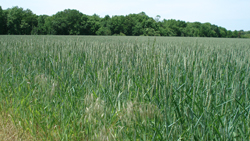 New Jersey's farmlands are the foundation for a strong agricultural industry and a way of life for generations of farm families. Scenic landscapes of green, productive fields are an important part of what makes New Jersey a desirable place to live and work. Farmland preservation clearly is an important investment in our economy, our farming heritage and the overall quality of life for each and every New Jerseyan.

There are valuable incentives for landowners to participate in the Farmland Preservation Program. The program can help them meet their financial goals, providing them with the capital to expand their existing operations; eliminate or reduce their debt load; or further their estate or retirement planning. Participants in the program also are eligible to apply for cost-sharing grants to fund soil and water conservation projects. In addition, they enjoy limited protection from government acquisition of land through eminent domain; public and private nuisances; and emergency restrictions on the use of water and energy supplies.

The Farmland Preservation Program is administered by the State Agriculture Development Committee (SADC), which coordinates with County Agriculture Development Boards, municipal governments, nonprofit organizations and landowners in the development of plans that best meet the needs of individual landowners.

Farmland Preservation Program Brochure

How is farmland preserved?
Sale of Development Easements - Landowners who want to continue farming their land can sell their development easements. When landowners sell development easements, they still own their land but sell the rights to develop it for anything other than agriculture. Those deed restrictions remain in force for any future owners. Landowners can sell the development rights on their land to the SADC, County Agriculture Development Boards, municipalities or nonprofit organizations. The sale price is based on the difference between what a developer would pay for the land and what it is worth for agriculture. Most farms have entered the Farmland Preservation Program through the sale of development rights.

Donation of Development Easements - Some farmers and landowners may want to donate the development rights for all or a portion of the land they own. In certain cases, this can provide significant income and estate tax benefits. Landowners should consult an attorney, accountant or financial planner to determine how this option would affect them.

Sale of Entire Property -If a landowner wants to sell a farm outright, the SADC can purchase it at fair-market value under its fee simple program. The SADC then auctions the farm to a private owner with agricultural deed restrictions in place that ensure its permanent preservation. This option also provides other farmers with opportunities to purchase land at reasonable prices that reflect only farmland values, not development potential.

Term Farmland Preservation - Landowners can choose to voluntarily restrict development on their land for a period of eight (8) or sixteen (16) years. Landowners receive no payment for this, but they become eligible to apply for cost-sharing grants for soil and water conservation projects, and are eligible for the Farmland Preservation Program's other benefits and protections.

How does the process work?
Land is eligible for the Farmland Preservation Program if it meets the SADC's minimum eligibility criteria, qualifies for farmland tax assessment and is part of an agricultural development area, an area where the County Agriculture Development Board has determined that farming is viable over the long term.

County Agriculture Development Boards are responsible for approving most applications to the Farmland Preservation Program. Therefore, they are the starting point for most interested landowners. County Agriculture Development Boards review and approve applications, and then forward them to the SADC, coordinating with the State and local municipalities throughout the process.

The value of a farm or development easement is established through two independent appraisals. Once a value has been determined and agreed upon, and an application has been approved, the sale can proceed.

What does farmland preservation mean?
Farms or development easements that are acquired through the Farmland Preservation Program will forever be protected for agricultural use. Landowners who have sold their development rights still can sell their land at any time. Deed restrictions prohibiting non-agricultural development run with the land, so future owners of preserved farms also would be required to comply with the deed restrictions.

The sale of development rights does not make farmland public property. The public has no right to access or use a deed-restricted farm without the landowner's consent.

For farm landowners, participation in the Farmland Preservation Program means a stronger land base to support New Jersey's agricultural industry, the satisfaction of knowing their land will forever be preserved as farmland, and access to the resources that can help them achieve their personal and financial goals.

For all of us, farmland preservation is an important part of keeping New Jersey green and prosperous. Preserved farmland limits urban sprawl, protects our water and soils, provides us with an abundance of locally grown farm products and maintains our connection to the land and the longstanding agricultural traditions that earned our reputation as the Garden State.

Farmland Preservation Planning
County and Municipal Comprehensive Farmland Preservation Plans