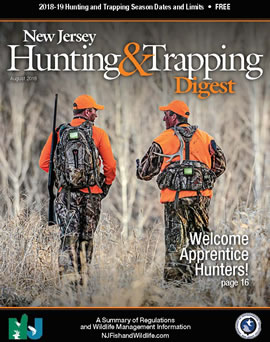 The 2018-19 NJ Hunting and Trapping Digest is available on the Division's website in PDF format and was on the publisher's website in an interactive format.
Print versions were available at Division offices and at license agents. Out-of-state residents could request a print copy via e-mail.
Digest segments and past issues remain available on the NJ Hunting and Trapping Digest PDF Segments page.
Complete 2018-19 NJ Hunting and Trapping Digest (pdf, 11.3mb)
NOTE: Following Governor Phil Murphy's Executive Order No. 34 (pdf), DEP Commissioner Catherine R. McCabe issued Administrative Order No. 2018-24 closing all DEP owned, managed or otherwise controlled lands to bear hunting during the October and December 2018 season segments. The closure included, but was not limited to, the following: state forests, parks, recreation areas and natural areas; and wildlife management areas.
Administrative Order 2018-24 (pdf)
Past Issues of the New Jersey Hunting and Trapping Digest
Digest Advertising
The New Jersey Division of Fish and Wildlife incorporates advertising in each issue of the Fish and Wildlife Digest to defray publishing and printing costs. This responsible use of funding permits the Division to expand communication and outreach efforts with the sportsmen and women who enjoy our wildlife resources.
To advertise in upcoming issues of the Digest (freshwater fishing, marine or hunting), click on the link to our publisher, J. F. Griffin Media, https://jfgriffin.com/ or call 413-884-1001.