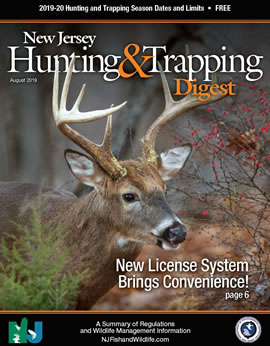 The 2019-20 NJ Hunting and Trapping Digest is available on the Division's website in PDF format and was on the publisher's website in an interactive format.
Print versions were available at Division offices and at license agents. Out-of-state residents only could request a print copy via e-mail.
Past issues of the Hunting and Trapping Digest are linked below.
Complete 2019-20 Hunting and Trapping Digest (pdf, 13.0mb)
DIGEST SEGMENTS
Cover - Page 7 Includes: Table of Contents; License Fee Information; Councils; Mission and Goals; Director's Message; About this Guide; New License System Brings Convenience! (article); and advertisements. (pdf, 2.5mb)
Pages 8 - 17 Includes: Licenses, Permits and Stamps Information; Disabled Vet License Information; Checking Lottery Applications; Interstate Wildlife Compact; Two Strikes, You're Out! (article); Updates on Chronic Wasting Disease (article); and advertisements. (pdf, 2.3mb)
Pages 18 - 23 Includes: Deer Season Permits Information; Antlered Buck Permit Deadlines; Permit and License Agents; Hunter/Trapper Surveys; E-mail Lists; and advertisements. (pdf, 1.3mb)
Pages 24 - 31 Includes: Youth Hunts Information; General Hunting Regulations; Safety Tips for Crossbow Shooting Success; Edible Portions Guide; Farmer Hunting and Permit Information; Deer Harvest Report Cards; and advertisements. (pdf, 5650kb)
Pages 32 - 37, 41, and 44 - 49 (except 38 - 43 below) Includes: Deer Hunting Regulations; Feral Hog Information; Firearms, Bows and Ammunition Legal for Deer Hunting; General Seasons vs. Permit Seasons; 2018-19 Deer Harvest Summary; Be Sure of Your Target and Beyond (Violation Information); Law Office and Regulation Information; Special Areas Deer Hunting Season Information; Hunters Helping the Hungry; and advertisements. (pdf, 1.8mb)
Pages 38 - 43 (except 41) Includes: Deer Season Regulations Sets; and Deer Management Zone/Regulation Sets Map with Regulation Set Reference Chart (Zone:Reg Set). (pdf, 330kb)
Pages 50 - 69 Includes: Bear Hunting Regulations*; Bear Bowhunting Strategies; 2018 Bear Harvest Summary; How Far Can Your Firearm Shoot; NJ WILD Outdoor Expo; Small Game Regulations and Seasons Summary Table; Fall 2019 and Spring 2020 Turkey Seasons Regulations and Information; Youth Turkey Hunt; Trapping Regulations; Be a Conservation-Minded Trapper (Bobcat); Migratory Bird Regulations; What Do I Need to Hunt Migratory Birds?; Report Banded Birds; Youth and Veterans/Active Military Waterfowl Days; Free Waterfowlers Clinic; and advertisements. (pdf, 2.1mb)
* NOTE: All state lands, including all state forests, parks, recreation areas, historic sites, natural areas and wildlife management areas, were closed to hunting of black bears as of August 30, 2018 (per Administrative Order 2018-24 (pdf) and will remain closed for the 2019 season.
Pages 70 - 83 Includes: WMA Regulations; WMA Ranges; Landowner-Hunter/Trapper Agreement (HUNT SMART) Card; Garden State Deer Classic; Outstanding Deer Program; Chronic Wasting Disease Information; State Federation of Sportsmen's Clubs; What Has Happened to Eastern Mallards? (article); Wildlife Restoration Program; Non-lead Ammo — Give it a Shot (article); Governor's Surf Fishing Tournament; Become a Hunter Education Instructor; Operation Game Thief; Sunrise/Sunset Table; Public Deer Hunting Land; Maps Available; Safety Zone Information; Hunting Opportunities on National Wildlife Refuges; and advertisements. (pdf, 1.3mb)
Pages 84 - 90 Includes: Hunter's Showplace Advertising Section; Telephone Directory; and advertisements. (pdf, 1.9mb)
Digest Advertising
The Division of Fish and Wildlife incorporates advertising in each issue of the New Jersey Fish and Wildlife Digest to defray publishing and printing costs. This responsible use of funding permits the Division to expand communication and outreach efforts with the sportsmen and women who enjoy our wildlife resources.
To advertise in upcoming issues of the Digest (freshwater fishing, marine or hunting), click on the link to our publisher, J. F. Griffin Media, https://jfgriffin.com/ or call 413-884-1001.
Past Hunting Issues of the Fish and Wildlife Digest
Past issues are provided for archival, research and informational purposes only.

2018 Hunting and Trapping DIGEST
2017 Hunting and Trapping DIGEST
2016 Hunting and Trapping DIGEST
2015 Hunting and Trapping DIGEST
2014 Hunting and Trapping DIGEST
2013 Hunting and Trapping DIGEST
2012 Hunting and Trapping DIGEST
2011 Hunting and Trapping DIGEST
2010 Hunting Issue of the Fish and Wildlife DIGEST
2009 Hunting Issue of the Fish and Wildlife DIGEST
2008 Hunting Issue of the Fish and Wildlife DIGEST
2007 Hunting Issue of the Fish and Wildlife DIGEST
2006 Hunting Issue of the Fish and Wildlife DIGEST
2005 Hunting Issue of the Fish and Wildlife DIGEST
2004 Hunting Issue of the Fish and Wildlife DIGEST
2003 Hunting Issue of the Fish and Wildlife DIGEST
2002 Hunting Issue of the Fish and Wildlife DIGEST
2001 Hunting Issue of the Fish and Wildlife DIGEST