The Office of Fish and Wildlife Information Systems develops and maintains geographic information systems (GIS) data, analyses, and web mapping applications, and provides GIS/IT assistance in order to guide strategic habitat conservation and support fish and wildlife management throughout New Jersey.

Some recent projects include the development of the New Jersey Hunting and Trapping Explorer, the Support NJ Seafood Story Map, the Sedge Island Living Shoreline Story Map, and the New Jersey Landscape Project.

Most data published by the office is available on the NJDEP Open Data site managed by the Bureau of GIS.

State or federal agencies, local governments, or universities seeking to collaborate or share data should contact the OFWIS at: DFWGIS@dep.nj.gov or 609-223-6060.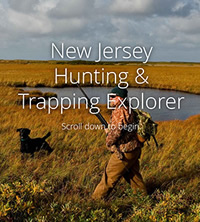 The NJ Hunting and Trapping Explorer is the latest project of the OFWIS.