On January 29, 2013, President Obama signed into law the Disaster Relief Appropriations Act of 2013. The law provides approximately $50.38 billion to assist areas impacted by Superstorm Sandy. The following chart lists the allocation of relief dollars by federal agency (in millions):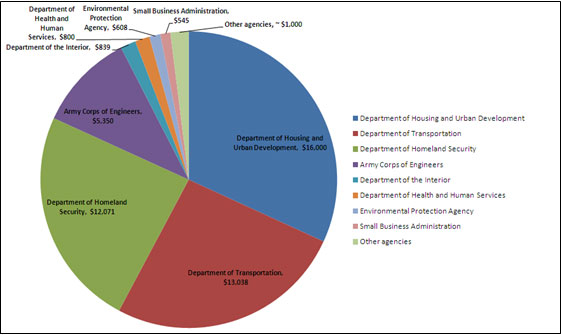 These federal agencies are currently developing allocation methodologies and program rules and requirements to distribute these funds.

On February 6, 2013, the Department of Housing and Urban Development (HUD) announced that New Jersey would receive $1.83 billion in the first allocation of Community Development Block Grant (CDBG) Disaster Recovery funding. The State will use this initial funding to, among other things, help families begin rebuilding and get small businesses back on their feet. New Jersey has submitted an Action Plan to HUD detailing the proposed use of funds, including criteria for eligibility and how the use of these funds will address disaster relief, long-term recovery, restoration of infrastructure and housing and economic revitalization in the most impacted and distressed areas.

The United States Department of Transportation (US DOT) has announced that $2 billion in funds are available through the Federal Transit Administration's (FTA) Emergency Relief Program. New Jersey will use these funds – the first installment of $10.9 billion from the FTA – to repair, protect and replace public transportation equipment damaged by the storm. In addition, the Federal Highway Administration, also within the US DOT, has announced a $128 million federal grant to New Jersey Department of Transportation to repair roads and highways damaged by the storm.

The State continues to work closely with local communities, stakeholders, and the federal government to identify local needs and priorities for rebuilding. The State is committed to ensuring that all resources dedicated to the recovery be applied in an efficient manner and that all necessary precautions be taken to prevent waste, fraud, and abuse.