What is Silicosis?
Silicosis Fact Sheets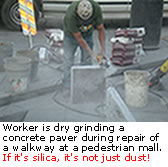 Silica Dust Levels
New Jersey Dry Cutting Law
Getting Medical Help
List of NIOSH-Certified B-Readers in New Jersey
What is a B-Reader? A B-Reader is a radiologist or doctor who is certified to read chest x-rays of workers exposed to substances such as asbestos, silica, and coal dust. Click here for an updated list of NIOSH-certified B-readers in New Jersey and other states.
Other Resources