"Autism Spectrum Disorder is a developmental disability that is impacting many families throughout New Jersey," said Mrs. Christie. "The extraordinary work of the EPIC School is providing a learning environment that is empowering its students with skills for a productive and fulfilling future. I applaud the school's efforts to make a difference in the lives of these students and their families."

EPIC (Educational Partnership for Instructing Children) is a non-profit school that was founded in 1997 with a commitment to provide educational services for children and young adults, ages 3-21 with Autism Spectrum Disorder. The work being done at EPIC demonstrates the highly structured specialized programs necessary to teach new skills and increase independence for students with autism. Staff is trained in applied behavioral analysis and they develop individual systematic interventions to manage behavior and facilitate the educational process in one-on-one settings for enrolled "learners."

Autism is a spectrum of disorders that is complex and lifelong. According to the Centers for Disease Control (CDC), nationwide, it is estimated that autism occurs in 1 out of every 110 births. In New Jersey, the prevalence rate is reported to be 1 in 94.

Most often, autism is diagnosed during the first three years of life and is characterized by difficulties with social interaction and communication, severely limited interests and repetitive behaviors. It is four times more prevalent in boys than in girls and affects families of all races, ethnicities and socio-economic groups.

Autism awareness is a new advocacy area being embraced by First Lady Mary Pat Christie to bring greater understanding of the developmental disability. During the month of April, she will be highlighting the innovative work being done by organizations throughout the state to serve people with Autism Spectrum Disorder.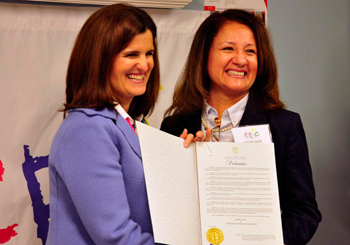 First Lady Mary Pat Christie presents proclamation declaring April as Autism Awareness Month during her visit to the EPIC School in Paramus.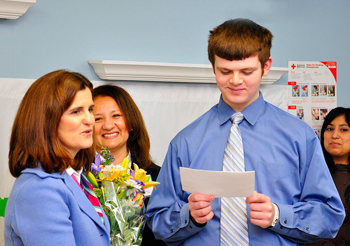 Students welcome First Lady Mary Pat Christie with flowers during her visit to the EPIC School in Paramus.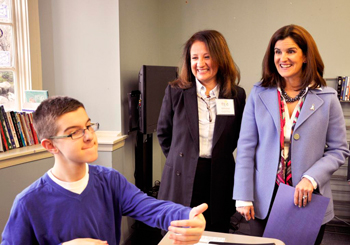 First Lady Mary Pat Christie visits a classroom at the EPIC School in Paramus.