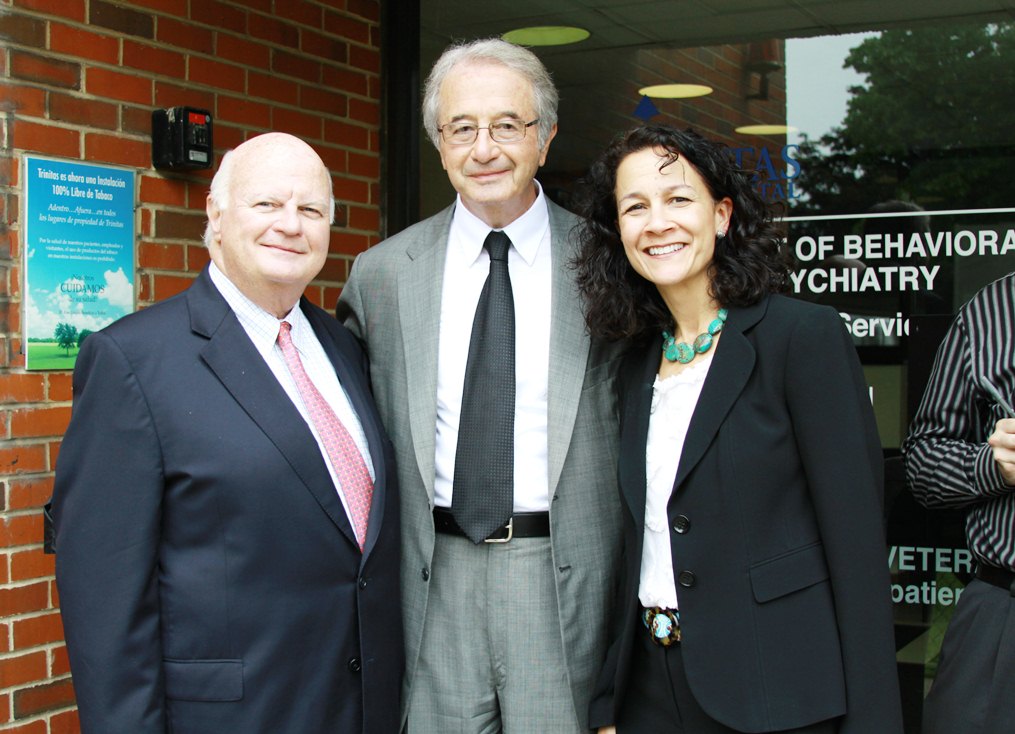 During a tour of the hospital yesterday, DHS Commissioner Jennifer Velez highlighted the extensive community infrastructure of mental health services that is being shaped through funding provided by the state's Fiscal year 2011, 2012 and (pending) 2013 budgets. Since July 2010, more than $32 million in new appropriations has been earmarked for mental health community housing development and supportive services.
"The behavioral health services delivered here at Trinitas and by our partner providers throughout the state are essential to the diagnosis, treatment and sustained recovery of New Jersey residents with mental illness," said Commissioner Velez. "Of most significance is the fact that this type of service often can be done on an outpatient basis, which allows people in need to access help while remaining in the community – among family and friends."
Trinitas was one of five providers awarded a competitively bid contract to help develop an IOC program, which is required by law to provide comprehensive outpatient service and a coordination and referral system to address the needs of individuals required by the courts to receive outpatient psychiatric treatment.  In addition, Trinitas was awarded $1.3 million for its S-COPE proposal.
 "Trinitas Regional Medical Center is eager to increase our outreach and support services for individuals with mental illness," said James Lape, Senior Vice President of Behavioral Health & Psychiatry at Trinitas. "The IOC and S-COPE initiatives really provide some much needed underpinning to the behavioral health safety net, which will make a considerable difference in achieving positive, long term outcomes for consumers."
Recipients of the IOC contracts are required to: assess a person's danger to self or others; provide direct linkage to clinical and support services identified in each consumer's recovery plan; interface with the court system and committing judge, and; arrange transportation to hearings, evaluations and programs. The cooperation and participation of the county court system is integral to the program's development.
IOC awardees included: Trinitas, $534,974; the Mental Health Association of Essex County in Jersey City, $319,936; Family Guidance Center of Warren County; $293,935; Jersey City Medical Center, $269,782; and the Lester A. Drenk Behavioral Health Center, Inc. in Burlington County $287,607.
S-COPE, the Statewide Clinical Outreach Program for the Elderly, is designed to ensure the appropriate assessment and treatment of individuals 55 and older with presumed behavioral health needs, in order to: facilitate and support their continued residence in the community; decrease unnecessary emergency department and screening center visits, and; reduce admissions to short-term care facilities, psychiatric hospitals and special care nursing facilities.
S-COPE also will provide training and technical assistance to administrators, clinical staff, direct care staff and support staff in hospitals, screening centers, nursing homes and providers throughout the state to improve the system's ability to assess, treat and manage behavioral disturbances and stabilize crises.