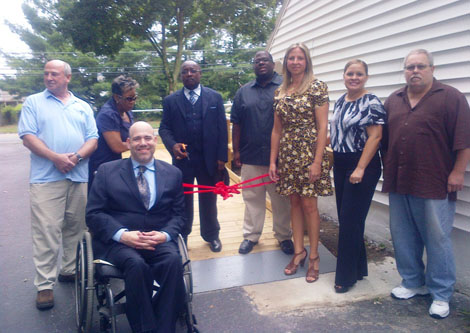 Funding for the accessible entrance was awarded by the DHS' Division of Disability Services (DDS), through a grant from the Kessler Foundation's Special Initiatives Program, to improve physical access to food pantries for New Jersey's citizens with disabilities.

"We are grateful to the Kessler Foundation for their recognition of the vital need for accessible food pantries," said Commissioner Velez. "This enables individuals, who are food insecure and have mobility challenges, to get the assistance they need."

The purpose of the grant was to make renovations to the building that enables people with physical disabilities to access the food pantry.  The CCU ceremony highlighted the new ramp, hand railings and accessible main entrance to the food pantry.

"Because of the economy, our food pantries have seen a real increase in need, especially within the disability community," said DDS' Director Joseph Amoroso, who uses a wheelchair and attended the ribbon-cutting event. "This accessibility grant has enhanced the emergency food provider system and empowered individuals with disabilities to obtain the services they need, with dignity."
-more-

The CCU, established in 2011, operates in partnership with the Food Bank of South Jersey and serves more than 2,000 people annually. 

"People are commenting about how easy it is to get in and out without assistance from staff or patrons," said Mario Partee, CCU Food Pantry coordinator.  "We were able to feed 60 families within an hour or so.  That is a record for us and we believe that was possible because of the improved access to the building,"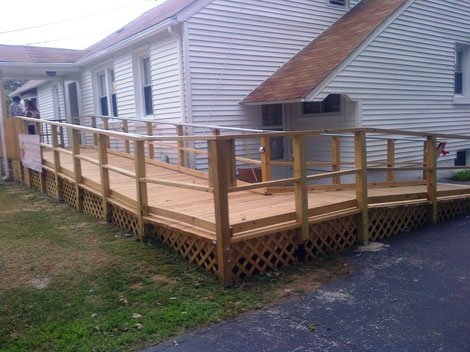 DDS is the state's lead agency for disability services and was awarded the grant from the Kessler Foundation last year.  On March 22, 2012, DDS chose three regional nonprofit agencies, which operate within the New Jersey Emergency Food Provider System and also provide information and referral to other programs, such as NJ SNAP (the state's food assistance program), WorkFirst NJ (welfare) and NJ FamilyCare (subsidized health insurance), from six applicants.
DDS awarded competitive grants of approximately $5,000 each.  The other award recipients were The Lord's Pantry, Trinity United Methodist Church, Hackettstown and Fixer of Hearts Food Pantry, Community Church Fixer of Hearts, North Brunswick.