The contest uses the topic of family to engage high school and middle school students in creative thinking through art.  Students, who participate through their schools' art classes, create original hand-drawn artwork to complement the Department's ongoing advertising and outreach campaign: "Child Support. It's more than just money."  Winners are selected based upon their interpretation of the year's theme and their work is included in a calendar that is compiled and distributed every year.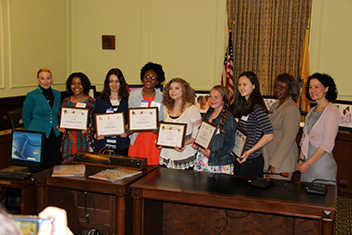 This year's challenge to students was to illustrate the idea that families come in different shapes and sizes. Students were asked to depict what makes their parent(s) unique and how that has impacted their view of parenthood.  This topic is relevant because while families may take many different forms, they all share common purpose and value.

"This year's theme captured the wonderful diversity of New Jerseys' families," said DHS Commissioner Jennifer Velez. "The artwork was a clear demonstration of the students' excitement to express their families' unique identities. The talent represented by this year's entries was simply amazing."

"The artwork submissions contained numerous illustrations of parents and their children from all walks of life," said Jeanette Page-Hawkins, Division of Family Development Director.  "We are overjoyed to have students share images of their family dynamics."

Winners in the high school category:
• First place, Artemis Tapliga, Wall High School
• Second place, Gabrielle Kershaw, Paul VI High School
• Third place, Diamond Jones-Vaughn, Piscataway Township High School

Winners in the middle school category:
• First place, Lia Mann, Forrestdale School
• Second place, Michaela VanDervelden, Schuyler-Colfax Middle School
• Third place, Natalie Chung, Schuyler-Colfax Middle School

Each winner receives a U.S. Savings Bond, a plaque of achievement, and a pair of day passes to Six Flags Great Adventure in Jackson, New Jersey.  All winning entries will be displayed in the Statehouse Annex Tunnel from May 20th through 24th.

For more information about this program or the New Jersey Office of Child Support Services, please call 1-877-NJKIDS1 or log onto www.njchildsupport.org.