More than 4,500 regular cots, 9,000 blankets, 250 specialized medical cots, wheelchairs, intravenous stands, walkers, crutches, canes and other items are being restocked this month at a Department of Human Services' warehouse in Winslow Township.

Offices of Emergency Management from several counties are scheduling appointments at the warehouse to pick up equipment and supplies they depleted during and after Sandy.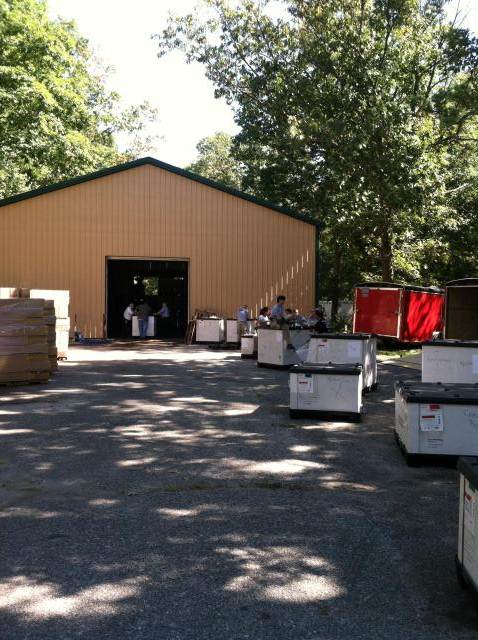 "The ability to quickly provide shelter and emergency supplies for people who have survived a mass disaster is imperative, especially in evacuated areas and adverse conditions in which people may not have shelter, food or the medical items they need," said DHS Commissioner Jennifer Velez. "I saw firsthand during Sandy just how important it is to be prepared. People's lives absolutely depend on it."
"We work closely with the state office of Emergency Management, Homeland Security and the Department of Health, as well as the counties, The Salvation Army, The American Red Cross and our community-based partners to respond quickly to large-scale emergencies," Commissioner Velez said. "We are prepositioning mass care and medical equipment at the point of need. This distribution will help the counties rapidly respond by having their own in-stock commodities."
DHS and the other state and nonprofit agencies work together to provide Mass Care services - including food, shelter, and medical supplies - during disasters.
FEMA Corps Eagle 6 Team Atlantic Region, part of The AmeriCorps National Civilian Community Corps – is comprised of 10 young adults from throughout the United States who are volunteering to replenish the warehouse supplies and help county representatives restock theirs. The volunteers are young professionals who range in age from 18-24.
Team 6 already has moved and repacked in excess of 26 tons of equipment and are expected to move another 25 tons this month.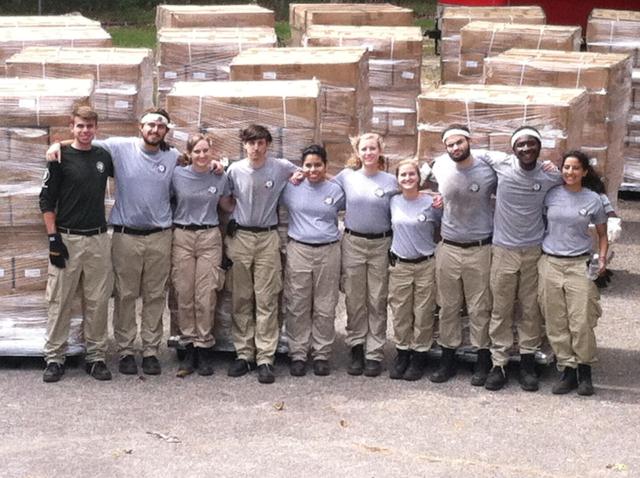 "These enthusiastic volunteers are a testament to the great community service that our young people are very willing to provide for the citizens of New Jersey and the United States," said William Schaffer, Director of DHS' Office of Emergency Management.
Most of the supplies were bought with federal grants secured by DHS and the New Jersey Office of Homeland Security from the United States Department of Homeland Security and the United States Department of Health and Human Services.
DHS has been storing the supplies in its warehouse in Winslow Township, where it also stored three large, unique feeding trucks that can prepare and serve 30,000 hot meals a day in a mass disaster.
Using an $850,000 grant from the U.S. Department of Homeland Security, DHS last year purchased the custom-made vehicles to enable The Salvation Army to feed thousands of people during major disasters.
The feeding trucks, known as field kitchens, are 40 feet long and 13 feet tall, and can be driven to shelters or the locations of any large-scale emergency situation and quickly begin serving meals to disaster survivors.
The standard Salvation Army canteen is capable of serving 1,500 meals per day, and although The Salvation Army has access to a larger field kitchen, that unit requires special electrical and sanitary connections and may already be deployed to other parts of the country.
DHS and The Salvation Army designed what officials believe is the first feeding truck in the country that can serve so many people in such a short period of time. Food can be served directly on site or transported to Salvation Army canteens or American Red Cross feeding sites.
The vehicles are equipped with large onboard diesel generators and two large propane tanks, enabling them to operate without needing access to an electrical outlet. They each contain two large refrigerators, three built-in freezers, two 30-gallon tilting skillets, four sinks, a staff bathroom, on board waste and water holding tanks.