The College of New Jersey and Rutgers University awarded funds to support students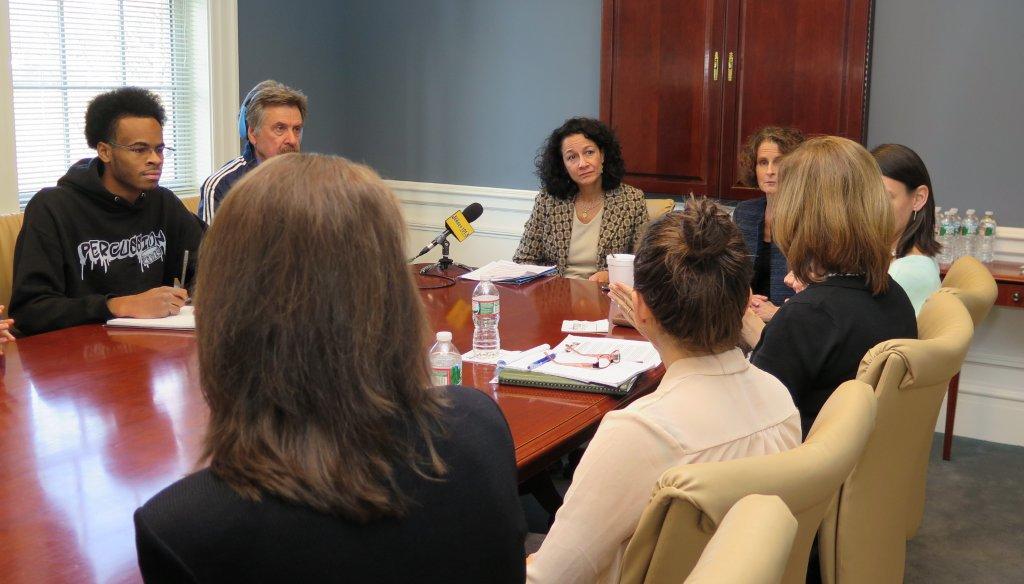 Kicking off the Administration's Season of Giving, DHS Commissioner Jennifer Velez met with TCNJ administrators and students to discuss the school's plans for the grant.

"The college life can introduce new experiences, new freedoms and new influences to students," said Commissioner Velez. "Sometimes these opportunities and stressors can lead to experimentation with or misuse and abuse of drugs and alcohol. We need to make sure that students who want to live sober lives can do so and be supported in their choice.            
A recent Harvard University College Alcohol Study indicates that 31% of the nation's college students meet criteria for an alcohol abuse diagnosis and the National Institute on Alcohol Abuse and Alcoholism (NIAAA) in 2014 reported that 1,825 college students between the ages of 18-24 die each year from alcohol-related injuries.

"The goal of this project is to provide students in recovery, students at-risk, and students who simply choose not to misuse alcohol and drugs, with a supportive community that promotes physical, psychological, social, and spiritual health," Velez said. "By providing these supports, it is easier for a student who is in recovery to thrive in the college setting and work toward his or her academic goals. It also provides comfort to families who may have concerns about watching their loved one enter an environment known for its temptations."

As contract recipients, TCNJ and Rutgers University are required to develop a comprehensive program to provide a continuum of prevention and treatment services for students. TCNJ and Rutgers will provide individual and group substance abuse recovery-oriented programs and services, environmental prevention strategies, academic, and personal counseling services, and offer recovery-based housing for students if necessary.

"Addressing high risk substance abuse behaviors is a major concern for all colleges and universities. The unique combination of increased independence, social and academic pressures, identity struggles and shifting expectations are among the stressors that challenge students. The funding provided by DHS will help to support comprehensive, integrated programs with multiple complimentary components.  I am pleased that TCNJ and Rutgers University share the opportunity to model best practices in prevention and intervention efforts designed to help students realize personal and academic success," Higher Education Secretary Rochelle Hendricks said.
 
The contract awardees also are required to establish a campus Alcohol, Tobacco, and Other Drug (ATOD) task force, participate in the DMHAS-funded Regional Coalition for the county in which the college or university is located, offer media resources (and non-ATOD alternative activities) to college student populations, attend funded trainings and workshops as required, and provide quarterly reports to the State on all project activities. Project oversight will be provided by DMHAS.

TCNJ officials said the contract will allow them to augment the college's existing prevention and recovery supports, which include an active Alcohol and Drug Education Program (ADEP) and counseling services. With the contract, TCNJ will hire and fund a community support and recovery supervisor who will oversee students in recovery, and will provide recovery housing for students. The funds will also support the development of substance-free late night activities for students. TCNJ's own research has found that many students would prefer activities where drinking does not occur.
 
"We're committed to the health and wellness of our students," said Amy Hecht, vice president for student affairs at TCNJ. "The college provides an excellent education, both inside and outside the classroom, and this contract will increase our accessibility for students in recovery and those that who wish to live a substance-free lifestyle."

TCNJ's ADEP office provides educational forums to address substance abuse prevention, and coordinates a program to bring all of the mental health resources available to students across the campus. Students who may be struggling with substance abuse may either self refer or may be required to participate in an ADEP program. Students needing additional counseling services may be seen at the Counseling and Psychological Services office or attend the TCNJ Clinic for longer term counseling and support as they manage their recovery. TCNJ Clinic also offers SMART Recovery (Self Management and Recovery Training) meetings.
 
The new services also will include relapse prevention workshops, mentoring, support groups, academic support, screening and intervention, and referrals.

TCNJ will collaborate with government agencies, campus task forces and community coalitions.