Members & Staff
Ex-Officio Members
As outlined in the Authority's by-laws, the Authority consists of seven members, three of whom are ex-officio (namely: the Commissioner of Health, the Commissioner of Human Services and the Commissioner of Banking and Insurance).
Judith M. Persichilli, R.N., B.S.N., M.A., Chairperson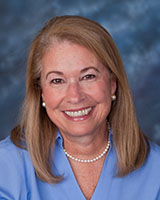 (Serves during her term as Commissioner of the Department of Health)
Judith M. Persichilli, R.N., B.S.N., M.A., began serving as Acting Commissioner of Health on August 5, 2019 and was confirmed on January 9, 2020.
Prior to leading the department, Ms. Persichilli served as the Acting Chief Executive Officer (CEO) of University Hospital in Newark.
Ms. Persichilli was president emerita of CHE Trinity Health, the health ministry formed in May 2013 by the consolidation of Catholic Health East and Trinity Health of Livonia, MI. She previously served as the interim president and chief executive officer (CEO) of CHE Trinity Health. Prior to this appointment, Ms. Persichilli was President and CEO of Catholic Health East.
Ms. Persichilli joined CHE in 2003 as the Executive Vice President of the Mid-Atlantic Division. She was promoted to Executive Vice President of acute care for the system in 2008 and then to Executive Vice President and Chief Operating Officer in December 2009 before assuming the role of CEO. Prior to joining CHE's System Office, she served for eight years as CEO at St. Francis Medical Center in Trenton.
Ms. Persichilli received her nursing diploma from the St. Francis Hospital School of Nursing, a Bachelor of Science in Nursing summa cum laude from Rutgers University, and a Master of Arts in Administration summa cum laude from Rider University. She also received an honorary Doctor of Health degree from Georgian Court University in 2009. In May 2011, Ms. Persichilli received an honorary Doctor of Humane Letters from Sacred Heart University in Fairfield, CT.
In 2006, Ms. Persichilli was inducted into the New Jersey State Nurses Association Hall of Honor. She also received the Catholic Charities, Diocese of Trenton's highest honor when she was awarded the 2008 Richard J. Hughes Humanitarian Award. In 2011, Ms. Persichilli was named one of the 50 most powerful people in New Jersey health care by NJ Biz and was selected by KYW Newsradio as a recipient of its annual Women's Achievement Award. She also received the 2011 Edward J. Ill Excellence in Medicine Award for Outstanding Medical Executive. In September 2011, Ms. Persichilli was awarded the Benemerenti Medal, a papal honor bestowed on her by Pope Benedict XVI. In October 2011, the Philadelphia Business Journal's inaugural Healthcare Innovation Awards program named Persichilli as the recipient of the Lifetime Achievement Award. Persichilli was named to Becker's Hospital Review's "300 Hospital and Health System Leaders to Know" list in 2012, which recognizes individuals leading prominent American health care organizations.
Persichilli co-founded the Catholic Foundation of Greater Philadelphia, which provides fundraising support to organizations throughout the Greater Philadelphia region. In April 2013, Modern Healthcare named Persichilli to its 2013 list of Top 25 Women in Healthcare.
Ms. Persichilli resides in Pennington.
Sarah Adelman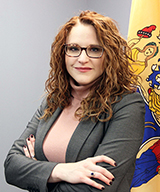 Sarah Adelman (Serves during her term as Commissioner of the Department of Human Services)
Sarah Adelman was named Acting Commissioner for the Department of Human Services as of January 16, 2021. Ms. Adelman previously served as the Deputy Commissioner at the New Jersey Department of Human Services, overseeing the Division of Developmental Disabilities, Division of Aging Services, and the Division of Medical Assistance and Health Services, which operates the Medicaid/NJ FamilyCare program. Ms. Adelman also serves as the Commissioner's designee on the Board of the New Jersey Housing and Mortgage Finance Agency.
Ms. Adelman has worked in Medicaid and health policy for more than a decade, previously serving as Vice President at the New Jersey Association of Health Plans and Chief of Staff at the New Jersey Health Care Quality Institute. Ms. Adelman also previously served on the Board of Trustees for Samaritan Healthcare and Hospice, the Board of Directors for a statewide child abuse and neglect prevention program, and the Commerce and Industry Association of New Jersey's Healthcare Steering Committee. Ms. Adelman was named among "New Jersey's Top 10 Healthcare Policy Analysts and Experts" by NJ Spotlight. Ms. Adelman received her Bachelor of Arts summa cum laude from Rowan University, a certificate in Advanced Healthcare Leadership from Seton Hall University, and was a fellow in the inaugural class of the New Jersey Healthcare Executives Leadership Academy.
Marlene Caride, Esq.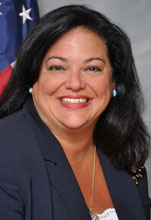 (Serves during her term as Commissioner of the Department of Banking
and Insurance)
Marlene Caride, Esq. served in the New Jersey General Assembly since 2012, where she represented the 36th Legislative District. Caride served in the Assembly on the Commerce and Economic Development Committee (as Vice-Chair), the Financial Institutions and Insurance Committee, the Transportation and Independent Authorities Committee, the New Jersey Legislative Select Committee on Investigation and the Intergovernmental Relations Commission.
Caride earned a bachelor's degree in Education from Fairleigh Dickinson University and was awarded a J.D. degree from the California Western School of Law. She is an attorney who is a partner in private practice with the firm of Gonzalez & Caride. She has served as prosecutor for the Board of Alcoholic Beverage Control of West New York from 2009 to 2012, as an attorney of the town's parking authority from 1995 to 2009, and has been the municipal prosecutor of the Borough of Ridgefield since 2011. In her hometown of Ridgefield, she was a library alternate trustee from 2005-2006 and was an alternate member of the board of health from 2005 to 2007
Public Members
David G. Brown II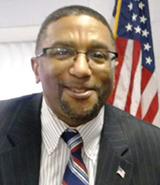 Public Member, Vice Chair (term expires 4/30/2024)
David G. Brown ll was confirmed by the New Jersey State Senate as the newest member of the New Jersey Health Care Facilities Financing Authority on October 29, 2020. He was nominated by Governor Murphy on August 8 of this year.
Mr. Brown is currently the Administrator of the Borough of Bradley Beach. He previously served as the Executive Director of the Linden-Roselle Sewerage Authority and as the Administrator of the Borough of Roselle. Prior to that, Mr. Brown held several municipal leadership positions, including Director of Newark's Urban Enterprise Zone and Director of Public Works and Urban Development for Plainfield, NJ. He also serves on the Board of Directors of the Association of Environmental Authorities of New Jersey.
A native of Long Branch, Mr. Brown served in the New Jersey National Guard and has both a Bachelor of Arts degree and a Master's in Public Administration from Kean University.
Thomas J. Sullivan , Jr.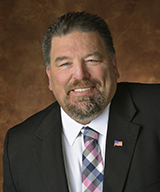 Thomas J. Sullivan, Jr., Public Member, Secretary (term of office expires April 30, 2025)
Thomas J. Sullivan, Jr. was approved by the New Jersey Senate on March 25, 2021. He is a lifelong Bergen County resident. Mr. Sullivan has served on the Bergen County Board of County Commissioners since January of 2015. As a Commissioner, he has served on the Board's committees for: Social Services, Shared Services, Labor and Personnel, Law and Public Safety, Transportation, Public Works, Community Development, and Planning and Economic Development. He was elected to serve as Vice-Chairman of the Board in 2017 and as Chairman of the Board in 2018.
Mr. Sullivan has had a long professional career in Local 164 of the International Brotherhood of Electrical Workers (IBEW). Starting out as an Apprentice Electrician, Mr. Sullivan learned the value of hard work and the opportunities it brings. Through many years of innovation and commitment to his career, he became a Journeyman Electrician, and was subsequently elected Vice President of Local 164 in 2010, and President in 2013, a position he currently holds today.
Mr. Sullivan's previously served on Bergenfield's Borough Council from 1998 until 2002, and Montvale's Borough Council from 2005 until 2008. He also has an impressive history of community volunteerism.
Mr. Sullivan and his family currently reside in Montvale.
Bridget Devane, MSW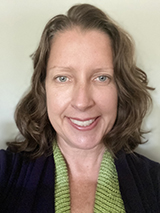 The Authority welcomes a new Public Member to its governing body: Bridget Devane, MSW received the advice and consent of the Senate on June 20, 2022. She was nominated by Governor Murphy to fill the term of former Authority Member Suzette Rodriguez. That term is currently set to expire on April 30, 2025. Ms. Devane's first meeting as an Authority Member was on July 28, 2022.
Ms. Devane is the Public Policy Director for the Health Professionals and Allied Employees (HPAE), New Jersey's largest health care union representing registered nurses and health care professionals in acute-care, long term care, psychiatric, blood bank and medical laboratory facilities.
Since 2004, her work at HPAE has focused primarily on improving working conditions for healthcare professionals across New Jersey, while advocating for patient safety measures to ensure better patient outcomes. She oversees a department of staff who monitor the ongoing consolidation of healthcare providers, assess the financial state of healthcare operations in facilities across the state, and advocate for legislative and regulatory reforms to set standards for quality patient care and improve access to health care services.
Prior to her work at HPAE Ms. Devane worked at New Jersey Citizen Action, a statewide consumer advocacy organization, working with patients and advocates to protect the financial interests of health care consumers. She received her Bachelors of Social Work from Ramapo College of New Jersey and a Masters of Social Work from Hunter College.
Sam Maddali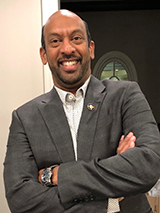 The Authority welcomes a new Public Member to its governing body: Sam Maddali of Benardsville, New Jersey (term expired on April 30, 2023; Mr. Maddali will continue to serve until reappointed or replaced).
Mr. Maddali was nominated by Governor Murphy to replace former Authority Member Dr. Munr Kazmir. He was confirmed by the Senate on March 20, 2023.
Mr. Maddali is the Chairman and founder of United Pharmacy Network, a group purchasing organization for independent pharmacies. He has served on various boards including the Bouvé Strategic Advisory Council at Northeastern University, the Foundation for Morristown Medical Center and the Governor's Council on Mental Health Stigma. Mr. Maddali was also awarded the NJ Pharmacist of the Year award by Senator Vin Gopal for his advocacy for the rights of independent, community pharmacies.
Mr. Maddali is passionate about giving back, and has been an active member of Rotary International for nearly three decades. He serves on the board of directors for the Eye Foundation of America, a not-for-profit organization dedicated to eliminating avoidable blindness in underserved countries of the world, and is a trustee for Gift of Life, providing life-saving heart surgeries to children worldwide.
Mr. Maddali received his Bachelor of Pharmacy degree from Long Island University. Although a pharmacist by trade, Mr. Maddali's business interests have expanded to include business development, entrepreneurism, and he is also a real estate professional.
Authority Staff
All Authority staff can be reached by telephone at (609) 292-8585 followed by the staff member's extension as listed below. To reach a staff member by facsimile, send the fax the individual's attention at (609) 633-7778.