The Marine Services Bureau is comprised of ten stations. These facilities are strategically located throughout the State to address recreational boating issues, fish & game laws, search & rescue, criminal matters, and Homeland Security.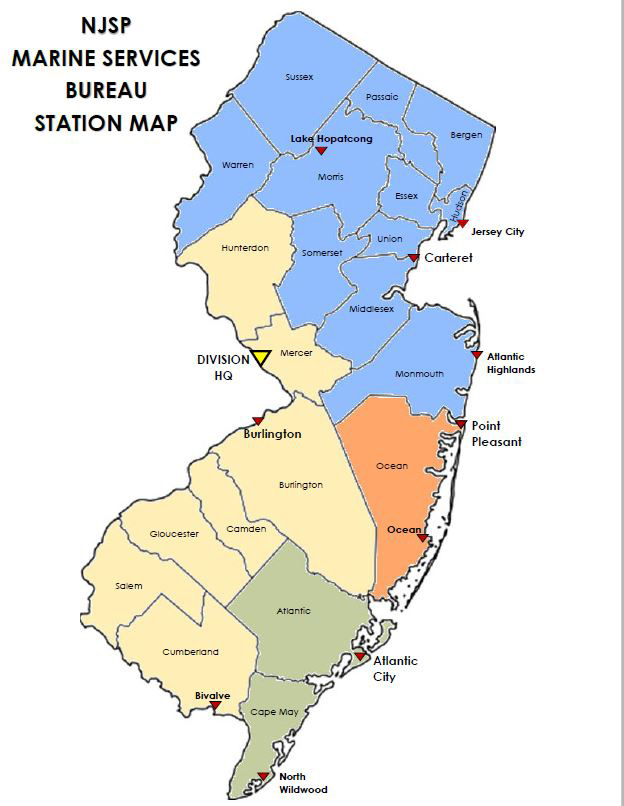 The stations are:
Atlantic City Station
1200 N. Rhode Island Avenue
Atlantic City, NJ 08401
(609) 441-3586
Bivalve Station
2669 Ogden Avenue
Port Norris, NJ 08349
(856) 785-1330
Burlington Station
601 East Pearl Street
Burlington City, NJ 08016
(609) 387-1221
Carteret Station
135 Middlesex Avenue
Carteret, NJ 07008
(732) 541-0491
Lake Hopatcong Station
341 Espanong Road
Lake Hopatcong, NJ 07849
(973) 663-3400
Atlantic Highlands Station
2 Simon Lake Drive
Atlantic Highlands, NJ 07716
(732) 541-0491
North Wildwood Station
Corner of Chestnut and Central Avenues
North Wildwood, NJ 08260
(609) 522-0393
Ocean Station
2 Point Drive
Waretown, NJ 08758
(609) 693-8371
Point Pleasant Station
2001 Loveland Place
Point Pleasant, NJ 08742
(732) 899-5050
Jersey City Station
Liberty State Park


Audrey Zapp Drive

Jersey City, NJ 07305
(732) 541-0491
Note: Marine Stations may also be contacted via Marine VHF Radio Channel 16.
---
To ask generic boating or marine questions, to a NJSP Marine Station.
Please note, this is not the forum to debate regulatory laws or enforcement actions.
This is also, not the forum to file a compliment or complaint. Please refer to the Compliments & Complaints page.
This site is monitored on a regular basis. Although your questions are important to us, your question may require being forwarded to another entity. Be assured, all questions will be addressed in a timely manner and you will receive a response.
To ask a boating or marine question, click here