June 4, 2007
Rescue - Burlington Station
Trooper I Keith Trotman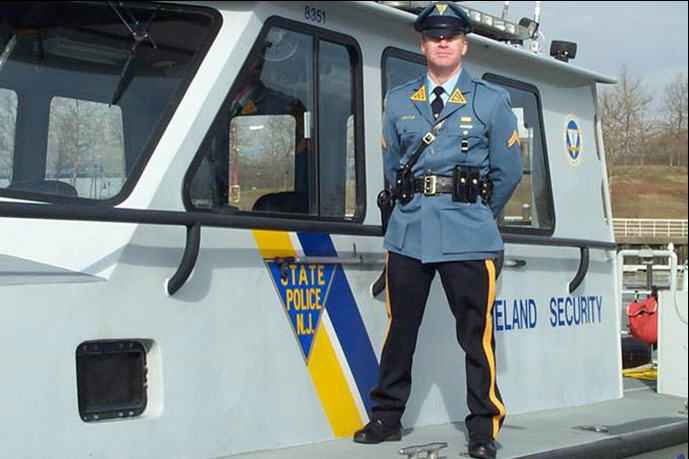 Just after 6:00 p.m. on June 4, 2007,  the NJSP Marine Services Bureau's Burlington Station received a call that a man was trying to commit suicide in the Delaware River near Wood St. in Burlington City.  Sergeant First Class  Dennis Tully and  Tpr. I Valentino Borrelli responded in a 23-foot SeaArk and Tpr. I Keith Trotman responded in a 21-foot Boston Whaler.
Witnesses later told our troopers that they noticed the man's behavior was strange on shore and that he ignored their suggestions to stop as he entered the water.  The suicidal subject walked out into the water and swam into the shipping channel where he began to submerge for longer and longer periods of time.  As his time underwater lengthened, he began to cough when he surfaced and then he would submerge again.  The witnesses believed the swimmer was trying to drown himself and called the New Jersey State Police, Burlington Station.
As Tpr. Trotman approached the bulkhead where the witnesses were standing, he saw them pointing out into the river in the vicinity of a channel marker.  Trotman turned immediately toward the channel marker and observed the man's head break the water's surface and then submerge again about 300 yards from the shoreline.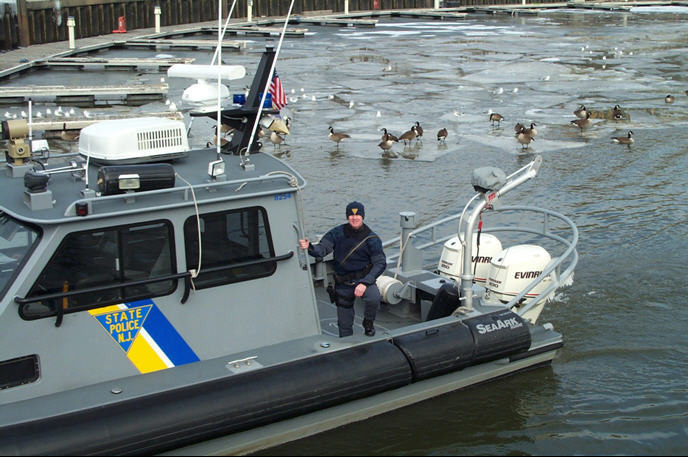 Upon approaching the victim's location, Tpr. Trotman, knowing that the second vessel was nearby, secured his vessel, removed his own personal flotation device (PFD) and dove into the water at the spot he last saw the victim submerge.  On his first dive under the water, Trotman was able to locate the victim below the surface and swim him back to the surface.  Trotman then swam the subject over to his vessel, where he held onto the rail until SFC Tully and Tpr. Borrelli approached to assist.  The man was having difficulty breathing, regurgitating water and coughing severely.  Tully hoisted the victim into the vessel and monitored his vital signs until they got him to shore, and to a waiting ambulance.  The victim was transported to Our Lady of Lourdes Hospital for treatment.                                                                
Tpr. Trotman's selfless act no doubt saved this man's life.  We are proud of his bravery and view his decisive action as proof of how seriously he views his oath to protect the citizens of this state.
---
CRISIS INFORMATION: The National Suicide Prevention Lifeline is a 24-hour, toll-free suicide prevention service available to anyone in suicidal crisis. If you need help, please dial 1-800-273-TALK (8255). You will be routed to the closest possible crisis center in your area.  Call for yourself, or someone you care about. Your call is free and confidential. https://www.suicidepreventionlifeline.org
New Jersey Self-Help Group Clearinghouse call Mon-Fri, 8:30am-5pm to speak with a volunteer or staff member who will provide you with information and contacts. If you need help, please dial  1-800-367-6274 or 1-800-FOR-M.A.S.H. (Mutual Aid Self-Help)  https://www.njgroups.org