Workforce and Caseload Data
Here you will find the latest information about what the caseloads look like for our local Child Protection and Permanency (formerly DYFS) office staff, as well as how it matches up with the targets set in the Modified Settlement Agreement. This includes information on intake workers (initial investigators), permenancy workers (workers with children being served in their homes and in foster care), adoption workers (caseworkers focused on finding forever families for kids in need), and supervisors. You will also find information about CP&P staff training.
Caseloads
New Jersey is evaluated by the Federal Monitor on its caseload compliance, based on best practices, every six months. Please note: DCF reports on how each local office is performing against the target goals.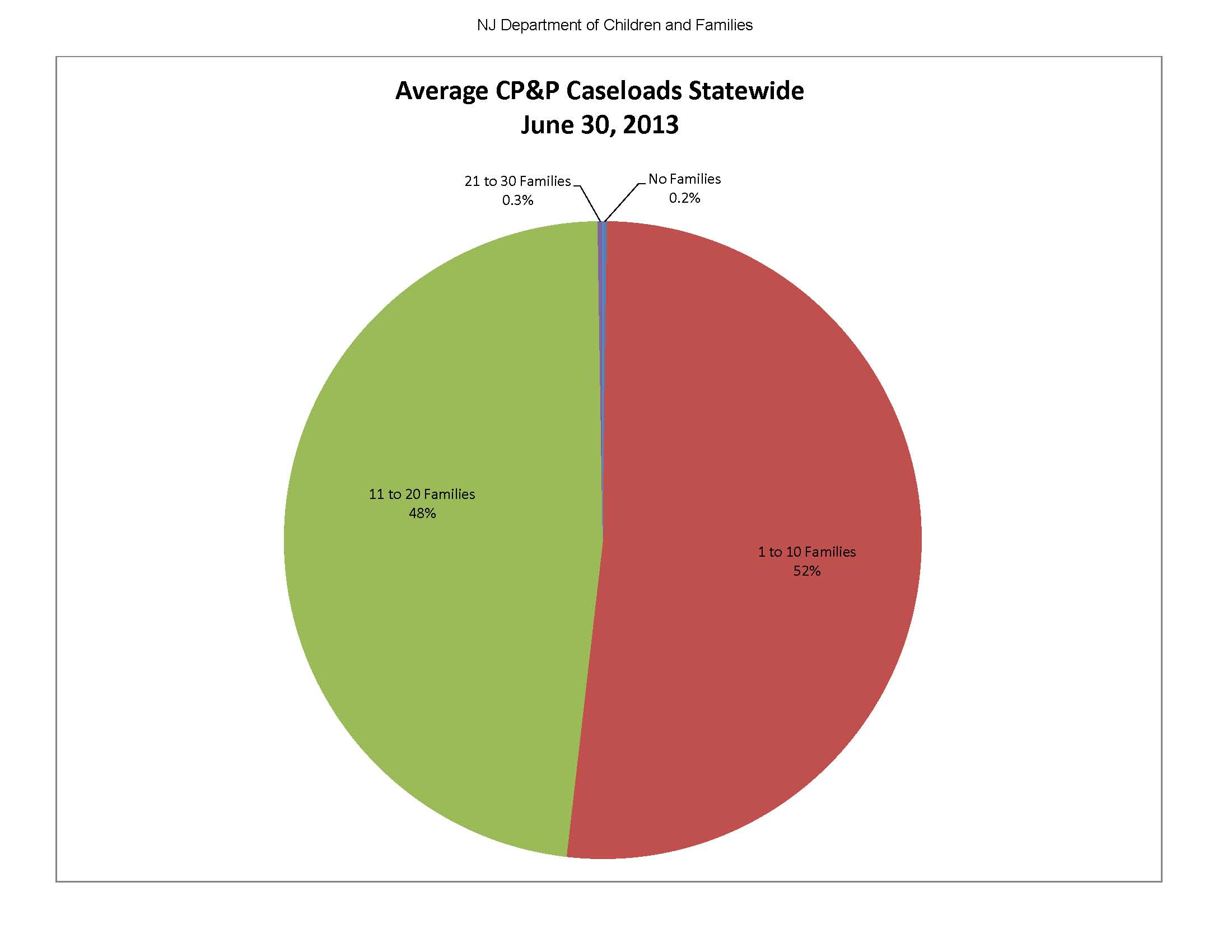 Click the chart for larger, printable version (pdf)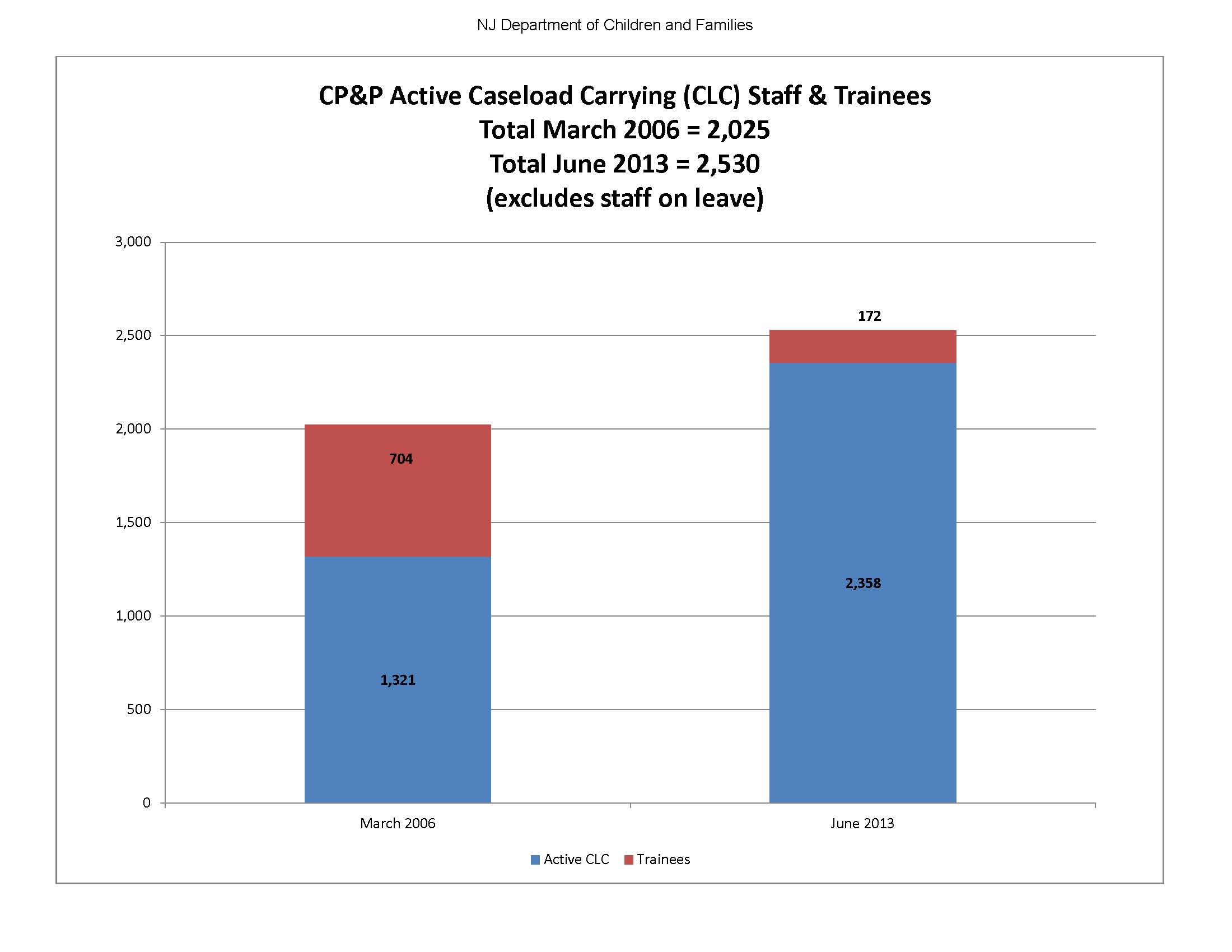 Click the chart for larger, printable version (pdf)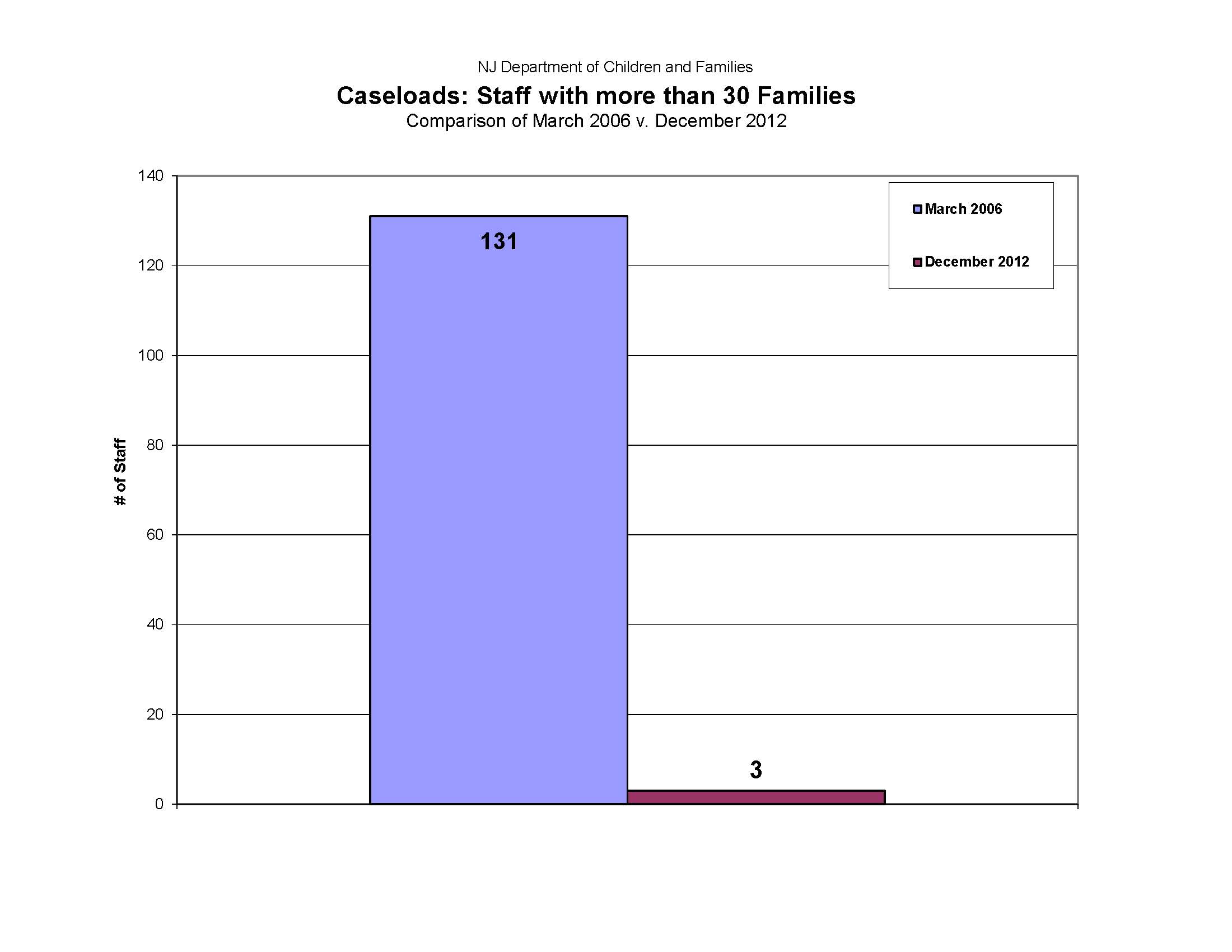 Click the chart for larger, printable version (pdf)
Caseload Compliance through December 2012

INTAKE CASELOADS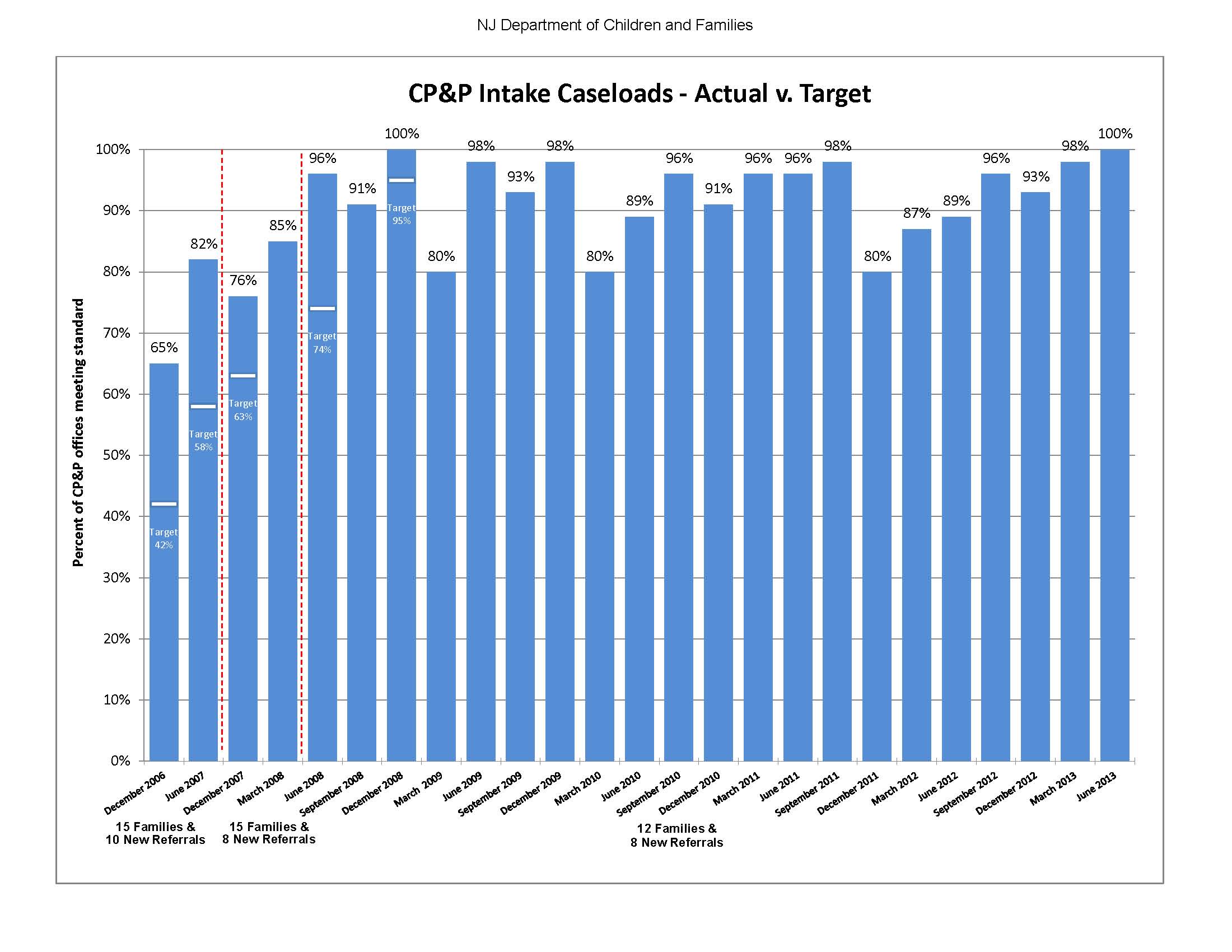 Click the chart for larger, printable version (pdf)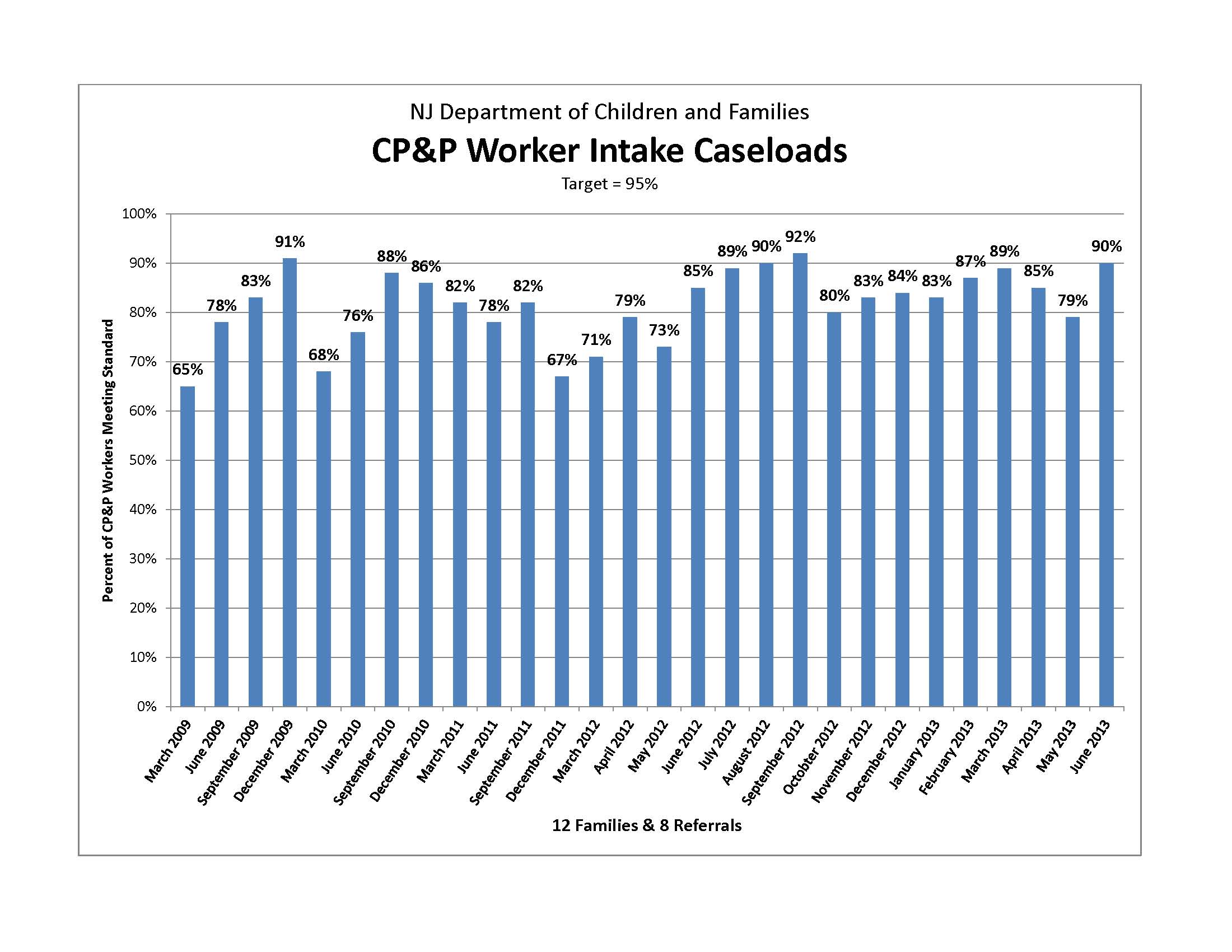 Click the chart for larger, printable version (pdf)


PERMANENCY CASELOADS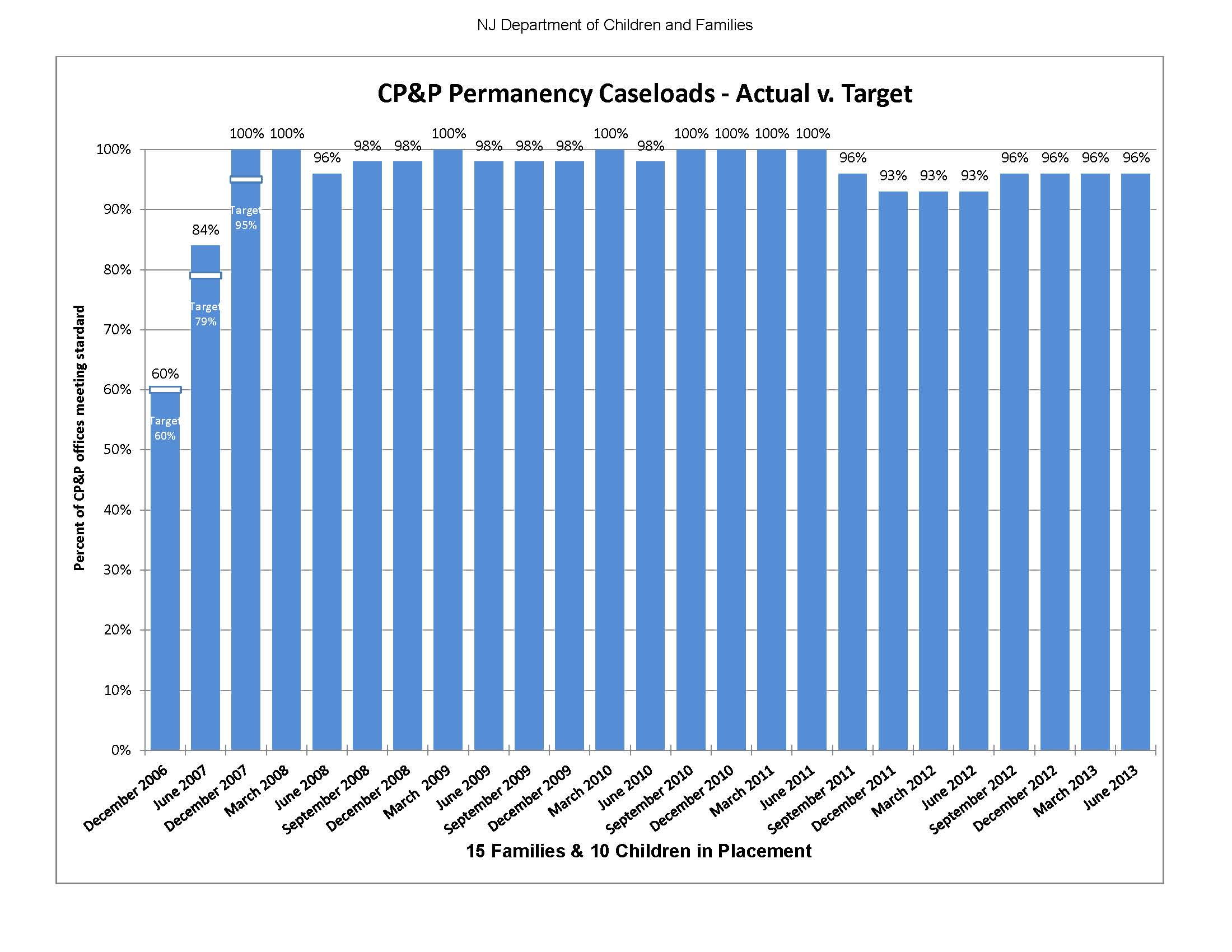 Click on chart for larger, printable version (pdf)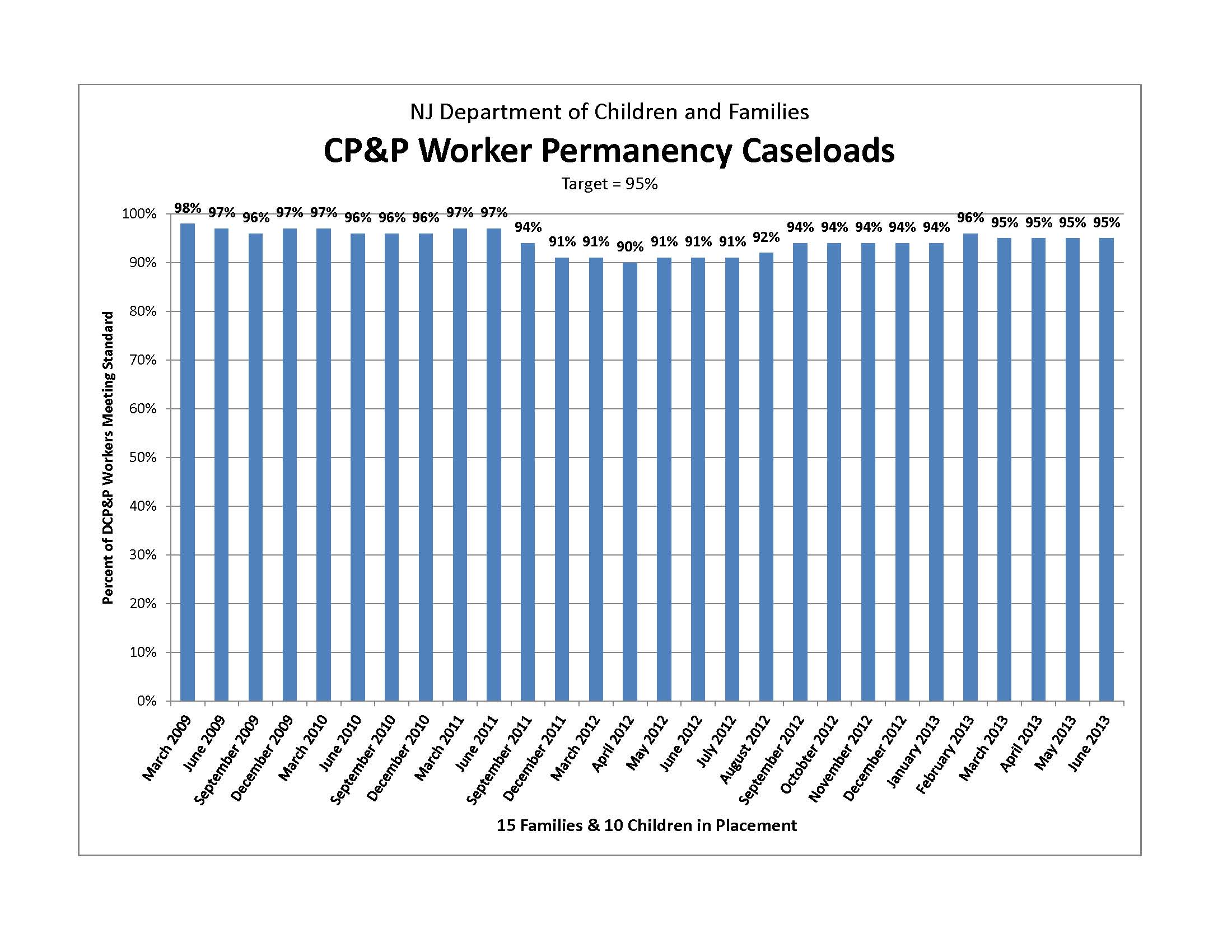 Click on chart for larger, printable version (pdf)




ADOPTION CASELOADS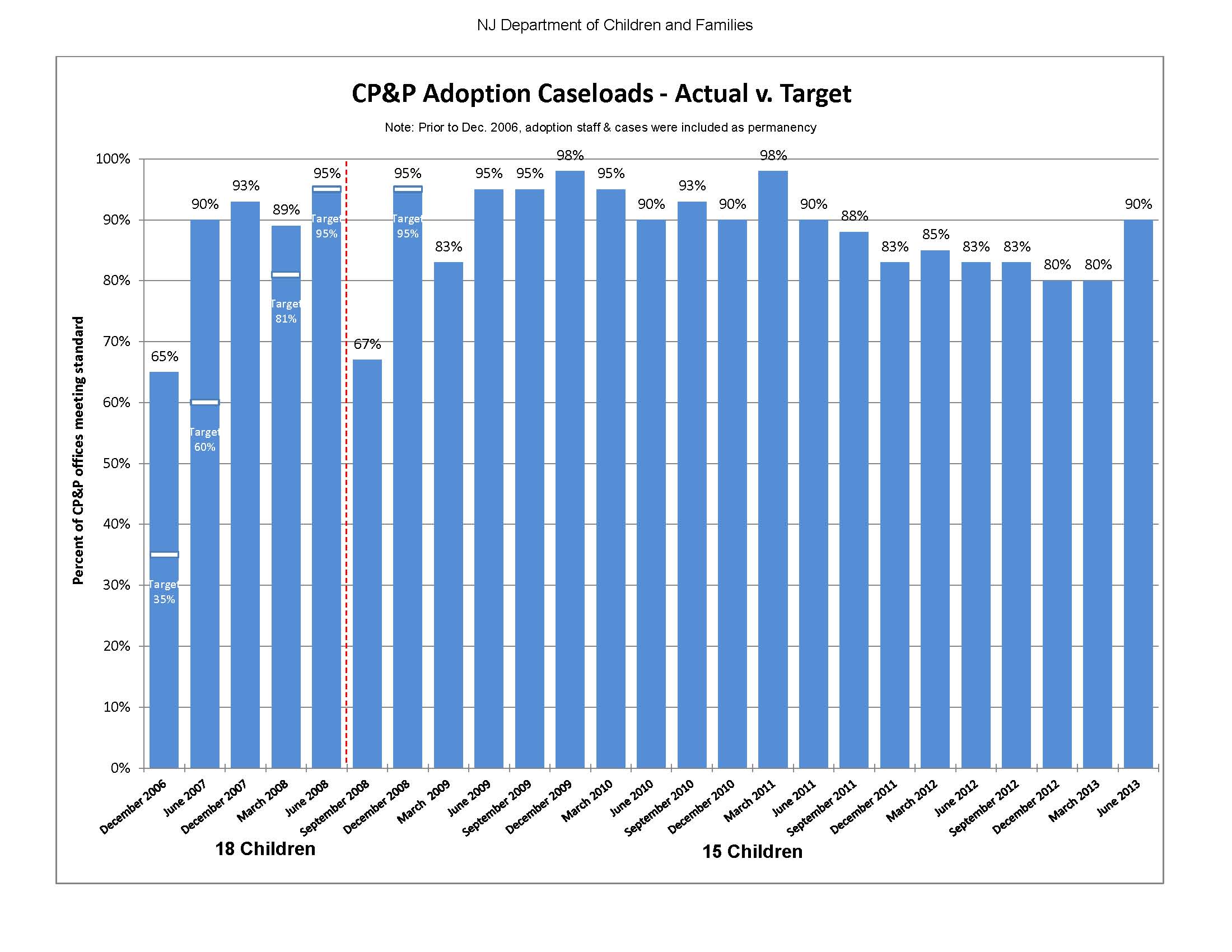 Click on the chart for larger, printable version (pdf)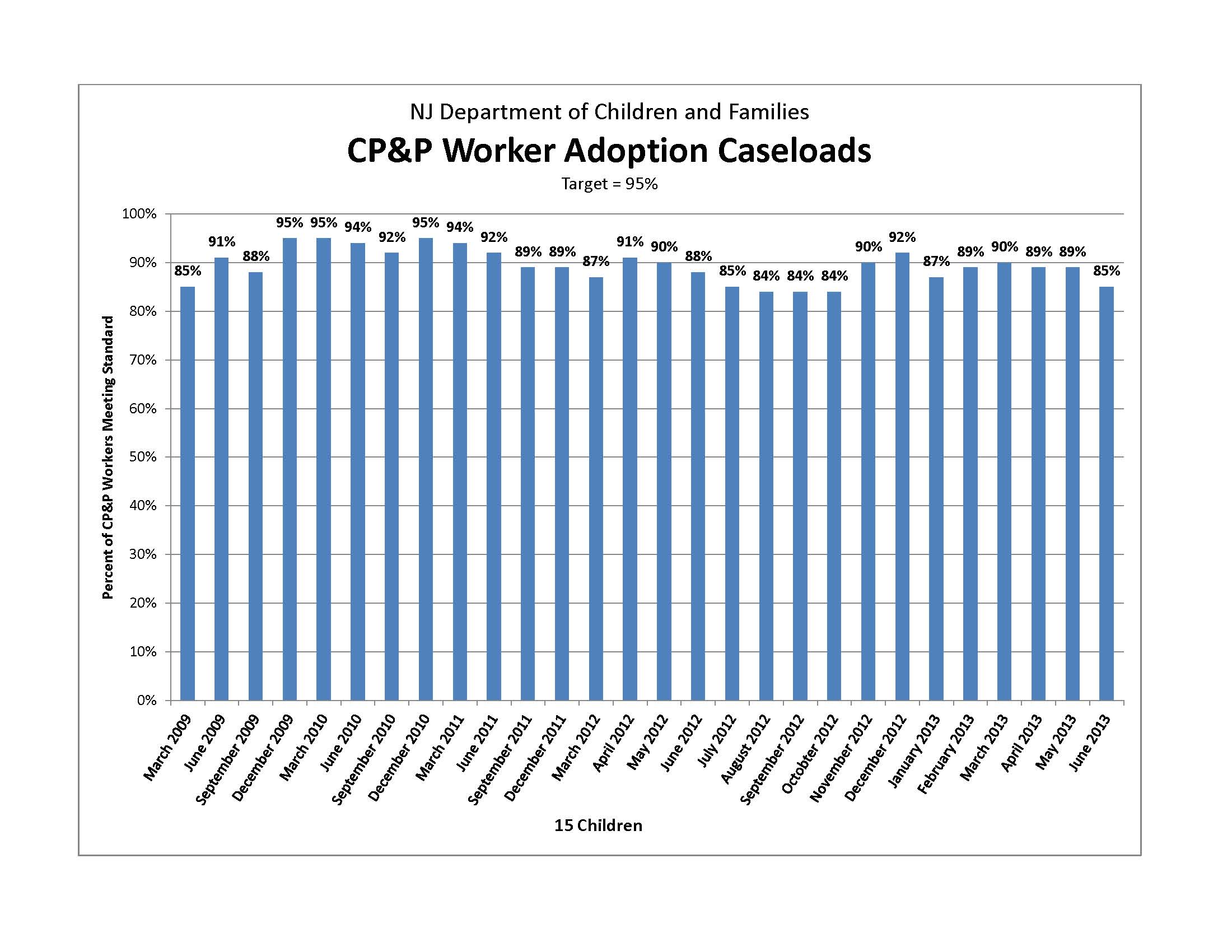 Click on the chart for larger, printable version (pdf)

SUPERVISORY TO CASEWORKER RATIOS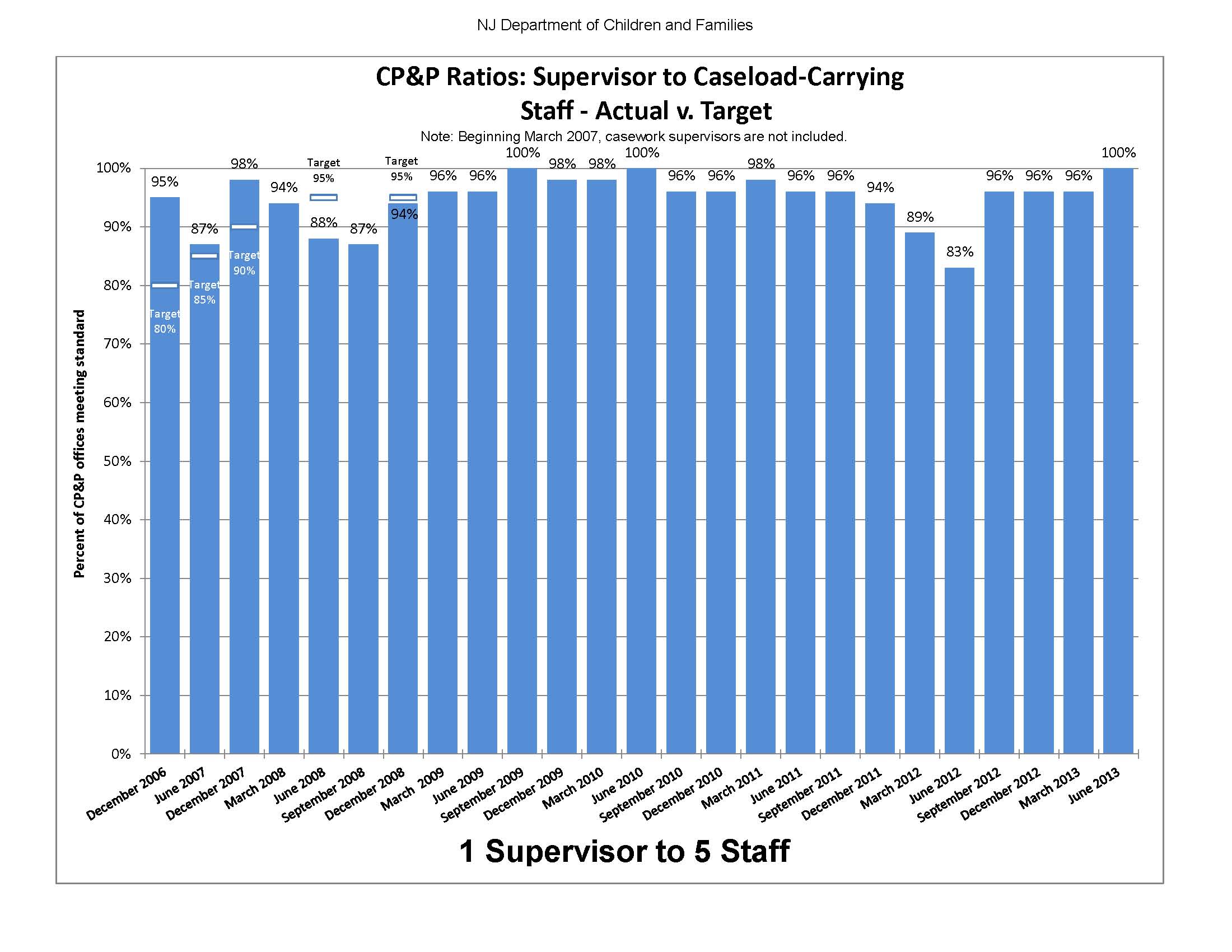 Click on chart for larger, printable version (pdf)


NOTE: The caseload standards track "active" caseload-carrying staff. Trainees, whether they can or cannot carry cases, are not included as active caseload carrying staff. Staff on leave and staff in support roles (non caseload-carrying) are excluded.


December 2012: CASELOAD COMPLIANCE BY DCP&P LOCAL OFFICE
Intake Caseloads by Local Office
Permanency Caseloads by Local Office
Adoption Caseloads by Local Office
Supervisor Ratios by Local Office
Top ^
Child Protection and Permanency Annual Caseload Carrying Staff Separation Rate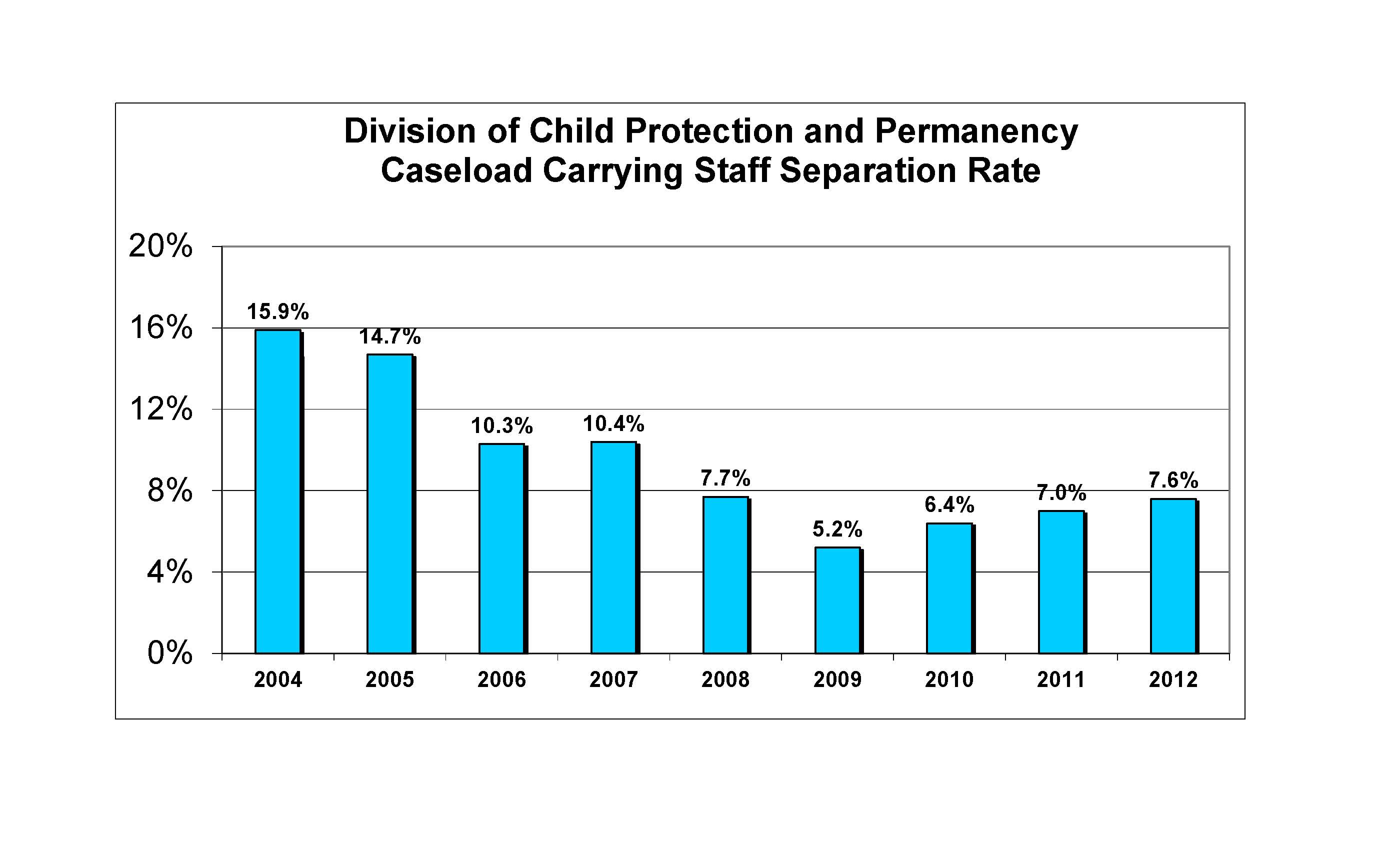 Click on chart for larger, printable version (pdf)
Top ^