Currently Under Construction
Communication
Organizational Development
Click HERE for information about the CSOC Expansion and Sustainability SAMHSA Grant
---
Trauma Readiness Assessment Report NEW!
DCF, working in partnership with Rutgers University Behavioral Health Care (UBHC), conducted a self-assessment in 2014 of the Division of Child Protection and Permanency (CP&P). This self-assessment sought to help CP&P become a more trauma-informed system of care. Information from the qualitative and quantitative assessment measures were analyzed and compiled to create a Trauma Readiness Assessment Report. This report includes the identified strengths and areas of need, recommendations and considerations for next steps. Click HERE for the Executive Summary and click HERE for the Recommendations at a Glance.

---

Click HERE for information about the Home and Community-Based Services (HCBS) Settings Rule


---
Dad's Take Your Child To School Day 2014. Click HERE
---
Effective January 1, 2014, any young adult under age 26 who, as of his or her 18th birthday, was in foster care and was enrolled in Medicaid may be eligible for Medicaid until he or she turns 26, regardless of income. Click HERE for more information.
---
New Jersey Birth to Three Early Learning Standards click HERE
---
Sexual Abuse Safe-Child Standards
DCF has decided to endorse these important Safe-Child Standards and plans to incorporate them into our grant-making process and existing contracts in the renewal period beginning in July 2014. These standards represent best practices and are aspirational for any organization serving children and youth. Please click on the following link to review the Prevent Child Abuse New Jersey (PCA NJ) Sexual Abuse Safe-Child Standards.
Click HERE for the Sexual Abuse Safe-Child Standards
---
---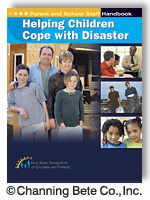 Click HERE to find out how you can order our newest handbook, "Helping Children Cope with Disaster". This parent and school staff handbook provides helpful information about how to help children cope with disaster.
---
Prevent Child Abuse NJ View The Enough Abuse Campaign Video
Click here to sign up for regulatory notices and other information from the New Jersey Department of Children and Families.