2012 Distinguished Service Award Recipient
William V. Griffin
View the Commemorative Video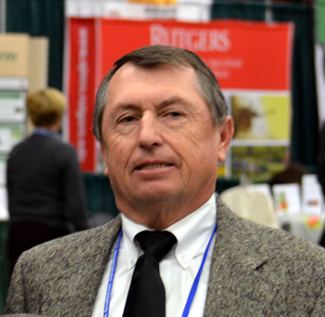 William V. Griffin has been an active voice in New Jersey agriculture for almost four decades.  While he has done many things in various capacities over the years, the industry probably knows him best as the President of the State Board of Agriculture, who, in 2008, helped lead the mobilization of the ag community and the public in support of maintaining the New Jersey Department of Agriculture when then-Governor Jon Corzine proposed its elimination.  Working with members of the State Board of Agriculture and New Jersey Farm Bureau, Griffin helped pull together a team of people to contact legislators, the media and every agricultural group in the state.  Signs to "Save the Department of Agriculture" were erected all over the state and ultimately a tractor rally on the State House Steps was held.  Governor Corzine finally relented, saying he could not fight the will of the public and the Department was saved.
Bill graduated from East Brunswick High School and went on to earn a Bachelor of Landscape Architecture from Louisiana State University before coming back to the family farm, W.V. Griffin Nurseries, a diverse 110-acre farm, now owned by Bill and his wife, Cathy.  The operation is a mix of field-grown wholesale nursery production, Christmas Tree production and re-wholesale nursery distribution, as well as choose and cut retail Christmas trees.
While a successful farmer in his own right, Bill has spent a good portion of his life serving the greater good of the New Jersey Agriculture industry.  He has logged thousands of hours volunteering his time for various statewide agricultural organizations and serving in an executive capacity for many of them.
His family has a long history of giving back to the state's ag community.  His father, Willets V. Griffin, who founded W.V. Griffin Nurseries in Middlesex County in 1932, was the 1989 Distinguished Service to New Jersey Agriculture honoree.  Now, 23 years later, Bill is receiving the same recognition for his contributions.
Bill is current president of the New Jersey Agricultural Society, where he is working to streamline programs, expand their impact and ensure each has a measurable return on investment.
He has served on the Executive Committee of the Middlesex County Board of Agriculture since 1973, spending time as President, Vice President, and Assistant Secretary-Treasurer.
He is a director for the New Jersey Christmas Tree Growers Association. 
Bill is current Secretary of the Middlesex County Agricultural Development Board.  He has been a member since 1984 and has served as Vice Chairman.  He also is a long-time member of New Jersey Farm Bureau and the New Jersey Nursery and Landscape Association.
Bill served as President of the New Jersey Agricultural Experiment Station Board of Managers from 1994 to 1995.  He also was part of the Cook College Executive Dean, NJAES Director Search Committee in 1995. 
And, he was a trustee in the Middlesex County Fair Association from 1978 to 1985. 
Bill was elected by delegates to the 2004 State Agricultural Convention for a four-year term on the State Board of Agriculture, serving as President of the Board from 2007 to 2008.  During those years, he and the board tackled many difficult issues, but through it all, Bill always worked toward solutions to benefit the entire agricultural community.  It is largely because of his dedication to the industry that the New Jersey Department of Agriculture still exists as a single entity today, and agriculture continues to be an important industry in New Jersey.
For all of his efforts on behalf of agriculture, William V. Griffin is honored with this year's Distinguished Service to New Jersey Agriculture Award.