DAIRY MONTH CELEBRATION HIGHLIGHTS HEALTH BENEFITS OF DAIRY FOODS
For Immediate Release: June 12, 2007
Contact: Lynne Richmond
(609) 633-2954

(ALLENTOWN) – Third and fourth graders at Upper Freehold Regional Elementary School in Allentown celebrated Dairy Month in New Jersey today by making ice cream by putting milk, vanilla, ice and other ingredients in a bag and shaking it along with state Secretary of Agriculture Charles M. Kuperus.

Secretary Kuperus knows a bit about dairy, having grown up on a dairy farm and was quick to point out to the students that while making ice cream is fun, eating three servings of dairy a day can make them healthier.

"Dairy products, such as milk, yogurt, and cheese, contain calcium, vitamins and other nutrients that help build strong bones, muscles and teeth and are a beneficial component of a healthy diet," said Secretary Kuperus. "During June, which is Dairy Month in our state, we need to remember how important the dairy industry is to New Jersey's economy and quality of life, providing products that contribute to the good health of both children and adults."

Secretary Kuperus stressed the nutritional value of dairy while helping about 50 students make the soft-serve vanilla ice cream. School principal Kelly Huggins said making ice cream is a great way to show young people that dairy is an important part to living a healthy life.

"Not only is it important to build student awareness regarding the benefits of daily intake of dairy products at an early age, but it is equally important to make sure these foods are available for children to choose from when snacking and eating meals," said Huggins. "I feel by bringing programs like this to our school, we are building awareness."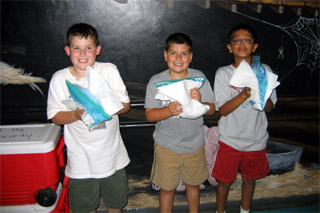 Upper Freehold Regional Elementary-Middle School serves yogurt, milk, cheese and ice cream in its cafeteria. The importance of consuming dairy products on a daily basis is taught in the school as part of the food pyramid.



Fourth-grade students having fun making ice cream.

Governor Jon S. Corzine proclaimed June 2007 as Dairy Month. New Jersey dairy farms and processors provide consumers with fresh milk as well as creams, yogurts, butter, cheeses and other dairy products.

The American Academy of Family Physicians, American Academy of Pediatrics, American Dietetic Association and the National Medical Association support 3-A-Day of Dairy for better health. The 3-A-Day program recommends three servings of dairy each day to provide nine essential nutrients, including calcium, potassium, phosphorus, protein, vitamins D, A, B12, riboflavin and niacin for stronger bones and bodies. The program points to research indicating that by eating three servings daily, adults can achieve better results when it comes to weight loss and also can reduce the risk of osteoporosis and other ailments.

New Jersey is home to 109 dairy farms and 11,000 milk cows that produce nearly 190 million pounds of milk each year. Those cows are primarily located in the counties of Gloucester, Salem, Warren, Sussex and Burlington. Dairy farmers contribute almost $44 million to the state's economy each year and help to maintain more than 75,000 acres of open space, adding to the quality of life of all state residents.

What was once the leading sector of agriculture in the 1920's and 30's, dairy has been losing farms each year. To help sustain and grow the dairy industry in New Jersey, the Department of Agriculture has taken several steps:
The Department, along with Rutgers Cooperative Research and Extension and New Jersey Farm Bureau, formed the Garden State Dairy Alliance, a team with state and federal partners concerned with such issues as animal health, milk quality, marketing and dairy industry development, biosecurity and nutrient management. A webpage was developed to support the program:

www.nj.gov/agriculture/news/hottopics/topics050104.html

.

Dairy is one of the Department's 2007 Economic Development strategies: www.nj.gov/agriculture/conventions/2007/dairy.html.
"Dairy is an important sector of New Jersey's agriculture industry and we are working to ensure that dairy farms continue to thrive in the state," said Secretary Kuperus. "Through the support of the Dairy Alliance and the work of the Department, we hope to strengthen the dairy industry and keep it competitive and profitable."

The following is the recipe for ice cream followed by the Upper Freehold Regional Elementary School students:

Vanilla Ice Cream
½ cup milk
½ tsp. Vanilla
1 TBS Sugar
4 cups crushed ice
4 TBS Salt
2 quart size zip and lock bags
1 gallon size zip and lock freezer bag
Hand towel or gloves to keep fingers from freezing

Mix the milk, vanilla and sugar together in a quart size bag. Seal tightly, allowing as little air to remain in the bag as possible. Place this bag inside another quart size bag, again sealing and leaving as little air as possible. By double-bagging, the risk of salt and ice leaking into the ice cream is minimal. Put the two bags inside the gallon size bag and fill the bag with ice, then sprinkle salt on top. Again, let all the air escape and seal the bag. Wrap the bag in a towel or put gloves on and shake and massage the bag, making sure the ice surrounds the cream mixture. Five to eight minutes is adequate time for the mixture to freeze into ice cream.