JUNIOR BREEDER PROGRAM FUELS THE DREAM OF HUNTERDON COUNTY TEEN
For Immediate Release: December 3, 2007
Contact: Lynne Richmond
(609) 633-2954

(TRENTON) – When Emily Sigle first saw Bow Tie Jades Mystic, she knew she wanted to show the young, brown cow.  The problem was that she already had several other cows and her parents told her she would need to find the money to purchase the animal on her own. 

That is when Emily, a member of the Mount Airy Dairy Club in the Hunterdon County 4-H, applied to the New Jersey Junior Breeder Program for a loan.  She was approved and "Mystic" was hers.

"The Junior Breeder fund helped me quickly buy a heifer that I really wanted to add to the herd," said Sigle, a 13- year-old eighth grade student at Delaware Township School.  "Without the loan, I would have had to sell one of my other cows or heifers for the money, which could take a long time and then I could have missed the chance to buy Mystic."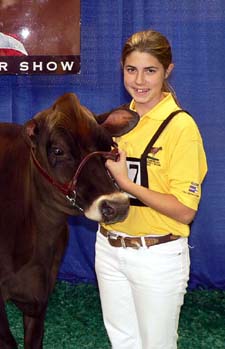 Since then, Emily has been busy showing Mystic – with a lot of success this year.  At the North American International Livestock Exposition in Louisville, Kentucky in November, Mystic was named the Junior 2007 All American Champion Winter Yearling Heifer.  She also placed 5th in the Open Show at the expo.  She won 4th place in the Open Show at the All American Diary Show; 1st place in the Open Show, Reserve Junior Champion, at the Warren County Farmers Fair; 1st Place in the Open Show and 1st Place Junior Exhibitor at the New Jersey State Fair; 1st Place Reserve Junior Champion at the Hunterdon County 4-H and Agricultural Fair; and, 1st place Open Show, Reserve Junior Champion, in the New York State Fair.

Photos courtesy of the Jersey Journal

The New Jersey Junior Breeder Loan Program was established 76 years ago by a donation from Joseph S. Frelinghuysen, president of the State Board of Agriculture at the time.  The program is a dedicated funding program that enables the agricultural youth of New Jersey to secure funds, purchase livestock, establish production projects and keep accurate records. The program is based on a promissory note system, with monies to be paid back to the fund with interest.

The purpose of the program is to seek the interest of the youth in the state, aid in agricultural education efforts, and provide a dedicated funding program that will assist in sustaining the future of New Jersey agriculture.

"For three quarters of a century, the Junior Breeder fund has fostered an interest in agriculture among countless young people in our state, who have purchased quality animals that have been victorious in regional and statewide shows," said New Jersey Secretary of Agriculture Charles M. Kuperus.  "The goal is that these young adults will stay in New Jersey and help the livestock industry to thrive and grow."

Emily Sigle's interest in cows started at age 7 when she fell in love with a red Holstein calf.  She now owns 14 cows and plans to study agriculture at South Hunterdon Regional High School next year and become involved in FFA, an organization that prepares members for leadership and careers in the science, business and technology of agriculture.  She is not sure what she wants to do as an adult but hopes it will have something to do with agriculture or the environment.

For Emily, her involvement in 4-H for the last five years and the Junior Breeder Program have had life-altering consequences. Showing her cows has built her confidence and helped teach her patience.  It enabled her to recently give a presentation at her family's farm in Stockton on dairy cattle genetics for 65 students from her school's science class.

Now, Emily has become a spokesperson among other young people for the benefits of the Junior Breeders program.

"I think other junior breeders should take advantage of the program," said Sigle.  "You get your money fast, it is an easy process, you have a couple of years to pay it back and the interest is low.  If you pay it back early, you owe less interest and there is no penalty. 

"My advice is if you want to show cows, then you should just do it.  Ask a lot of questions from people that are successful and are where you want to be.  They usually are happy to give you advice.  Go to the shows and watch so you can learn what it takes to be competitive.  Just keep learning and have fun."

For information on the New Jersey Junior Breeder Program, visit: www.nj.gov/agriculture/grants/juniorbreeder.html.