Home
>
News
>
Press Releases
>
2008
>
DEPARTMENT OF AGRICULTURE, NEW YORK JETS HONOR EGG HARBOR CITY SCHOOL FOR WINNING NUTRITION PROGRAM
DEPARTMENT OF AGRICULTURE, NEW YORK JETS HONOR EGG HARBOR CITY SCHOOL FOR WINNING NUTRITION PROGRAM
For Immediate Release: May 7, 2008
Contact: Lynne Richmond
(609) 633-2954

(EGG HARBOR CITY) – The 210 fifth through eighth grade students in Rittenberg Middle School in Egg Harbor City have been eating more nutritious foods in the school cafeteria for the past two years and can participate in a myriad of healthy activities after school.  For this commitment to increased activity and healthy eating, the New Jersey Department of Agriculture and New York Jets wide receiver Chris Davis today visited the school as part of the Eat Right, Move More program.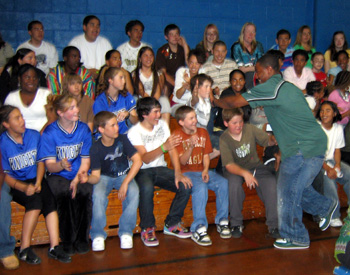 "Good eating habits and regular exercise are not only key to becoming a professional athlete, but for everyone trying to live healthier lives," said Davis. "I am excited to be here today to recognize Egg Harbor City School for its commitment to the Eat Right Move More program."

The Eat Right, Move More campaign with the New York Jets urges Garden State students to eat the healthy foods in school that adhere to the Department's school nutrition policy.  The most comprehensive policy in the nation covers pre-kindergarten through 12th grade students and limits fat and sugar content in foods offered in a la carte lines, snack bars and vending machines, school stores and as part of on-campus fund-raisers.

"The New Jersey Department of Agriculture's school nutrition policy, implemented in schools around the state last fall, sets standards for good nutrition," said Emily Lomerson, of the Department's Division of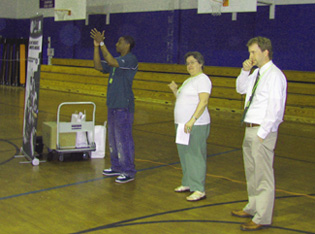 Food and Nutrition.  "But, we have seen over and over again, schools such as Rittenberg Middle School exceeding our requirements in a creative way because they so strongly believe in helping students begin healthy eating and exercise habits they hope will continue with them into adulthood."

Chris Davis, Emily Lomerson and Jesse Linder of the NY Jets visit Rittenberg Middle School for the Eat Right, Move More Program.

Rittenberg Middle School offers a nutritious breakfast to students each morning and lunch choices include baked chips, vegetable sticks and dip, fruit, salad and yogurt.  The school also participates in AtlantiCare's Healthy Schools Initiative – an Atlantic County-wide program designed to help fight childhood obesity and educate students, staff and parents about childhood nutrition.

"I'm so proud of what our school has been able to accomplish over the last two years regarding educating the Egg Harbor City students, staff and parents about good nutrition and a more active lifestyle," said Jack Griffith, Rittenberg Middle School principal.  "We applied for the Eat Right, Move More program because it was a perfect fit for us – our school was already trying exciting things to help the students understand the importance of eating right and exercising on a regular basis.  We continue to try to reach more students by offering more healthy activities after school."

To be eligible to apply for the Eat Right, Move More program, schools must participate in the national school lunch program, a federally funded program to ensure all children have access to a wholesome meal during the school day, which is administered by the New Jersey Department of Agriculture.

The campaign features posters of Jets lineman D'Brickashaw Ferguson in every school telling students, "When I have a healthy meal, it helps me play my best.  Your school cafeteria has a variety of nutritious foods to keep you going all day long.  So get up, eat right and move more!"

For more information on the Department's nutrition policy, visit: www.nj.gov/agriculture/divisions/fn/childadult/school_model.html.

As a professional football team that plays in New Jersey, the Jets regularly promote youth health, fitness, and education, particularly in disadvantaged communities. Over the past several years, the Jets and their charitable foundation donated or raised more than $7 million to promote youth health, fitness, and education.

More than 60 schools applied for the Eat Right, Move More contest, now in its second year.  In addition to Rittenberg Middle School, winners included:  Port Reading School #9 in Woodbridge and Halsted Middle School in Newton, which were visited by D'Brickashaw Ferguson in November and March, respectively; Cecil S. Collins School in Barnegat, which was visited by running back Stacy Tutt in April; Northfield Community School in Northfield, which was visited by wide receiver Chansi Stuckey in April; and Hunterdon Central Regional High School in Flemington, which sent representatives to a December Jets game at Giants Stadium who were honored on the field.