NEW MEMBERS TAKE SEATS ON STATE BOARD OF AGRICULTURE
DuBois, Borisuk Sworn in to 4-Year Terms
For Immediate Release: December 4, 2008
Contact: Lynne Richmond
(609) 633-2954

(TRENTON) – A hay and grain farmer from Sussex County and a vegetable farmer from Salem County were sworn in as the two newest members of the New Jersey State Board of Agriculture during the board's reorganization meeting in Trenton on November 19.

Andrew Borisuk Jr. and Henry D. DuBois Jr. were selected for the positions at the February 2008 State Agricultural Convention and later nominated by Governor Jon S. Corzine and confirmed by the State Senate. 

"Mr. Borisuk and Mr. DuBois, who come from opposite ends of the state, are welcome additions to the State Board bringing with them knowledge of the unique needs of the agriculture industry in North and South Jersey, respectively," said New Jersey Secretary of Agriculture Charles M. Kuperus. "Their individual strengths and considerable experience will enhance the Board's efforts to formulate policy to keep New Jersey agriculture viable and thriving into the future."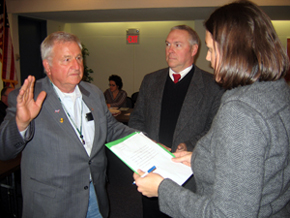 Andrew Borisuk is the owner of Glendrew Farms in Vernon Township, where raises 125 acres of corn on 250 acres.  He received a Bachelor's Degree from Rutgers University in Animal Husbandry and Dairy Science and has served as member and chairman of the Sussex County Agricultural Development Board, Sussex County Planning Board and Vernon Township Zoning Board.  He is a member of the Vernon Township Planning Board and Sussex County Board of Agriculture.  He is past vice-Chairman of the New Jersey State Agriculture Development Committee. 

Henry DuBois operates a 4,000-acre vegetable, grain and hay farm in Pittsgrove Township.  He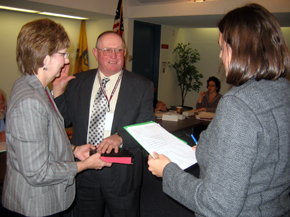 participated in FFA while in high school and received an Associate's Degree in Farm Equipment Sales and Service from Penn State University.  He was named New Jersey Outstanding Young Farmer in 1983 and has been active over the years in various community and agricultural organizations.  He currently is a member of New Jersey Farm Bureau, Salem County Board of Agriculture, the Vegetable Growers Association of New Jersey, New Jersey Agricultural Society, National Corn Growers Association and Mid-Atlantic Soybean Growers.  He received the Conservation Farmer Award from the Salem County Soil Conservation District in 1983.

In addition, during the meeting, Noble F. McNaughton, a nursery owner from Tabernacle, Burlington County, was elected to serve as President of the Board, and Robert "Matty" Matarazzo, a wine maker and fruit grower from Belvidere, Warren County, was selected as Vice-President.

The State Board of Agriculture, comprising eight members, is the policy-making body of the New Jersey Department of Agriculture. Its members serve for four years, with two members being replaced each year. By law, at least four of its members must represent the top commodity groups in the state.  Members serve without salary, but may be reimbursed for expenses.  For more information, visit www.nj.gov/agriculture/about/sba.