ADVANCED BEEKEEPING COURSE OFFERED FOR THE FIRST TIME
Secretary of Agriculture Watches Beekeeper Training in Action
For Immediate Release: June 11, 2009
Contact: Lynne Richmond
(609) 633-2954

(TRENTON) – New Jersey Secretary of Agriculture Douglas H. Fisher today joined 30 beekeepers as they learned some of the more advanced techniques required to be a successful beekeeper. 

The beekeepers were taking part in the hands-on portion of day one of their two-day course, "Beyond the Basics Advanced Beekeeping Course," held at Rutgers Agricultural Research and Extension Center in Upper Deerfield.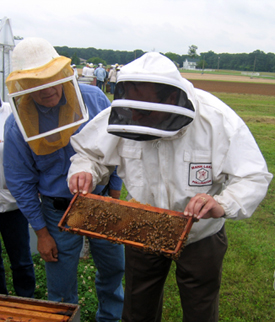 "We have seen a great deal of enthusiasm from the public in beekeeping in New Jersey, with hundreds of people being trained to be beekeepers in the last several years through Rutgers Continuing Education courses," said Secretary Fisher.  "The Beyond the Basics class is the result of many of these new beekeepers requesting more advanced classes to further refine their skills to be better beekeepers."

Secretary Fisher holds bee frame during hands-on portion of the class

There has been great interest in beekeeping since the Department of Agriculture offered an incentive program in 2006 and again in 2008.  A requirement of receiving startup beekeeping equipment was completion of the Bee-ginners Beekeeping course through Rutgers Office of Continuing Education.  Since 2006, 750 people have taken the course, with 100 of those receiving the free equipment. 

Both the beginner's and more advanced classes are taught by State Apiarist Tim Schuler and Bob Hughes of the New Jersey Beekeepers Association.

"The idea behind offering an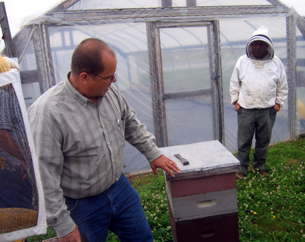 incentive was to develop sideline beekeepers, who could provide pollination services for farmers while generating income for themselves," said Schuler.  "It is our hope that we can provide enough educational opportunities that these beekeepers may some day go on to the Eastern Apicultural Society Master Beekeeper Program."

Tim Schuler (left) leads bee class

The Master Beekeeper Certification Program was developed to certify qualified beekeepers to provide education and assistance to beginning beekeepers and serve in other capacities in the community as experts in beekeeping.

In New Jersey, the hands-on advanced course looks at practical hive management tools for beekeepers.  Attorney Dave Frank of Springfield, Burlington County, took the beginner course last year and now has 50 hives on his two acre property with the hopes of having a sufficient number so he can rent out his hives for pollination.


"Beekeeping is one of the most challenging things I have tried to do," said Frank.  "Every time I open up a hive, I realize just how much I don't know, so I wanted to take any opportunity to further my education in beekeeping that I could."

Dave Frank looks at a bee frame during class

In addition to the course on June 11 and 12, the same course will be offered on June 26 and 27 in Pittstown.

Last year, membership in the New Jersey Beekeepers Association increased by 45 percent.  There are currently 1,100 registered beekeepers in New Jersey. 

For more information on the New Jersey Department of Agriculture Bee Inspection program, visit www.nj.gov/agriculture/divisions/pi/prog/beeinspection.html.