NEW JERSEY FARMERS MARKETS OPEN FOR SEASON
High Quality Jersey Fresh Produce Available at Markets

For Immediate Release: June 28, 2011
Contact: Lynne Richmond
(609) 633-2954

(TRENTON) – New Jersey Assistant Secretary of Agriculture Alfred W. Murray and Diana Limbacher, Deputy Regional Administrator, United States Department of Agriculture Food and Nutrition Service, today toured community farmers markets in Essex, Hudson and Union Counties and officially declared Jersey Fresh season in full swing. 

"All of New Jersey's 144 community farmers markets, featuring the freshest, best-tasting produce grown by our state's farmers, are open for business as of the Fourth of July weekend and many will be operating through to the end of October," said Murray.  "Farmers are reporting excellent quality crops this season, so everyone should visit a nearby farmers market, meet the people who grow our food, and help support our agriculture industry."

Murray and Limbacher visited the University Hospital Auxiliary's Farmers' Market in Newark and the Elizabeth and Hoboken Farmers Markets.  Certified farmers at these and many other markets throughout the st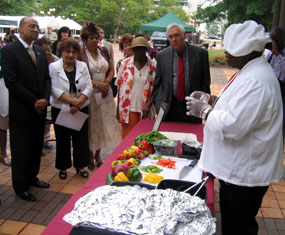 ate accept Women, Infants and Children (WIC) and Senior Farmers Market Nutrition Program (FMNP) vouchers for the purchase of locally-grown fresh fruits, vegetables and herbs.  The United States Department of Agriculture (USDA) program administered by the State Department of Health and Senior Services allots $20 in checks to qualifying individuals, which are valid through November 30.

UMDNJ President William Owen, Minnie Presley, market founder and Assistant Secretary Murray watch a healthy cooking demonstration at the University Hospital Auxiliary's Farmers Market.

"The WIC Farmers' and Senior Farmers' Market Nutrition Program provides our state's most vulnerable residents with access to locally grown, nutritious fresh fruits and vegetables," said Acting Health and Senior Services Commissioner Dr. Tina Tan. "We know that once people discover the health benefits of these farmers markets, they become regular customers."  

Limbacher further emphasized the value of farmers' markets for federal nutrition assistance recipients.

"By welcoming WIC and Senior Farmers Market coupons, markets like these provide access to fresh fruits and vegetables and other healthy foods which may not otherwise be easily available.  Accepting the coupons benefits the farmers as well, by expanding their customer base," she said.

Murray and Limbacher started their tour at The University Hospital Auxiliary's Farmers' Market, which features two farmers and two vendors selling pickles and frozen foods.  While there, they were given a demonstration of how Jersey Fresh produce on sale at the market can be turned into healthy meals. 

"It is very gratifying that our Farmers' Market, now in its third year, continues to flourish," said Robin D. Wittenstein, Ed.D., FACHE, Acting President and CEO of UMDNJ-University Hospital.  "With an ever-increasing variety of fresh, nutritious foods, the market reinforces the role of The University Hospital and all of UMDNJ as an asset to the health of our community."

The market takes place 11 a.m. to 3 p.m. Tuesdays at UMDNJ Plaza and this year will continue until October 25.

Assistant Secretary Murray was joined at the Elizabeth Farmers Market by Assemblywoman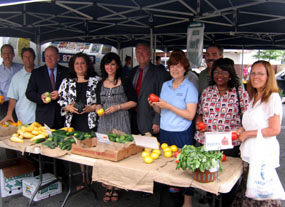 Annette Quijano.   The market has one farmer and several vendors selling baked goods, nuts and gourmet foods.  Market Manager David Strochak said the market, operated by the Elizabeth Avenue Partnership, was started to give residents, senior citizens, moms and children a chance to eat healthy and also attract shoppers to the area.

"We've been proud to preserve home-grown Jersey produce for a ninth year," said Strochak.  "The market is a neat one-stop experience where people can get Jersey Fresh produce, just picked earlier that day, and maybe shop at nearby stores."

The farmers market runs from 11 a.m. to 6 p.m. Tuesdays in Union Square and will continue through November 29.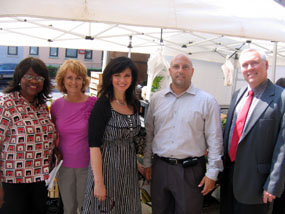 The final stop of the tour was at the Hoboken Farmers Market, a long-time and popular fixture of the area, started as an effort to get farm-fresh, local produce to the people of Hoboken.

Dorothy Ngumezi, DHSS, Carol Smith, USDA Food and Nutrition Service, Diana Limbacher, Deputy Regional Administrator, USDA Food and Nutrition Service, Leo Pellegrini, Hoboken Director of the Department of Health and Human Services and Al Murray, NJ Assistant Secretary of Agriculture at the Hoboken Farmers Market.

"The market gives New Jersey's small farmers a market to help stay afloat and keep agriculture in the Garden State," said market manager David Calamoneri.  "It's a place for the community to come together, apolitically, and exchange smiles and recipes."

Four farmers and several other vendors selling baked goods and pickles participate in the market, operated by the Hoboken Quality of Life Coalition, from 3 to 7:30 p.m., which will continue through November 1.    

Jersey Fresh produce is reaching the peak of the season with many fruits and vegetables available.  Sweet corn and tomatoes are expected to be available for the Fourth of July weekend at farmers markets and roadside stands.  Jersey Fresh items currently available include: blueberries, baby spinach, cucumbers, squash, peppers, eggplant, basil, beets, cabbage, collards, swiss chard, arugula, kale, leeks, cilantro, parsley, dill, mint, lettuces, dandelions, and turnips.

To locate a community farmers market near you, visit www.state.nj.us/jerseyfresh/searches/urban.htm.  For more information on the WIC and Senior FMNP, visit: www.state.nj.us/agriculture/divisions/md/prog/wic.html.