NY JETS, NJDA HONOR NICOLAUS COPERNICUS SCHOOL FOR OUTSTANDING NUTRITION PROGRAM
School Wins NJDA, Jets, Dairy Council Eat Right, Move More Contest

For Immediate Release: October 4, 2011
Contact: Lynne Richmond 
(609) 633-2954

(JERSEY CITY) – New York Jets offensive tackle D'Brickashaw Ferguson and representatives of the Department of Agriculture today congratulated Nicolaus Copernicus P.S. #25 in Jersey City for its achievements in nutrition and physical fitness education. 

The school was one of five winners of the 2010-2011 Eat Right, Move More program, a partnership between the Jets, the Department of Agriculture and the American Dairy Association & Dairy Council's Fuel Up to Play 60 campaign. 

"The Eat Right, Move More program calls attention to the importance of eating nutritious foods and increasing activity whether you are a professional football player or a student," said New Jersey Secretary of Agriculture Douglas H. Fisher.  "We commend Nicolaus Copernicus School for making a commitment to serving creative and healthy food in their school cafeteria and encouraging students to exercise more."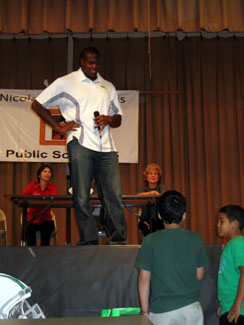 Eat Right, Move More encourages New Jersey school children to take advantage of healthy foods in their school cafeterias and become more active.  In the 2010-2011 school year, the winning schools were chosen that best met the criteria established for the Healthier U.S. School Challenge Program.  Additionally, school lunch and breakfast menus were reviewed and the schools had to show strong support and demonstrate efforts to improve nutrition and physical activity among their students.

Ferguson speaks to students at Arleen Ramos Szatmary of the NJDA and school principal Diane Pistilli look on.

The program is now in its sixth year and features D'Brickashaw Ferguson as spokesman.  Each school in the state receives posters of Ferguson telling students, "Eating healthy meals helps me play my best.  Your school cafeteria has a variety of nutritious foods to keep you going all day long.  So let's get up and Eat Right and Move More!"

"When I became involved with Eat Right Move More my rookie year I knew it was a great program," said Ferguson. "It has been rewarding to see each year the menus become more creative and more students and schools making a commitment to health and fitness."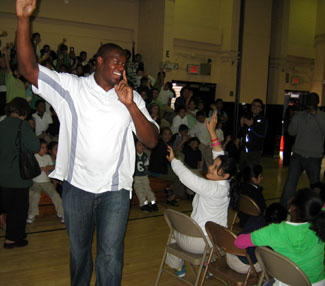 Students at P.S. #25 had Turkey Tacos for lunch today and regularly have menu items using whole grains, such as whole wheat pizza, cheeseburgers on whole wheat buns and whole grain chicken tenders.  The kindergarten through fifth grade students also can visit a salad bar and choose skim or low-fat milk.

"Children are making healthier choices and the older children are role-modeling for the younger children," said school Principal Diane Pistilli.  "Eating healthy improves our children's test scores and attendance.   It also reduces visits to the nurse and behavior problems.  Children are more focused on academics and taking care of their health."

The school participates in the Department of Agriculture's Fresh Fruit and Vegetable program, which provides students with fresh produce during the school day.  This school year, 143 New Jersey schools in 16 counties are participating.  In addition, a nutrition educator from Rutgers teaches a six-week program to the students to encourage consumption of fruits, vegetables and whole grains.

School #25 also stresses increased exercise by holding an annual field day, organizing the Mighty Milers walking club for second graders and giving students access to the Wii Fitness Game System.

Netcong Elementary School was the grand prize winner of last school year's Eat Right, Move More Program.  The school received a check for a $5,000 kitchen makeover, made possible by the Jets and the American Dairy Association & Dairy Council's Fuel Up to Play 60 campaign and representatives from the school were honored at a Jets game last December.

The other winning schools, Haledon Public School, Haledon and Oak Street School, Lakewood, will receive visits from Jets players over the next few weeks.  Hightstown High School got a visit from Jets tight end Matthew Mulligan on September 27.

Programs funded by the New York Jets Foundation touch the lives of countless young men and women in the tri-state area. Over the past nine years, the Jets and their charitable foundation have donated or contributed more than $8 million to promote youth health, fitness and education, particularly in disadvantaged communities. From fighting childhood obesity through the Generation Jets: Be Lean & Green initiative to launching a football team in a Harlem high school, urging students to eat right and move more, and supporting the efforts of the Alliance for Lupus Research, the New York Jets invest in programs that make a difference in the lives of others. In addition to the Jets Foundation, which supports their own extensive youth initiatives, the Jets partner with numerous established charitable organizations and participate in causes sponsored by the NFL.

The Department of Agriculture's comprehensive school nutrition policy covers pre-kindergarten through 12th grade students.  The policy limits fat and sugar content in foods offered in a la carte lines, snack bars and vending machines, school stores and as part of on-campus fund-raisers.

More than 685,000 students in both public and private schools participate in the National School Lunch Program, administered by the Department of Agriculture.

For more information about the Department's school nutrition programs, visit www.nj.gov/agriculture/divisions/fn/childadult/school.html.

For information about this school year's Eat Right, Move More contest, visit www.nj.gov/agriculture/divisions/fn/pdf/eatrightmovemoreappl.pdf.