HIGH SCHOOL STUDENTS WEIGH IN ON CAFETERIA FOOD DURING SCHOOL LUNCH WEEK
Ag Secretary, USDA Food and Nutrition Service Hold Roundtable Discussion

For Immediate Release: October 17, 2011
Contact: Lynne Richmond (609) 633-2954

(TRENTON) – In commemoration of National School Lunch Week, New Jersey Secretary of Agriculture Douglas H. Fisher sat down Wednesday, October 12 with 17 students at Hunterdon Central Regional High School in Flemington to get the students' thoughts on the lunch program at their school.

Secretary Fisher, USDA's Mid Atlantic Special Nutrition Programs Director Jim Harmon and NJDA Division of Food and Nutrition Director Rose Tricario went through the lunch line with the students, picking out salad, soup and other healthy items.

"We wanted to hear what students had to say about the lunch program at their school and get their suggestions for possible improvements," said Secretary Fisher.  "We found the students valued the many healthy options available and were pleased with the lunch program overall."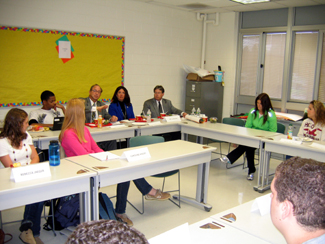 Secretary Fisher, Rose Tricario and Jim Harmon hold a roundtable discussion with Hunterdon Central Regional students, along with Meghan Ibach, school Wellness Committee Coordinator

Hunterdon Central Regional High School has a fresh cut fruit bar and a salad bar.  Their food service provider incorporates whole grains into its meals and uses low sodium lunch meats and cheeses.  Entrees are baked, not fried, and anything that is fried is done so in trans-fat-free oil.

"It's harder for students to make healthy decisions when salads are more expensive than fries," said student Kaitlin Pang.  "Lowering the price would make it more accessible to all students."

The National School Lunch Program is initiated through the U.S. Department of Agriculture (USDA) and administered in New Jersey the state Department of Agriculture (NJDA).  When a school participates in the program, it must serve lunches that meet federal nutrition requirements.  New Jersey instituted its own stringent nutrition policy several years ago.

"New Jersey has been a leader in instituting comprehensive wellness policies in its schools and ensuring that kids have healthy meal choices in the lunch program, such as serving Jersey Fresh produce," said Jim Harmon.   "The roundtable discussion with the students at Hunterdon Central High demonstrated how much they appreciate the choices their school offers at lunchtime."

Harmon spoke about some changes that have been talked about, such as banning chocolate milk and limiting starches, such as French fries, eliciting quite a response from the students.

"There should be less focus on taking things away since we eat more meals outside of school than in school," said Caroline Higley.  "When we're out in the real world we must make healthier decisions for ourselves."

"Diet and health are important," said Perri Searles.  "But, don't take away choices.  We need to learn to control ourselves now.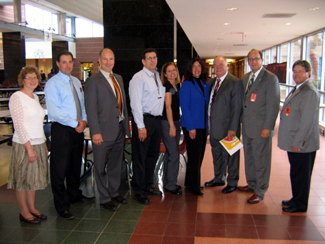 Janet Hawk, NJDA; Howard Grinberg and Mark Vidivich of Pomptonian; Scott Mirsky, School Food Service Director; Cindy Sue Schaller of Pomptonian; Rose Tricari, Tim O'Brien, Interim school principal; Secretary Fisher; Jim Harmon

Hunterdon Central already involves its students in the school lunch program through a Wellness Committee, coordinated by physical education teacher Meghan Ibach.

"We teach the students about choices," said Ibach.  "Nutritional information is phenomenal for them to see so they can make those education decisions.  We, as educators need to teach them to make educated decisions."

While nutrition education is already part of their curriculum, the students wholeheartedly agreed that they would like to get more in depth nutrition information so they are equipped to make those choices.

"After listening to the discussion between Secretary Fisher, Mr. Harmon, Ms. Ibach and the students, it is clear that the only way to effectuate change in children's eating habits and the choices they make is by food service and educators working together," said Tricario.  "The Department of Agriculture will continue to foster these relationships and assist local school districts in any way we can to accomplish this goal."

To learn about the National School Lunch Program, visit www.fns.usda.gov/cnd/lunch/.

For more information about the NJDA School Nutrition Policy, visit:
www.nj.gov/agriculture/divisions/fn/childadult/school_model.html.