Home
>
News
>
Press Releases
>
2011
>
AGRICULTURE SECRETARY, MILITARY AND VETERANS AFFAIRS CHIEF CUT CHRISTMAS TREE, ENCOURAGE DONATIONS TO NEEDY FAMILIES DURING THE HOLIDAY SEASON
AGRICULTURE SECRETARY, MILITARY AND VETERANS AFFAIRS CHIEF CUT CHRISTMAS TREE, ENCOURAGE DONATIONS TO NEEDY FAMILIES DURING THE HOLIDAY SEASON
Ceremony Heralds Start of Choose and Cut Christmas Tree Season

For Immediate Release: December 1, 2011
Contact: Lynne Richmond
(609) 633-2954

(WHITE TOWNSHIP) – As part of Governor Christie's 'Season of Service' Initiative, today, New Jersey Secretary of Agriculture Douglas H. Fisher and Military and Veterans Affairs Chief of the Joint Staff Brigadier General James J. Grant, joined by soldiers and their families, cut down a Christmas tree at Wyckoff's Christmas Tree Farm in Belvidere (Warren), ceremonially kicking off the choose and cut Christmas tree season while encouraging residents to support military families during the holiday season. 

Part of the Garden State's four seasons of agritourism, now is the time many families visit tree farms to cut their own Christmas trees.  Almost 79,000 trees are cut in New Jersey each year.  The 2007 U.S. Census of Agriculture ranked New Jersey sixth in the nation in the number of Christmas tree growers, with 1,150 farms that grow more than 6,000 acres of Christmas trees in the state.

"We urge everyone to come out to a Christmas tree farm this holiday season, make some lifelong memories with their families and support our local farmers," said Secretary Fisher.  "But, as we share the holidays with our families, I also ask that we remember our service men and women along with their families, who might be separated from their loved ones and those less fortunate through the donation of a tree."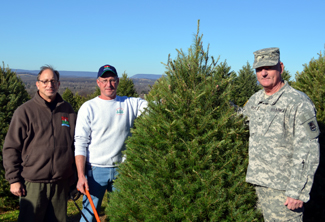 Secretary Fisher, farmer John Wyckoff and General James J. Grant show off the Douglas Fir they cut for donation to Trees for Troops

The Wyckoff family chose to donate the tree cut today to Trees for Troops, a charity program that donates real Christmas trees to service members and their families, sponsored by FedEx and the Christmas SPIRIT Foundation..  The New Jersey Christmas Tree Growers Association is partnering with Trees for Troop, with two New Jersey farms serving as drop-off points this year for donated trees: Evergreen Valley Christmas Tree Farm, Jackson Valley Road in Washington and Keris Tree Farm, Route 524 in Allentown.  Tree donations can be made through December 5.  After that, farms in the association will accept monetary donations for Trees for Troops.

"The holidays are difficult times for deployed service members – and even more challenging for their families," said Brig. Gen. James J. Grant. "But these gifts are certain to lift the spirits of our troops and confirm to their families that there sacrifice does not go unrecognized."

One New Jersey base received trees from Trees for Troops this year.  Fifty trees were distributed today to active duty and their families at United States Coast Guard Training Center, Cape May.  The trees donated by New Jersey farmers will be going to Fort Leonard Wood, Missouri and National Guard units in Buffalo and Niagara Falls, New York. 

"Many of the recipients of these trees are spouses whose loved ones are deployed, and while there is no replacement for a loved one over the Holidays, Trees for Troops helps ease the burden by filling their home with some simple Holiday cheer," said U.S. Coast Guard Capt. Bill Kelly, the center's commanding officer.  "Trees for Troops lets our service and their families know how much their sacrifice means to the American people."

The New Jersey Christmas Tree Growers Association selected Wyckoff's Christmas Tree Farm's Fraser Fir as the 2011 Grand Champion in their annual Christmas tree contest, held over the past summer.  The Wyckoff family has earned that title seven times. 

The 172-acre farm in White Township, outside of Belvidere, has been owned by the Wyckoff family since 1839 and is now being farmed by the sixth and seventh generations of Wyckoffs.  They have 55 acres of Christmas trees with 5,000 trees available this season.  They offer Fraser, Douglas, Concolor, and Canaan Firs, Norway, Blue, and Serbian Spruces and White Pine.

"Growing quality Christmas trees is the heart of our family business; to us, it is not a hobby," said Sue Wyckoff.  "We are happy to be in a "green" business as real trees are a renewable resource grown on farms, with up to three trees being planted for each tree harvested.  Real trees are also biodegradable, among a long list of other environmentally-friendly benefits."

Christmas tree growers in New Jersey may participate in the Jersey Grown program, which allows farmers to tag their trees with the Jersey Grown brand to easily identify that their Christmas trees are grown in New Jersey. Jersey Grown includes quality standards and is similar to the well-known Jersey Fresh branding program for produce and other agricultural products.

The New Jersey Christmas Tree Growers' Association, organized in 1950, is a statewide organization of growers, professionals and industry leaders dedicated to the promotion and marketing of Christmas trees and related products.  A listing of farms consumers can visit is available at: www.njchristmastrees.org/docs/2011_ChooseAndCutGuide_Download.pdf.