Home
>
News
>
Press Releases
>
2012
>
LONG BRANCH MIDDLE SCHOOL FIRST IN STATE TO 'GET THE GOLD' FOR NUTRITION, PHYSICAL ACTIVITY INITIATIVES
LONG BRANCH MIDDLE SCHOOL FIRST IN STATE TO 'GET THE GOLD' FOR NUTRITION, PHYSICAL ACTIVITY INITIATIVES
Federal, State Officials Present School Officials with Award

For Immediate Release: March 1, 2012
Contact: Lynne Richmond (609) 633-2954

(LONG BRANCH) – United States Department of Agriculture and New Jersey Department of Agriculture Food and Nutrition officials today honored Long Branch Middle School in Long Branch as the first school in the state to attain the HealthierUS School Challenge Gold Award of Distinction. 

The Challenge recognizes schools that promote good nutrition and physical activity.  Awards are given for different levels of participation.  The Gold Award of Distinction is the highest level and earned Long Branch Middle School a $2,000 incentive.

"Long Branch Middle School has not only incorporated more healthy foods into its meal menus, but worked hard to create dishes that the students also enjoy," said New Jersey Secretary of Agriculture Douglas H. Fisher.  "The school has made good nutrition and exercise priorities so students are equipped to do their best in school.  We encourage other schools to follow Long Branch's lead and reach for the highest level of the HealthierUS School Challenge Award."

The HealthierUS School Challenge (HUSSC) is a voluntary national certification initiative for schools participating in the National School Lunch Program.  Sponsored by the USDA Food and Nutrition Service (FNS), the initiative encourages all schools to take a leadership role in helping students to make healthier eating and physical activity choices that will last a lifetime.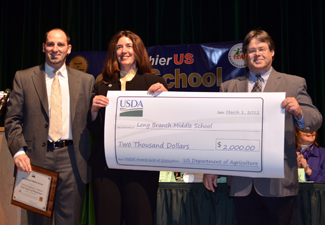 Long Branch School Superintendent accepts a check for $2,000 from Rose Tricario, NJDA Division of Food and Nutrition Director and James Harmon from USDA 
"Achieving the HealthierUS School Challenge recognition demonstrates Long Branch school district's deep commitment to create and maintain a healthy school environment," said James Harmon, Director of Special Nutrition Programs, USDA Food and Nutrition Service.  "Theirs is a Gold Award with Distinction, the highest possible level of achievement in the HealthierUS School Challenge.  As the first in New Jersey to achieve that honor, Long Branch Middle School can serve as a model for others seeking to make improvements."

To achieve the Gold Award of Distinction level, the school increased offerings of dark green and orange vegetables, such as butternut squash and sweet potatoes.  They added more whole grains, such as whole wheat pasta and brown rice and gave students a choice of fat-free chocolate and white milk as well as 1 percent milk.  Fresh fruits and salads are always on the menu.  They also have held night programs for parents and students to learn how to incorporate fresh produce and whole grains into healthy dishes they can make at home.

"Healthy food and proper nutrition are very important factors in influencing students' education," said Michael Salvatore, Superintendent of Schools in Long Branch.  "The district uses the slogan, 'Where Children Matter Most,' and for us it's much more than a slogan.  We must make sure that our students have everything they need to succeed educationally and that includes a well-balanced diet."

Salvatore, as well as the board of education members was extremely proud of the winning Gold Award of Distinction for the HealthierUS School Challenge.

"I am extremely proud of our Middle School staff and our food service provider, Sodexo, for their commitment to the students and staff here in Long Branch," said Salvatore. "We have always strived to insure health and fitness go hand in hand giving our students the greatest opportunities for achievement."

Long Branch Middle School is among 21 in the state that has earned the HealthierUS School Challenge Award. Ultimately, FNS would like to see all schools receive a HUSSC award at any one of the four levels of superior performance:  Bronze, Silver, Gold, or Gold Award of Distinction.  Schools awarded receive a monetary incentive (Bronze $500, Silver $1,000, Gold $1,500, and Gold Award of Distinction $2,000), an award plaque signed by a USDA official, a banner to display in their school, and their name listed on the Team Nutrition Web site.

To qualify for an award, a school must submit a formal application and meet basic criteria set forth by the FNS.  The HUSSC criteria reflect the recommendations of the 2005 Dietary Guidelines for Americans, and the Institute of Medicine (IOM) published recommendations (April 2007) for foods that should be served in schools, outside of the organized school lunch meals.  HealthierUS Schools must also have a local school wellness policy, as mandated by Congress.  Schools receiving a HUSSC award commit to meeting the criteria throughout their four year certification period.

Schools, such as Long Branch Middle School, that champion the HUSSC work hard to make changes to their school nutrition environment in order to (1) improve the quality of the foods served, (2) provide students with nutrition education, and (3) provide students with physical education and opportunities for physical activity. 

For more information on the HealthierUS School Challenge, visit www.fns.usda.gov/tn/healthierus/index.html.

For more information on New Jersey's school nutrition policy, visit: www.nj.gov/agriculture/divisions/fn/childadult/school_model.html.