Home
>
News
>
Press Releases
>
2012
>
STATE AND FEDERAL OFFICIALS OFFICIALS GET FIRST-HAND LOOK AT SUCCESSFUL "BREAKFAST IN THE CLASSROOM" PROGRAM DURING NATIONAL SCHOOL BREAKFAST WEEK
STATE AND FEDERAL OFFICIALS OFFICIALS GET FIRST-HAND LOOK AT SUCCESSFUL "BREAKFAST IN THE CLASSROOM" PROGRAM DURING NATIONAL SCHOOL BREAKFAST WEEK
Encourage Program Participation to Improve Student Nutrition and Academic Performance

For Immediate Release: March 9, 2012
NJDA Contact: Lynne Richmond (609) 633-2954
DHSS Contact: Dawn Thomas (609) 984-7160
DOE Contact: Justin Barra (609) 292-1126

(TRENTON) – New Jersey Secretary of Agriculture Douglas H. Fisher, Health and Senior Services Commissioner Mary O'Dowd, Education Department Chief of Staff David Hespe and U.S. Department of Agriculture Food and Nutrition Service Mid-Atlantic Region Deputy Administrator Diana Limbacher marked National School Breakfast Week today by viewing a successful breakfast in the classroom program at B. Bernice Young Elementary School in Burlington Township. The officials are highlighting breakfast in the classroom as a way to improve student nutrition and academic performance in schools as well as build participation in the program.

"Many schools offer breakfast in the cafeteria before school," said Secretary Fisher. "This requires students to arrive at school early to eat breakfast. However, we are seeing much higher participation in the program in schools that offer breakfast in the classroom, and the difference might be in how and where breakfast is delivered."

In an effort to provide greater access to healthy breakfasts, Secretary Fisher and Acting Education Commissioner Chris Cerf in January partnered on a letter sent to every school in the state encouraging breakfast in the classroom and allowing for the time spent – which amounts to about 10 minutes – to be considered part of instructional time.

"We must continue to provide support to our schools and districts to ensure that all students begin the school day ready to learn," said Acting Commissioner Cerf. "I am grateful for Secretary Fisher's leadership in this crucial area as we work to prepare all New Jersey students, regardless of zip code, for success in college and career."

Research has shown that students who eat breakfast daily have increased attendance, decreased tardiness, improved academic performance, both in class and on standardized tests, improved attentiveness and reduced emotional and behavioral problems.

"Eating a healthy breakfast provides a good start to a child's day," said Commissioner O'Dowd. "Proper nutrition ensures that a child has the best opportunity to learn and grow to their full potential."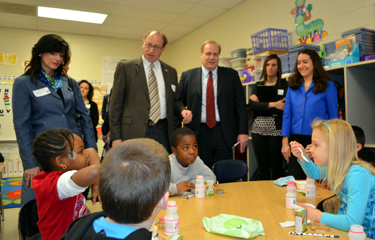 Diana Limbacher of USDA Food and Nutrition Service, Secretary Fisher, Dave Hespe of the NJ Dept. of Education, Brittany Di'Orio of Senator Lautenberg's office and Health and Senior Services Commissioner Mary O'Dowd observe while students at B. Bernice Young School eat breakfast.

State law requires breakfast to be served in schools in which 20 percent or more of the students enrolled are eligible for free or reduced price meals under the National School Lunch Program. Of the students who receive free or reduced price lunch, only 37 percent receive school breakfast.

"We were pleased to learn that Agriculture Secretary Fisher and acting Commissioner of Education Cerf recently informed all chief school administrators that breakfast time in classroom can be counted toward instructional time," said Limbacher. "We believe this policy will be extremely helpful in promoting expansion of the breakfast program in New Jersey schools."

B. Bernice Young Elementary School began serving breakfast for the first time this school year and chose to serve the meal in the classroom due to time constraints, transportation and the age of the children. The school houses 1,100 pre-kindergarten through second-grade students. The officials visited teacher Erika Stratton's first-grade class of 23 students as they ate breakfast and then read the children stories focusing on good nutrition.

School Principal Dr. Denise King said they worked with teachers and parents to work out any issues before beginning the in-classroom program in September.

"Children that were coming to school hungry now have the opportunity to eat breakfast with their peers," said Dr. King. "It is a great program for parents who are unable to provide breakfast in the morning and for working parents. The students look forward to choosing their breakfast and eating in a safe, structured and friendly environment."

National School Breakfast Week this year is March 5-9, an initiative of the School Nutrition Association launched in 1989 to raise awareness about the availability of the USDA's School Breakfast Program and increase participation, both by schools and students.

For more information on the School Breakfast Program, visit www.nj.gov/agriculture/divisions/fn/childadult/school_breakfast.html.