Home
>
News
>
Press Releases
>
2012
>
TOP USDA FOOD AND NUTRITION OFFICIAL, NJ SECRETARY OF AG HIGHLIGHT FRUIT AND VEGETABLE PROGRAM
TOP USDA FOOD AND NUTRITION OFFICIAL, NJ SECRETARY OF AG HIGHLIGHT FRUIT AND VEGETABLE PROGRAM
Audrey Rowe and Douglas Fisher Visit Whittier School in Camden

For Immediate Release: May 2, 2012
Contact: Lynne Richmond
(609) 633-2954

(CAMDEN) – The nation's top official for school nutrition programs, Audrey Rowe, and New Jersey Secretary of Agriculture Douglas H. Fisher today joined 16 first-graders at John G. Whittier Elementary School in Camden in tasting red grapes as part of Fresh Fruit and Vegetable Program (FFVP).

Rowe is the United States Department of Agriculture, Food and Nutrition Service Administrator. Her agency oversees the FFVP, which is operated in New Jersey by the Department of Agriculture. This school year, Whittier and eight other Camden City schools are among 143 schools throughout the state that are participating in the program, which provides students with fresh produce during the school day.

"Whittier Elementary School is a wonderful example of the creative ways that farmers and schools can connect," said Rowe. "Secretary Fisher is rightfully proud of New Jersey's robust farm-to-school program which is a win-win for farmers and schools alike. There's good reason that New Jersey is known as the Garden State."

Food and Nutrition Service provides children and needy families with better access to food and a more healthful diet through its 15 nutrition assistance programs and nutrition education efforts. One of those programs is the Fresh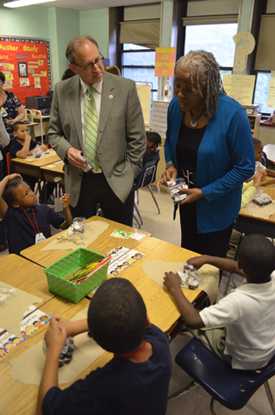 Food and Vegetable Program, which is federally funded but operated in New Jersey by the state Department of Agriculture.
"The Fresh Fruit and Vegetable Program is a simple concept – giving children access to wholesome produce during the school day – but the benefits are numerous," said Secretary Fisher. "Good nutrition is becoming a habit for the children at participating schools, they're learning where their food comes from and they've got a growing appreciation for our state's farmers."
Secretary Fisher and Administrator Rowe talk to the kids about how they like the fresh fruits and vegetables they have tried through the FFVP.

At Whittier School, school nurse Maria Ibbeken, who serves as the district's coordinator of the FFVP, said this year, the children have sampled persimmons, Brussels sprouts and Asian pears, to name a few.
"Initially, some of the things they weren't familiar with, they were like 'ew,' but now they say, 'what's the treat this week?'" said Ibbeken. "We don't see chips or jugs of sugar water coming in anymore. It's improved."
Overall, Ibbeken said both children and adults love the program, the kids are learning fun facts about each fruit and vegetable they try, and it has made the whole atmosphere of the school better.
The Fresh Fruit and Vegetable Program exposes school children to healthy foods and increases their fruit and vegetable consumption, ultimately leading to improved lifelong dietary habits.

Some of the criteria used in making the selections included: elementary schools with 50 percent or more of their students eligible for free or reduced price meals; schools that planned to purchase locally grown fruits and vegetables as much as possible; the program would be well-publicized and all students would have access to the produce offered; and schools that planned to partner with outside organizations to enhance nutrition education.

For more information on the Fresh Fruit and Vegetable program, go to www.nj.gov/agriculture/divisions/fn/childadult/fruitandvegetable.html.

For a list of this school year's participating schools, visit www.nj.gov/agriculture/divisions/fn/pdf/2011-2012ffvschools.pdf.