NJ DEPARTMENT OF AGRICULTURE URGES PEOPLE TO PLANT SOMETHING
Encouraging Residents & Businesses to Patronize NJ Nurseries, Garden Centers, Landscapers

For Immediate Release: May 4, 2015
Contact: Lynne Richmond
(609) 633-2954
lynne.richmond@ag.state.nj.us 

(MONTVILLE) – New Jersey Secretary of Agriculture Douglas H. Fisher today joined the New Jersey Nursery and Landscape Association at Condursos Garden Center in Montville, to kick off a campaign that encourages people to plant something this spring and live a better life.

Secretary Fisher and NJNLA representatives talked about New Jersey's Plant Something campaign (www.plantsomethingnj.org), which promotes the benefits of gardening, using materials purchased locally.

"The Plant Something campaign is simple – it urges people to patronize our state's nurseries and garden centers and learn more about the Jersey Grown program that identifies plants, trees, flowers, shrubs and annual bedding plants grown in the Garden State," said Secretary Fisher.

 

"The weather is starting to get warmer, making it a perfect time to start buying plants to beautify our landscapes."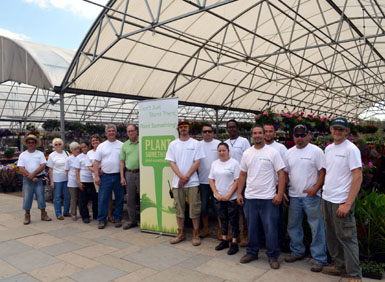 Secretary Fisher with Anthony Luciano and the Condursos staff celebrating Plant Something Week

The Department of Agriculture supported Plant Something by providing the New Jersey Nursery and Landscape Association (NJNLA) with a $40,000 federal Specialty Crop Block Grant.

 

With these funds, the NJNLA has produced brochures, posters, window clings, bumper stickers and plant stakes as well as two 30-second radio

 

public service announcements conveying the message, "Don't Just Stand There…Plant Something."

"The Plant Something campaign is designed to resonate with people who might not be your typical gardeners," NJNLA Executive Director Dominick Mondi said. "We want to connect with non-gardeners and create long-term awareness of the benefits that plants will provide for them, their families and their communities." 

The Plant Something promotional campaign requests that consumers show their support for the horticulture industry and bring value and enjoyment to families across New Jersey.

 

This multi-year, multi-pronged marketing campaign, aimed at increasing the sale and use of New Jersey grown landscape flowers, plants and trees, has been embraced by 15 states including New Jersey.

 

For example, after two years of the campaign in Arizona annual sales increased 10 percent the first year and 12 percent the second year.

Fisher presented NJNLA Executive Director Dominick Mondi and Condursos' owner Anthony Luciano with a statewide proclamation declaring the week of May 3-9 as Plant Something Week in the Garden State.

 

This week will celebrate New Jersey's vibrant $445 million horticulture industry.

 

All homeowners and business owners are asked to make an effort to plant their gardens and beds and to use Jersey Grown materials whenever possible.

The Plant Something campaign highlights the many benefits of our horticulture industry, the largest sector of New Jersey agriculture.

 

Planting of trees, shrubs, and perennials in urban environments can reduce crime, counteract heat island effects, filter air and reduce noise pollution. Perceived home value can increase by as much as 5 to 11 percent for homes with good landscapes.

 

Tree cover adds 2 to 9 percent to the value of existing homes and a single tree can add as much as 2 percent.

 

On average, a well-designed landscape saves enough energy to pay for itself in less than eight years.

 

Planting trees can reduce an unshaded home's air conditioning cost by as much as 15 to 50 percent, and trees and shrubs planted as wind breaks can save up to 25 percent on heating costs.

 

And, healthy, mature trees can add up to 10 percent to a property's value.

Condursos Garden Center is a fifth generation 30-acre farm, started in 1929 as a vegetable and annual plant grower.

 

The first greenhouse was opened in 1950 and the garden center opened in 1980.

 

The business is a supporter of the Jersey Grown program, selling shrubbery grown in South Jersey.

 

Condursos sells a full line of plants and is well known for its wide selection of annual bedding plants.

"I feel we all need to get back to our roots and plant a garden," said Anthony Luciano.

 

"Whether it's a flower or vegetable garden, tending to it relieves the everyday stress. The end result is satisfaction that 'Yes I did that.'"

The Department of Agriculture developed the Jersey Grown program to help consumers identify plants, trees, flowers and shrubs grown in our state when they go shopping.

 

We have developed a Jersey Grown website 

www.jerseygrown.nj.gov

to promote this program and provide people with information that will lead them to local plant materials.