Home
>
News
>
Press Releases
>
2015
>
AGRICULTURE SECRETARY SHOWED "JERSEY FRESH LOVE" ON FIRST DAY OF TWO-DAY TOUR TO HIGHLIGHT NJ PRODUCE
AGRICULTURE SECRETARY SHOWED "JERSEY FRESH LOVE" ON FIRST DAY OF TWO-DAY TOUR TO HIGHLIGHT NJ PRODUCE
Jersey Fresh Produce At Peak of Season

For Immediate Release: August 3, 2015
Contact: Lynne Richmond  
(609) 633-2954
lynne.richmond@ag.state.nj.us 

(TRENTON) – New Jersey Secretary of Agriculture Douglas H. Fisher  traveled through five South Jersey counties on a "Jersey Fresh Love Tour" on Thursday, July 30 making stops at farms, farmers markets, restaurants, supermarkets, wineries and breweries to highlight the peak of Jersey Fresh season in New Jersey.  More than 100 varieties of fruits and vegetables are grown by Garden State farmers.

Jersey Fresh Love is a social media campaign seeking Jersey Fresh produce fans post pictures on their social media channels about where they get their New Jersey produce, how the produce is being used and their favorite farms and restaurants to visit.  The Department has been showcasing some of those pictures once a week on Facebook, Twitter, Instagram, Pinterest and Tumblr.  The photos have depicted farm visits, recipes, home-grown produce, farmers markets and more.

"Jersey Fresh produce is abundant at this time of year and can be found at community farmers markets, supermarkets, and roadside stands, as well as on the menus of many restaurants," said Secretary Fisher.  "We wanted to seek out Jersey Fresh and allow people to follow us via social media in real-time.  We hope everyone will do what we're doing and support New Jersey farmers and the businesses that purchase their produce."

The Jersey Fresh program is 31 years old this year and identifies to consumers produce grown by New Jersey farmers. 

On the first day of Secretary Fisher's tour he visited: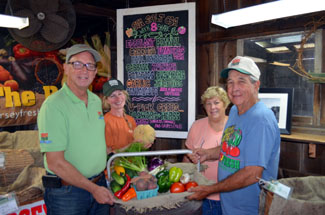 B&B Farms, Galloway Township
– B&B Farms is owned by Art and Carolyn Brown.  Art Brown was the long-time former Secretary of Agriculture who originated "Jersey Fresh."  His 20-acre farm grows a mix of vegetables, including pick-your-own African and ethnic crops and blueberries.  The Brown's niece, Jennifer LaMonaca, operates the Sea Salt CSA on land adjacent to B&B Farms, offering shares of the fruits and vegetables raised.


Margate Farmers Market, Margate
– The Margate Farmers Market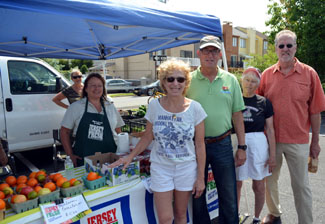 operates out of the parking lot of Steve and Cookie's restaurant on Thursdays, 8:30 a.m. to 12 p.m. through September 3.  The market offers Jersey Fresh product, seafood, flowers, soap, pickles, baby food, honey, spices and baked goods.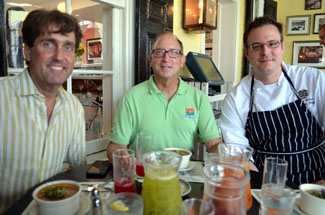 The Blue Pig Tavern, Cape May
– Cape Resorts, which owns the Blue Pig Tavern in Congress Hall, operates Beach Plum Farm, which supplies the restaurant pork, eggs, greens, root vegetables, fruits, flowers and herbs.  The restaurant not only features these items on its regular menu, but has created a Tomato Menu with items such as a classic tomato sandwich and a BLT.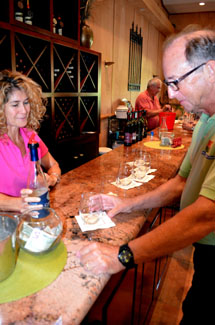 Cape May Winery, Cape May

– The winery first opened in 1995 and was purchased by Toby Craig and Betsy Sole in 2003.  That first year they produced 2,800 gallons of wine and this year produced 41,000 gallons.  It is the oldest winery in Cape May County.  They grow 26 acres of grapes and specialize in viniferas, Cabernet, Pinot Noir, Merlot, Chardonnay and Riesling.  They have leased 150 acres from the county for future plantings.

Winery owner Betsy Sole shows Secretary Fisher the varieties of wine produced at Cape May Winery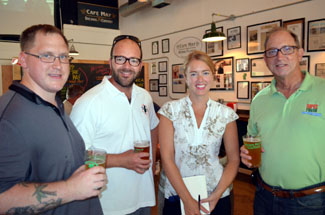 Cape May Brewing Company, Cape May – The Cape May Brewing Company, founded in 2011, is licensed to produce "Made with Jersey Fresh Honey" Honey Porter.

Assemblyman Bob Andrzejczak, owner Ryan Krill, Diane Stopyra and Secretary Fisher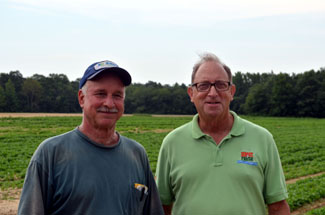 Genoa Farms, Vineland
-- Genoa Farms consists of about 800 acres and was first started in the late 1920's by James Bertonazzi as JC Bertonazzi Farms.  The name was changed to Genoa Farms in 1979 when James' grandchildren and great-grandchildren took over the farm.  They sell wholesale beans, squash, cilantro, parsley, peppers and jalapenos.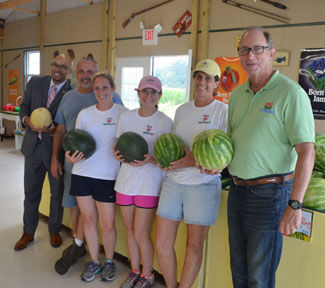 Grasso Girls Farm Market, West Deptford
– The Grasso family purchased the farm in West Deptford two years ago with the idea of opening a farm market there.  The market started out as a little cart on the home farm in Mullica Hill in 2002.  Soon, it grew so much they put up a building and it has grown busier each year.  The family grows most of the produce found in its market.  The West Deptford market is operated by the fourth-generation.  They farm about 500 acres of land, including asparagus, peppers, tomatoes, squash, pickles, cucumbers, and some field crops.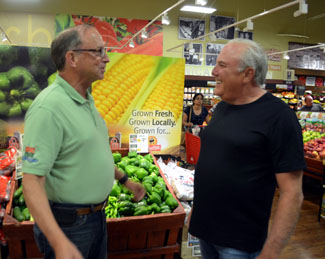 Shop-Rite, Cherry Hill

– One of Ravitz Family Markets, the Shop-Rite of Cherry Hill is a large supporter of Jersey Fresh.  Their stores have great displays of New Jersey produce and a lot of Jersey Fresh signage all season long.

Secretary Fisher's two-day Jersey Fresh Love tour is taking him from the tip of Cape May up to the northern reaches of Sussex County.  Day two will focus on Central and North Jersey.  People interested in following the tour in real time can tune in to Twitter @JerseyFreshNJDA and Instagram @jerseyfreshNJDA.  For more photos, visit Facebook www.facebook.com/JerseyFreshOfficial and Tumblr  http://jerseyfreshofficial.tumblr.com/.