CHRISTIE ADMINISTRATION CELEBRATES FALL AGRITOURISM SEASON
Secretary of Agriculture Visits New Jersey Pick Your Own Apple Farms

For Immediate Release: October 9, 2015
Contact: Lynne Richmond 
(609) 633-2954
lynne.richmond@ag.state.nj.us 

(TRENTON) – New Jersey Secretary of Agriculture Douglas H. Fisher today toured New Jersey farms to highlight all that the state's farms have to offer in the fall months.  His stops included Brook Hollow Farm in Columbia and Mood's Farm Market in Elk Township, where he picked apples and enjoyed other fall activities. 

"The fall is a perfect time for people to visit a New Jersey farm for the many activities offered, such as corn mazes and pumpkin and apple picking," said Secretary Fisher.  "Picking apples is a family-friendly activity, enjoyed by young and old.  It is easy to do and can create life-long memories."

Many farms and wineries around New Jersey invite the public during the fall season for hay rides, corn mazes, pumpkin and apple picking, winery tours, fall festivals and many more activities, which bring added revenue to farms to make them more viable and help to ensure that the land remains in active agriculture.

New Jersey had 347 farms that offered agritourism activities in 2012 that generated $18.4 million in revenue.  New Jersey ranks 9th in the nation in total agritourism dollars and nine New Jersey counties, including Gloucester and Warren, rank in the top 10 percent in agritourism sales. Gloucester County had 21 farms and Warren had 23 farms offering agritourism activities. 

The day started at Brook Hollow Farm in Warren County, which has 175 total acres of farmland, with 20 acres used for apples and 4 acres used for peaches.  David Flitcroft, an experienced farmer and University of Massachusetts School of Agriculture graduate, purchased the former dairy farm in 1983.  He now has 1,500 apple trees, 400 peach trees, and thousands of evergreens. 


Warren County Freeholder Ed Smith, Mary and Dave Flitcroft and Secretary Fisher outside Brook Hollow's farm store

Brook Hollow Farm offers pick-your-own apples in the fall.  Their varieties currently include Empire, Ida Red, Macoun, and Red and Golden Delicious.  Flitcroft handpicks his peaches and sells them in the farm store located on premises. Flitcroft's wife, Mary, is proud of her husband's work and their farm.

"It's an old fashioned farm where you can enjoy the beauty of nature while enjoying the fruits of the farmer's labor," said Mary Flitcroft. 

The next stop on Secretary Fisher's apple tour was to Mood's Farm Market in Gloucester County.  Mood's Farm was founded in 1865 by George Mood who built the original farm house which is still standing today.  With each generation came a new addition to the farm.  When Mood's son George took over the farm, he began cultivating a wide variety of fruits.  George's son, Richard Sr., began growing blueberries as well as developing the original Staking Red Delicious apple.  In the 1960's, Richard's son Richard Jr., a Rutgers graduate, took over the farm and began making the farm's famous apple cider.  Currently, Moods is operated by Richard Jr. with the help of his wife, Joyce, and his daughter, Patricia, who creates all the mazes and hayride paths for the farm's fall activities. 

Mood's pick-your-own currently includes Red and Golden Delicious, Staymared and Fuji apples.  The farm is bring-your-own bucket or boxes; no bags are allowed.  For those who do not want to venture out into the field, Moods also offers a farm market offering Richard's apple cider, their new blueberry cider and many other items.

"Our apple cider, many pick-your-own fruits, our apple cider doughnuts, our apple cider crush and our fine employees make our farm special, said Joyce Mood.  "The smell of the doughnuts brings people into the market."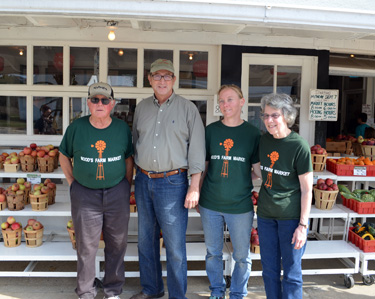 Secretary Fisher at Mood's Farm Market with Richard, Patti and Joyce Mood

Tips for visiting a Pick Your Own Farm from our NJ Farmers:

Wear clothing and footwear appropriate for weather conditions
Do not climb trees
Only pick what you will buy
Visit the main farm area to get permits, buckets, and farm rules before going to field
Leave your pets at home or call ahead for their policies
Respect the farm and only stay in designated fields
For more tips, visit http://jerseyfresh.nj.gov/find/pyotips.html.

To find out more about New Jersey agritourism, visit http://bit.ly/1qiswcu.