A glimpse of where New Jersey was in the early 20th century?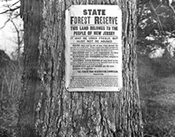 NJ Forest Park Reserve Sign, Bass River State Forest, 1907

We are just beginning to realize the importance of our forests and the necessity for their preservation. They not only furnish timber and provide an important industry, but they beautify the country, temper the climate, hold the rainfall, fertilize the soil, furnish game preserves and conserve our water supply, an indispensable feature of our rapidly growing and congested civilization.- Governor Edward C. Stokes, Inaugural Address, January 17, 1905

During the 19th century the forests in New Jersey were cut down for farming and for lumber. Stokes State Forest was created in 1907 to counter this trend, when Governor Edward Stokes donated 500 acres (2.0 km2) of land in the Kittatinny Mountains and the State of New Jersey purchased 5,432 acres (21.98 km2). Stokes State Forest started with 5,932 acres (24.01 km2) and through the years, additional purchases accumulated to over 16,000 acres (65 km2). Formal trails were created in the 1930s by the Civilian Conservation Corps and white pine trees were planted.