Delaware River Basin Commission
---
Delaware • New Jersey • Pennsylvania
---
New York • United States of America
---
Other Monitoring Programs & Studies (e.g., Fish Tissue, Microplastics, Metals)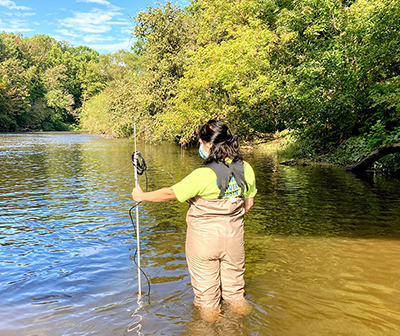 DRBC staff take a flow measurement.
Photo by DRBC.
Ambient Toxicity Monitoring:
As part of ongoing programs to control toxic substances in the Delaware Estuary, the DRBC conducts periodic monitoring of ambient water toxicity in the estuary and has requested monitoring of acute and chronic effluent toxicity by dischargers.
• Learn more about Ambient Toxicity Monitoring
Cyanotoxin Pilot Study:

In 2022, this pilot study will examine harmful algal blooms (HABs) toxins (anatoxin, microcystins and cylindrospermopsin) at 15 sites in the mainstem Delaware River.
• During August and September, DRBC staff will deploy SPATT (Solid Phase Adsorption Toxins Tracking) bags, collecting after eight days; a total of three rounds of this is planned.
• The Del. Dept. of Natural Resources and Environmental Control (DNREC) lab will handle analysis.
Fish Tissue Monitoring:
Since 1990, DRBC has periodically sampled tissues of resident fish species in the non-tidal and tidal portions of the main stem Delaware River.
Data collected by DRBC help inform Fish Consumption Advisories issued by certain Basin states.
• Learn more about Fish Tissue Monitoring
• Learn more about Fish Consumption Advisories
Microplastics:
DRBC received a grant to study microplastics in the Delaware River Estuary in 2018. Samples were collected in 2019, 2020 and 2021, with cleanups held at two hot spots in the fall of 2021. A final report was published in August 2022.
• Learn more about Microplastics & view the Study's Final Report
Monitoring for Metals:
DRBC monitors metals, such as copper, zinc, nickel, and mercury, in ambient water, sediment, and tissues of aquatic life of the Delaware Estuary to ensure compliance with water quality criteria.
• Learn more about Metals Monitoring
Sediment Sampling:
DRBC samples sediment to monitor for PCBs, as well as for chlorinated pesticides, PFAS, metals and dioxin/furans.
• Learn more about Sediment Sampling
Sturgeon Spawning DO Study:
In June - September 2022, the DRBC will initiate a study of dissolved oxygen (DO) trends in areas considered nursery grounds for juvenile endangered Atlantic sturgeon. Low flows are targeted.
• Four to six DO loggers will be deployed at Chester, Pa., Marcus Hook and Fox Point Park. DO levels at the top and bottom will be sampled.
• This data will complement the DO data currently being collected at the Ben Franklin Bridge.
Thermal Exceedance Shading Study in Upper Delaware:

Using a hemispherical camera and special software on a canoe, DRBC staff will identify reaches in the Upper Delaware River, its East and West branches, and the Beaverkill River with insufficient tree canopy to provide shading.
• Fifty miles of stream reaches in the upper Delaware River Basin are planned for assessment during a one-time, multi-day event in the summer of 2022.
• Once identified, these reaches could be targeted for tree-planting using other funding sources, e.g., grants.
Commission Member Links:
Delaware
|
New Jersey
|
Pennsylvania
|
New York
|
United States
Copyright © Delaware River Basin Commission,
P.O. Box 7360, West Trenton, NJ 08628-0360
Phone (609)883-9500; Fax (609)883-9522
Thanks to NJ for hosting the DRBC website
Last Modified: 09/09/2022