Contact The NJ State Council
on the Arts
Mailing Address:
NJ State Council on the Arts
P.O. Box 306
Trenton, NJ 08625-0306
Office Address:
33 West State Street, 4th Floor
Trenton, NJ 08608
Directions
Tel: (609) 292-6130
NJ Relay: 711
Email:
Feedback@sos.nj.gov
Arts Council Home
>
Passing it On
> December 2017



From Cape May to The Palisades, New Jersey is home to diverse communities with traditional folk arts, shaped by the aesthetics and values of the cultures they represent. The State Arts Council is committed to supporting the artists at the heart of these communities, working to pass distinctive art forms from one generation to the next, and preserve their cultural legacy.

Each year the New Jersey State Council on the Arts awards Folk Arts Apprenticeship Grants to help Apprentice artists hone their skills under the guidance of a Master artist in the same craft. Here we shine a light on their work: from them, to us, to you, we are "Passing It On".



Taepyeongmu - The Great Peace Dance
M
aster Korean Dance Teacher, Eunjoo Kang, pictured in rear.
Apprentice, Angela Jung, pictured in front.
Meet Master Korean dancer and teacher, Eunjoo Kang and her skillful Apprentice, Angela Jung. "The partnership is well-matched", says Eunjoo, who came to the U.S. 25 years ago to study dance at NYU, earned a Masters degree in Dance Education, and is currently the director of
Woorigarak Korean Cultural Art Center
in Englewood Cliffs, NJ. Angela, a dance teacher as well, studied ballet and Korean dance as a child, which gives her an advantage in developing the skills necessary to excel at performing the complexities of Korean dance. The form is greatly influenced by nature and Eunjoo tells us, "it contains the Korean spirit, which seeks to exist in harmony with nature". The centerpiece of this partnership has been the dance known as "Taepyeongmu", a dance for the peace and tranquility of the country.
Wearing elaborate costumes of Queens, the dancers execute a balance of gently flowing movements and complex rhythms, displayed with the elegance of dignitaries. They appear to be floating above the ground at moments, yet deeply rooted to the earth at others. Throughout the changing tempos of the Taepyeongmu, Angela and Eunjoo express a deep joy for dancing and a true connection with their heritage. Specific in detail and lovely to see unfold, the dance taps into the Korean spirit and through the dancers, that spirit comes alive.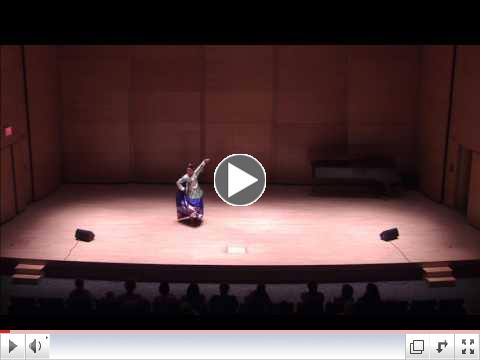 Eunjoo Kang Performs Taepyeongmu at Tufts University through a program with the Korean Cultural Society of Boston
Can you tell us about the history, and evolution of
Taepyeongmu

?
Eunjoo:
The exact origin
is unknown, but
Hahn Seongjun (1875-1941), a well-known dancer and drummer, rearranged the dance in the early 20th century. Its rhythms are so unique, not to be found in any other dances, and are difficult to master in a short period of time. The diverse foot gestures are considered most important. In sum, the Taepyeongmu contains the essence of Korean traditional dance in that it delivers the aesthetic principle of inner dynamics in the stillness.
How is this art form important to your community?
Eunjoo:
This dance was designated as one of the Important Intangible Cultural Treasures. Whenever Asian heritage or culture is introduced, Korean traditional dance should be included. Today, the Taepyeongmu is one of the representative forms of Korean dance. As a community member who has been dancing for 40 years, I am willing to pass this valuable traditional art on to others and next generations. I believe this will promote richness, variety, and ingenuity of diversity in the United States.


When and from whom did you learn
Taepyeongmu
?
Eunjoo:
I learned from prominent Korean dancers. From 1985 to 1993 I studied Taepyeongmu and other traditional Korean dance under Myungsook Han who had received the prestigious Human Living Treasure designation from the Korean government; and under Jaeman Chung who inherited the HLT designation after Ms. Han passed away.


For you, what is the significance of engaging in this program with Angela?
Eunjoo:
I love it, I love to teach! It helps me, because I too am still learning. I need it to encourage me to continue going forward with Korean dance. I feel so proud to teach it, and it gives me a chance to encourage that sense of pride in my students. It gives me cultural identity.
Q & A with the Apprentice
Can you tell us about your development with this art form?
Angela:
I learned Korean dance for two years when I was 5 and 6 years old at a Korean dance institute in Seoul. But in middle school my dancing skills were dramatically developed. I was learning ballet and Korean dance and had many opportunities to present on stage. Eventually my career changed from dancing to office work, as I focused on learning sales operation and risk management in the IT field. I continued dancing in my free time. Since 2014, I've been studying Korean dance with Ms. Kang to develop my Korean dance skill in a more professional way.
Since coming to the U.S., how have you been involved with your art form?
Angela:
I moved to the states in 2008, and I have been working as a Korean school teacher at the Korean School of Southern New Jersey. There are many opportunities to teach Korean culture to my students including Korean traditional dance. I'm planning to bring Taepyungmu to the Korean Culture Summer Camp hosted by The National Association of Korean Schools.


How is the Apprenticeship program going? And, what is its significance
Angela:
These one on one sessions are such a strong method to learning this dance. It's helping to prepare me for the next step in my development. As a grantee I feel I have a responsibility to practice harder. I too want to be a Master of Taepyungmu.
Apprentice, Angela Jung, performing a more contemporary version of Taepyeongmu


Angela Jung performs Taepyeongmu at First United Methodist Church
(International Worship Service) in Moorestown, NJ
The title for this publication was inspired by Rita Moonsammy's book entitled,
Passing it On, Folk Artists and Education in Cumberland County, New Jersey, published in 1992.
The New Jersey State Council on the Arts, created in 1966, is a division of the NJ Department of State. The Council was established to encourage and foster public interest in the arts; enlarge public and private resources devoted to the arts; promote freedom of expression in the arts; and facilitate the inclusion of art in every public building in New Jersey. The Council receives direct appropriations from the State of New Jersey through a dedicated, renewable Hotel/Motel Occupancy fee, as well as competitive grants from the National Endowment for the Arts. To learn more about the Council, please visit

---