Contact The NJ State Council
on the Arts
Mailing Address:
NJ State Council on the Arts
P.O. Box 306
Trenton, NJ 08625-0306
Office Address:
33 West State Street, 4th Floor
Trenton, NJ 08608
Directions
Tel: (609) 292-6130
NJ Relay: 711
Email:
Feedback@sos.nj.gov



From Cape May to The Palisades, New Jersey is home to diverse communities with traditional folk arts, shaped by the aesthetics and values of the cultures they represent. The State Arts Council is committed to supporting the artists at the heart of these communities, working to pass distinctive art forms from one generation to the next, and preserve their cultural legacy.

Each year the New Jersey State Council on the Arts awards Folk Arts Apprenticeship Grants to help Apprentice artists hone their skills under the guidance of a Master artist in the same craft. Here we shine a light on their work: from them, to us, to you, we are "Passing It On".



The Blacksmith & The Art of Forging
with Toby Kroll & Stephen Nuttall
Blacksmith, Stephen Nuttall (left), assists Master
Blacksmith, Toby Kroll, with forging a dragonfly.

The Blacksmith is a special kind of craftsman, wielding heat, they shape practically unyielding metals into forms they need, or desire. Some Blacksmiths forge by picturing an image in their mind's eye, some draw images to get a sense of what it should be. Either way, the distinctive skill of an accomplished Blacksmith is truly magical. In medieval times Blacksmiths were thought of as some sort of wizard, crafting objects in dark spaces with fire and will. In an effort to protect their livelihood, often their individual approaches to forging were shrouded in secrecy. It's no wonder folks thought Blacksmithing was sorcery. This is a trade that's been around for literally thousands of years, and although the culture has evolved, the basic techniques are the same. As third generation Blacksmith, Toby Kroll says, "It's all in how you apply them".

When Stephen Nuttall came to New Jersey to settle down, he decided to listen to his creative spirit and follow in the footsteps of his artistic family members. That spirit led him to Historic Batsto Village, in Wharton State Forest, where he met Master Blacksmith, Toby Kroll. The two men connected immediately, which opened the door for Stephen to begin his studies with Toby there and at The Tuckerton Seaport. In forging together over the past few years, they have developed a relationship as strong as the steel they work with, and currently they're in their 2nd year with the State Arts Council's Folk Arts Apprenticeship Program. "Toby's got the gift of gab," Stephen declares, "and he's humble enough to know that while instructing me, he's going to learn too". There is no doubt this is a perfect fit.

It may be an understatement to say that in learning to Blacksmith, you must learn by doing. Knowledge is acquired over time spent at the forge and anvil, questioning, exploring, anticipating your next move, and sharing what you know with those who wish to keep the magic going. As Toby reveals his secrets to Stephen, the symbiotic nature of the Master - Apprentice connection enables them to lean into the forge and the philosophies of the craft, with an ultimate goal to experience the satisfaction of crafting "something pretty" with the strength and artistry of their own hands.
Master Blacksmith, Toby Kroll, forging at his Three Cedars
Forge shop in Bridgeton, NJ.

Q & A with the Master
Will you share something of the history of learning this traditional art, and how the practice has evolved?

TOBY:
During my grandfather's time, it was common for blacksmiths to apprentice full time for five or more years with a village blacksmith. After that, he earned the title of "Journeyman". If his skills were sufficient, he could then travel applying for work in a different blacksmith's shop or open his own shop. The tradition of long apprenticeships is being lost and is viewed by many as an unwise investment of time. Although, there seems to be a resurgence of interest in the craft, economic pressures and time constraints remain that tend to prevent individuals from learning it. Few people are willing to spend "sweat equity" when money can be easily spent on cheap products manufactured outside of our community.
From whom did you learn the craft from? Can you speak to the influence of your teachers?
TOBY:
My grandfather was a blacksmith. My father was a farrier. I grew up as a blacksmith/farrier apprentice, and I helped them both with their daily work. My father always believed and imparted to me that if one considered themselves a blacksmith they ought to be able to shoe a horse! I eventually became an active, full time farrier for more than forty years. It was how I earned money to feed and clothe my family. I'd say that was pretty influential. Outside of the family it was Bruce Daniels, one of the original inductees of the International Horseshoeing Hall of Fame, whose techniques and philosophies influenced me. He, unlike many in the field at the time, wanted education to be in the forefront. And, while he understood that horseshoeing put food on the table, but believed in blacksmithing as an art, and the voice inside that says, "I want this to be spectacular". For example, he made the arch in Millville, NJ.


Can you describe the significance of smithing in your life and what it means to share it with your students?
TOBY:
I'm the last in my family's line of blacksmiths, and I have been able to maintain a life of blacksmithing and farriery. Without it, I'd have a hole in my life because many of my earliest memories and experiences would not exist. My wife is also a talented blacksmith. She and I have forged a closer relationship because she understands my dedication to this craft and the importance it has in my family's history. Since becoming a master blacksmith, I've been directly involved with the education of several smiths, many of whom are so skilled that they have been able to take on apprentices themselves. I think my father and grandfather would be proud to know that I have been able to carry on this tradition.


Tell us about Stephen, how is he doing?
TOBY:
He's coming right along. Stephen is great because he's willing to experiment, and he's inquisitive. At first he used to get so frustrated, but he's developed patience as well as skill. The secret to having an apprentice is that you get to abuse 'em, ha, ha, ha! All joking aside, I think it's great to be able to "pass it on" to him, and I'm more than happy to do it.


Forged rose by Toby Kroll.
Q & A with the Apprentice
Describe your skill as a blacksmith and what you are gaining from your time with Toby?
STEPHEN:
I'm an advanced amateur blacksmith. I wanted the second year with Toby to help fill the holes in my knowledge. I'm definitely gaining that. I also plan to forge a hammer eye punch, which will be used while forging hammers in the future. My shop requires these anvil tools for finishing and fine tuning of projects. My time with Toby has also given me a lot of ideas for instructing future blacksmiths. The master-apprentice relationship is a two-way street. We learn from each other about forging, but also about teaching.
What is it like being Toby's apprentice?
STEPHEN:
I've met a few other blacksmiths, but no one is a natural mentor like Toby Kroll. His personality makes working under him quite easy. During a long session attempting to forge weld some pieces, I was ready to give up. I believe Toby sensed this and encouraged me to try "...one more time". I did try one more time, and about five more times after that until I was successful with the forge weld! It was very satisfying to walk away with a successful, but ugly weld. Toby kept me going. Few things can compare with the relationship gained through the one-on-one exchange between a student and a teacher. The master/apprentice method of instruction has long been used as a way to pass on deeper understandings of the art and craftsmanship of blacksmithing, and Toby and work well together.


Will you share your goals for yourself as a blacksmith?
STEPHEN:
My frequent visits and inquiries at the Tuckerton Seaport have persuaded the board of trustees to approve the construction of a permanent blacksmith shop there. I think this is a successful campaign to grow cultural activities in Tuckerton, and my plan is to teach there. It would be great to bring Toby up there as well. I'm looking forward to what we can get going. I want to contribute to helping people become creators.
What projects are you working on now?
STEPHEN:
Currently, Toby and I are collaborating on the design for an upcoming hand-forged installation to compliment the entrance of the newly opened Grassle Marsh Trail at the Jacques Cousteau Estuarine Research Reserve in Tuckerton, NJ.
Stephen starting his day with what he calls "the
perfect warm up" - a forged leaf form.

State of the Arts: The Master's Apprentice
Be sure to check out this wonderfulState of the Arts piece featuring Toby and Stephen! State of the Arts is a co-sponsored project of the New Jersey State Council on the Arts & Stockton University, in cooperation with PCK Media.
Toby Kroll is a blacksmith, the real thing. As a boy he apprenticed in South Jersey with his father. Stephen Nuttall is now learning the ancient craft from Kroll with the support of a New Jersey State Council on the Arts apprenticeship grant. They aren't making horseshoes anymore, but practical handmade tools which are also beautiful, including traditional South Jersey clam knives and bottle openers.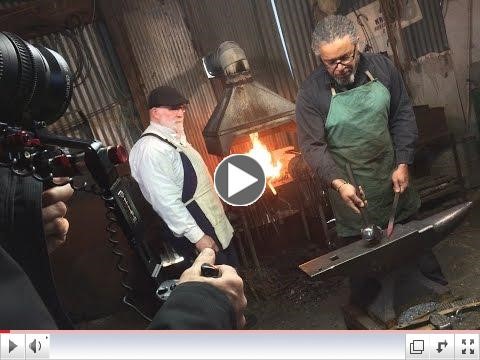 The title for this publication was inspired by Rita Moonsammy's book entitled,
Passing it On, Folk Artists and Education in Cumberland County, New Jersey, published in 1992.
The New Jersey State Council on the Arts, created in 1966, is a division of the NJ Department of State. The Council was established to encourage and foster public interest in the arts; enlarge public and private resources devoted to the arts; promote freedom of expression in the arts; and facilitate the inclusion of art in every public building in New Jersey. The Council receives direct appropriations from the State of New Jersey through a dedicated, renewable Hotel/Motel Occupancy fee, as well as competitive grants from the National Endowment for the Arts. To learn more about the Council, please visit

---