Contracts
Currently under construction is a new Manahawkin Bay Bridge parallel to the existing high level Manahawkin Bay Bridge (Dorland J. Henderson Memorial Bridge), along with various associated improvements to the bridge approaches and surrounding area.
Construction on Contracts 3 and 5 began in February 2015. Contract 3 will rehabilitate the trestle bridges over East Thorofare and West Thorofare along the Route 72 Causeway between the mainland and Long Beach Island, along with various associated improvements.
Included in Contract 5 will be the environmental mitigations needed to comply with the environmental permit conditions for the entire project. The project includes wetland creation, mitigation for freshwater wetlands and retrofit of two existing stormwater basins within the Barnegat Bay watershed and public access improvements.

A contract to rehabilitate the existing Manahawkin Bay Bridge and the trestle bridge over Hillard's Thorofare will be next. The entire Manahawkin Bay Bridge superstructure will be removed and replaced.
A separate construction contract will address safety and operational issues at the Route 72/Marsha Drive intersection in Stafford Township. This contract will also include operational and drainage improvements in Ship Bottom Borough, on Long Beach Island. Two-way traffic will be restored along Central Avenue and Long Beach Boulevard. Traffic signals along 8th and 9th Streets (Route 72) will be improved.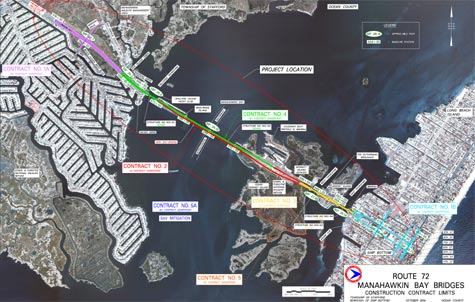 Project area map (pdf 2.1m)