Camden County CART
Who we are: New Jersey's County Animal Response Teams (CARTs) are a group of volunteers that are trained emergency responders for disaster events in a county. Examples of disaster events include natural disasters, such as hurricanes, and man-made disasters, such as gas explosions. These events could require evacuation and sheltering of residents in an affected neighborhood or region.
What we do: CARTs provide appropriately trained staff to operate and manage an animal shelter for the pets of evacuated residents. These are temporary pet shelters associated with a disaster event and are not shelters for stray or surrendered animals.
Who to contact: Small animal complaints or related public safety concerns, such as loose animals or animal bites, should be directed to your local animal control office or police department. Livestock welfare complaint concerns should be directed to the New Jersey Department of Agriculture at https://bit.ly/3nLJSCp. CARTs are not responders for local animal or wildlife issues.
Animal Medical Emergencies: Any animal medical emergency needs to be directed to a licensed veterinarian. CARTs are not responders to medical emergencies of animals.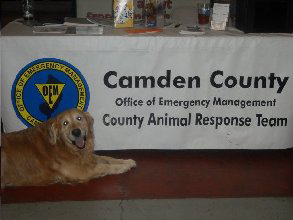 Mission Statement:
To provide community awareness of disaster planning and preparedness for the families of domestic animals, to set up temporary emergency sheltering for animals during a natural or man-made disaster and to assist in rescue and recovery efforts of animals left behind or lost in a disaster.
CART Contact:
Carol Perozzi
CART Resource and Staffing Coordinator
856-889-3200
wagsnwhiskers3@aol.com or camdencountycart@gmail.com
OEM Contacts:
Camden County Office of Emergency Management
Sam Spino
OEM Coordinator
Charles J. DePalma Complex
2311 Egg Harbor Road
Lindenwold, NJ 08021
856-783-4808 Ext 5202
samuel.spino@camdencodps.org
http://www.camdencounty.com/public-safety/

Facebook:
www.facebook.com/CamdenCountyCART
Interested in volunteering for Camden CART:
Email us at camdencountycart@gmail.com. Come join our team. All are welcome.
We hold monthly meetings, second Tuesday of the month at 7 PM, at the Charles J. DePalma Complex, 2311 Egg Harbor Road, Lindenwold, NJ 08021