Hunterdon County CART
Who we are: New Jersey's County Animal Response Teams (CARTs) are a group of volunteers that are trained emergency responders for disaster events in a county. Examples of disaster events include natural disasters, such as hurricanes, and man-made disasters, such as gas explosions. These events could require evacuation and sheltering of residents in an affected neighborhood or region.
What we do: CARTs provide appropriately trained staff to operate and manage an animal shelter for the pets of evacuated residents. These are temporary pet shelters associated with a disaster event and are not shelters for stray or surrendered animals.
Who to contact: Small animal complaints or related public safety concerns, such as loose animals or animal bites, should be directed to your local animal control office or police department. Livestock welfare complaint concerns should be directed to the New Jersey Department of Agriculture at https://bit.ly/3nLJSCp. CARTs are not responders for local animal or wildlife issues.
Animal Medical Emergencies: Any animal medical emergency needs to be directed to a licensed veterinarian. CARTs are not responders to medical emergencies of animals.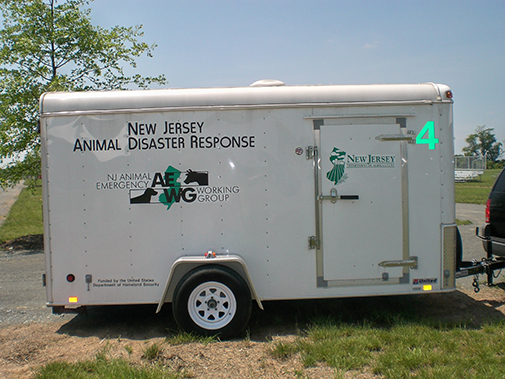 Mission Statement:
The goal of the Hunterdon County Community Animal Response team is to safely evacuate, house and medically treat animals that are displaced by any disaster requiring such measures.
Hunterdon County OEM Contact:
Hunterdon County Office of Emergency Management Coordinator
Brayden Fahey
PO Box 2900
201 Cherryville Rd|
Flemington, NJ 08822
Phone: 908-788-1196
Email: bfahey@co.hunterdon.nj.us
Facebook Page: Hunterdon County Animal Response Team (CART)
Meetings: Held the second Tuesday of each month, currently via Zoom. To request an invitation or other information, email cart@co.hunterdon.nj.us
To join the Hunterdon County CART team, please visit the County OEM site and fill out an application: http://www.co.hunterdon.nj.us/911/oem/cart.html
The Hunterdon County Division of Emergency Management has an animal disaster response trailer containing necessary resources to quickly establish a temporary animal shelter in times of emergency. The trailer was released from the New Jersey Department of Agriculture and purchased through Homeland Security Grant Funding.
This trailer will enable Hunterdon County's Animal Response Team (CART) to train and exercise and be ready to respond in times of disaster. The events of Hurricane Katrina indicated that sheltering for animals was essential to protecting the lives of residents with pets. When those in the path of the Hurricane were unable to bring their pets to a shelter with them, they refused to abandon their animals and subsequently remained in their homes during the hurricane. The Hunterdon County Community Animal Response Team has performed in various presidentially declared disasters.